Interesting Story on Marshall Plumlee's NBA Regular Season Debut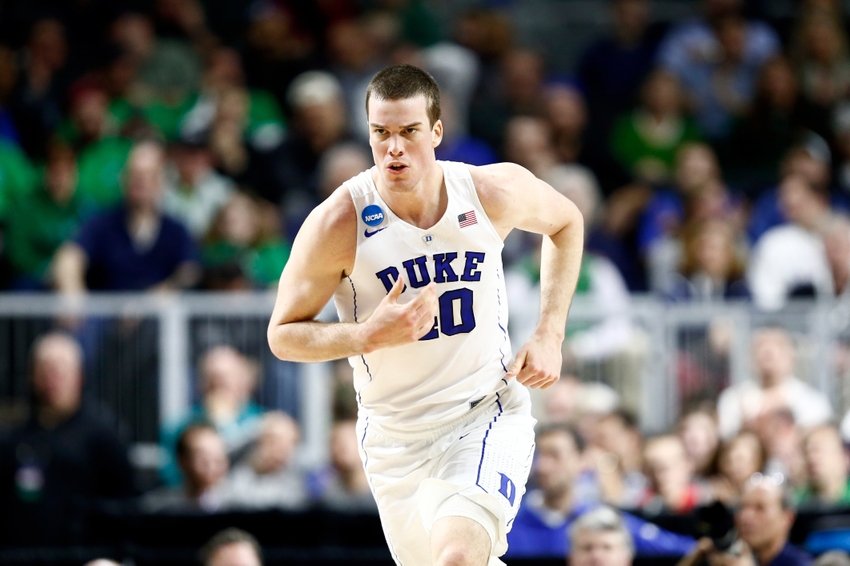 Former Blue Devil Marshall Plumlee reportedly took a train, a cab, and then ran to Madison Square Garden to compete in his first NBA regular season game.
Former Duke center Marshall Plumlee went undrafted in the 2016 NBA Draft, but was able to sign a multi-year contract as a rookie free agent with the New York Knicks. He has competed in the NBA D-League with the Westchester Knicks so far this season, but recently shared an interesting story on his NBA debut over the weekend.
Marshall Plumlee received a phone call from the Knicks on Sunday saying "Hey, we need you to guard Dwight Howard" hours before the team's game against the Atlanta Hawks that day after starting center Joakim Noah was ruled out with an illness. Plumlee lives outside of New York City and had to take a train to Grand Central Station. After taking the train he was in a taxi to the stadium, but traffic was so bad that he ended up getting out of the cab and sprinting to the arena.
Plumlee made his NBA regular season debut on Sunday against the Hawks, recording only 5 minutes of play and one rebound in the win while guarding one of the top centers in the NBA. During the preseason the Knicks coaching staff praised the former Blue Devil for his work ethic, and his effort to get to the stadium shows how hard of a worker he is. He also received praise from Coach K as being one of the most improved players he's seen at Duke.
Marshall Plumlee is averaging 16 points, 9 rebounds, 1.5 blocks, and 1 steal per game in the D-League so far this season. The Knicks haven't announced the status of Noah or Plumlee for their game tonight, but if Marshall does play then he will compete against his older brother Mason and the Portland Trailblazers.
This article originally appeared on