Indiana Basketball: Hoosiers sails past Houston Baptist, look ahead to Butler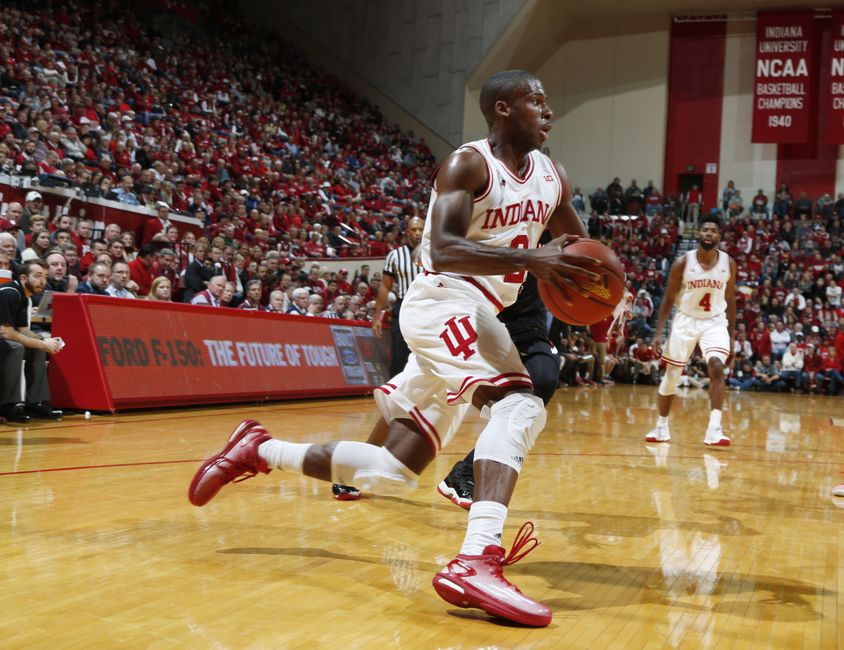 The No. 9 ranked Indiana basketball team defeated Houston Baptist 103-61 at home to move to 8-1 on the season.
The Indiana Hoosiers found themselves adding to their winning streak Saturday in Bloomington.
While the first few minutes of the game Indiana trailed, they strung together a 21-2 run in first half. The Hoosiers capped a 30-15 run in the last seven minutes of the first half. This was enough to give the Hoosiers a 42-27 lead going into half.
The ball movement by the guards was electric, something that Indiana teams in the past have struggled with. The second half served as a place for Indiana to pull away comfortably. Much of that was attributed to the extra pass, spacing the floor, or creating defensive stops.
Indiana ended the game shooting 55% from the field. Guards Robert Johnson and James Blackmon Jr. finished the game combining for 34 points and 8 rebounds.
Indiana fans should be particularly impressed with the play of freshman guard Curtis Jones. Jones played nearly half the game (19 minutes) and scored 11 points. With the absence of O.G. Anunoby it has allowed the freshman to receive additional minutes, making every last one count. Thomas Bryant and Juwan Morgan finished with 13 and 7 rebounds respectively.
A win like this one increases the confidence Indiana as a team will need heading into Saturday.
No. 16 ranked Butler is coming off an upset loss to Indiana State and a much needed win against No. 22 Cincinnati earlier this week. A team that started the season unranked, now sits in the top 20 after their 8-0 start.
Don't let the loss to Indiana State fool you, this is a powerful basketball team.
Their two top 25 wins and one loss record can be a potentially dangerous opponent. Leading scorer for Butler, Kelan Martin, will be increasingly important to lock down. Kelan is averaging 17.7 points per game and could be the key to pushing Butler past Indiana. The hope is that O.G. Anunoby will be healthy enough to return to action come Saturday.
Coach Tom Crean said during post-game that O.G. Anunoby is cleared medically to play. He expects his sophomore forward to play on Saturday, cautioning his performance though.
If the Hoosiers continue to shoot the lights out against ranked opponents, they should have no problem against a Butler team with only two players in double digit scoring.
The defense will need to be solid with crucial performances from Thomas Bryant, O.G. Anunoby and Juwan Morgan. If Anunoby struggles early tending to his injury, Morgan's role will be increasingly important.
One last concern is the running tale of Indiana's overbearing struggles on the road. While this is game is only being played 54 miles from Bloomington, they dropped the opening game of the Big Ten Tournament on that very same court eight months ago.
This game is essentially a home game for Butler, where campus is located in the city of Indianapolis. The Hoosiers need a fast start. Limit the turnovers, fast break points and make the Butler guards keep up with the scoring effort of Blackmon, Johnson and Newkirk.
Want your voice heard? Join the Hoosier State of Mind team!
This will be another true test and a chance to snag three top 25 wins before the end of 2016.  You can watch it live on Saturday December 17th, tip off at 5pm ET on The Big Ten Network.
More from Hoosier State of Mind
This article originally appeared on