Indiana Basketball: Bellarmine takeaways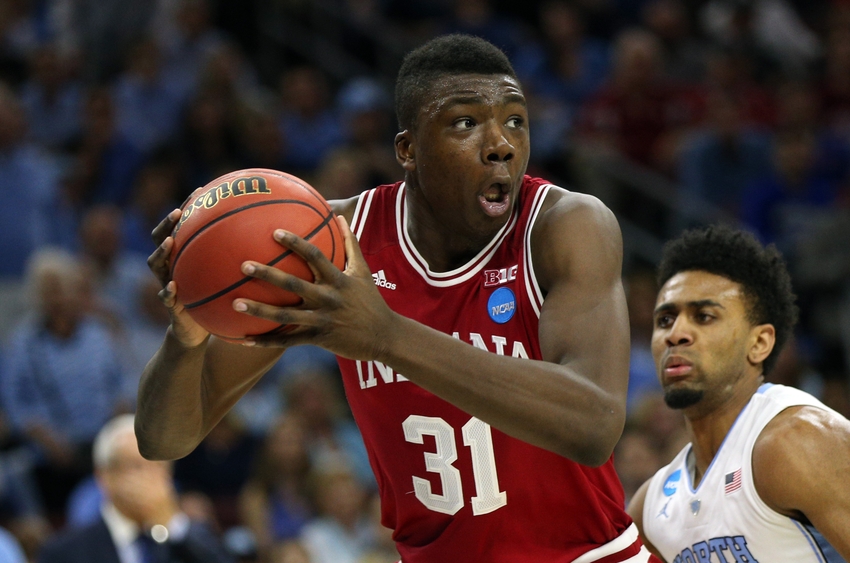 Indiana's 73-49 win over Bellarmine in their 2nd exhibition game of the season pretty much told us what we already knew. The Hoosiers are young, but are incredible talented all the way down the roster.
The standout performance was OG Anunoby. With such high expectations for the young sophomore, many were uncertain whether he would be able to thrive in an increased role. All those doubts were silenced when he hit 10 out of his 11 shots from the field, including 3-4 from three-point range, for 25 points. He also added 6 rebounds, 2 assists, 1 block, and 2 steals in 26 minutes. Simply put – he was everywhere.
Thomas Bryant continued where he left off last season, shooting an extremely efficient 5-6 from the field, totaling 11 points and grabbing 7 rebounds. Due to his energy, many are expecting him to be the leader of the team, and performances like these will rally his team.
James Blackmon Jr., on the other hand, will need to improve his shooting. Since his defense is less than spectacular, which was evident from last season, his main contribution is scoring, but he was throwing up bricks all night. Blackmon Jr. went 3-12 from the field, and shot an abysmal 0-7 from behind the arc. Many of these were good looks, but just didn't fall for the junior. The sharpshooter will hope to bounce back next week when he matches up against a talented Jayhawk backcourt.
New point-guard Josh Newkirk looked to fit in flawlessly into Crean's system. He had a great defensive outing, and gave it his all in every one of his 27 minutes on the court. Some of his shots weren't falling, but he gets a pass for his effort, including a couple of fast break buckets that deserve more credit than just 2 points. Newkirk wasn't a stellar scorer at Pitt, but Crean always increases his guard's scoring, so expect more than just 6 points from the Junior from here on out.
Another positive to take away from the game is the quality of the incoming freshman. De'Ron Davis, Curtis Jones, Freddie McSwain Jr., and even Grant Gelon, all proved they deserve minutes. Devonte Green struggled, but his team-leading 17 points against Hope last weekend displayed confidence. Walk-On Zach McRoberts struggled, but is still getting used to the speed of Indiana basketball.
Davis wasn't getting his shots to fall, but his performance was much better than his stats would suggest. He was only 2-7 from the field, and a couple of those misses were ill-advised three-pointers, but he was able to get 3 steals, 2 assists, and 2 rebounds in the short amount of time he was on the court. He looked aggressive on the boards, and will get his offense going when his confidence grows. He is too good of an athlete for that not to happen.
McSwain Jr. was a force to be reckoned with on the boards. He snagged 8 boards in the 8 minutes he was on the court, but missed his only shot and was responsible for a turnover. With so many scorers on the team, those boards are almost more important than points. Same goes for Curtis Jones. He wasn't effective scoring, but had 4 assists and a steal in his 16 minutes. What's maybe even better for the young guard is that he looked comfortable bringing the ball up the court, and showed great vision – a great sign for the future. Grant Gelon deserves a shout for hitting his only 2 three-pointers on the day, when the rest of the team was playing sloppy.
More from

Hoosier State of Mind
One thing they need to clean up is their free-throw shooting, however. In their first two exhibition games combined, they are shooting an awful 27-47 from the stripe, good for only 58.6 percent. Compared to last season's 73.1 percent, this number needs to improve. Too many points are being lost.
But overall it was a great night for the Hoosiers. They showed poise and confidence, despite it being only the second game they have played together. They travel to Hawaii on Friday to take on Kansas, who are listed as #3 in the preseason AP poll. The matchup to watch will be in the backcourt, as Kansas guards Devonte Graham and Frank Mason have the edge in talent. Though you would have to give the advantage to Indiana in the front court.
Indiana has struggled with non-conference opponents in the past, most notable in the Maui Invitational last year when they lost to Wake Forest and UNLV, as well as their blowout loss to Duke last season. It seems to take Crean's teams a little too long to find their rhythm together, but they always learn and grow from it. Bielfeldt said on Saturday night that they may not have even won the Big Ten if it weren't for the lesson they learned from their Maui losses.
It is time to get excited, because College Basketball is here.
More from Hoosier State of Mind
This article originally appeared on