Illinois Basketball: The Top Five Illinois "Other Guys"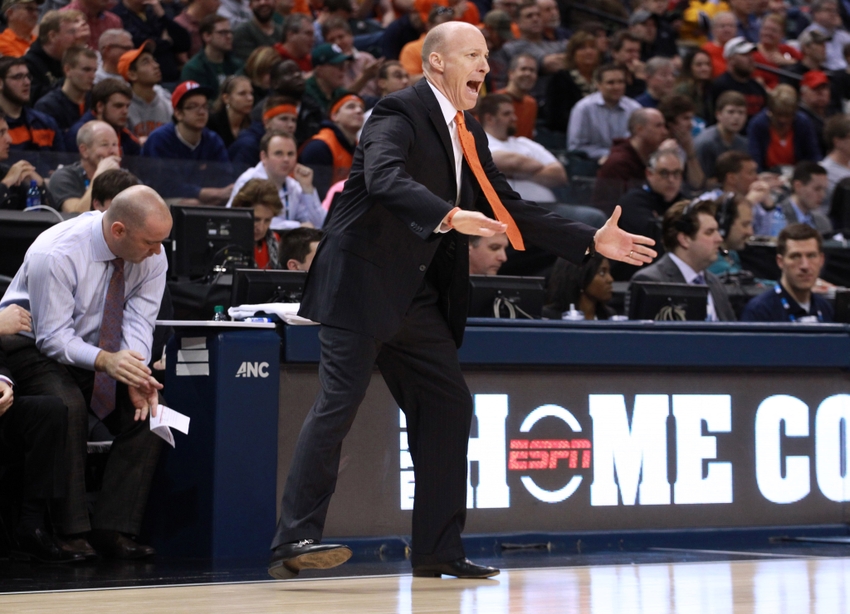 When Malcolm Hill erupted for the Illinois basketball team, in the second half of the game against IUPUI en route to 32 points and a season-saving victory, it got me thinking.
We are going to lose to Central Michigan, and it's going to ruin my trip to the United Center to see them play next week.
But then, it also got me thinking about this. Malcolm Hill is cool and all, but who is currently on this roster that we might forget about in 5, 10 or 20 years?
Correct, I'm not referencing the Dee Browns and Brandon Pauls of the world. I say, let's not forget. Let's remember ALL the times. Not just the good ones and not just the stars.
That's what I started thinking about.
Calvin Brock
A little while ago, in the near-but-growing-more-distant past, I attended school at the University of Illinois.
While I was there, I had the pleasure of witnessing, in person, some of the most mediocre Bruce Weber teams of his tenure — but man they had some characters.
One of those characters was Calvin Brock.
The Daily Illini once published a column comparing the entire 08-09 roster to various menu items at McDonald's, and it was hilarious.
Illinois Basketball: Next 3 Games Are Must-Wins for the Illini
Of all the comparisons, there's only one I can really remember.
Calvin Brock is the Filet-o-Fish.
Every time you go into McDonald's you think, "oh this sounds kind of good!" Then you eat it.  Later, you forget about it and do it all over again.
Chester Frazier
Also of the late aughts Weber era, Chester Frazier played point guard for four years.
Frazier was tough, he could pass, he knew how to D-up and oblivious fans sort of liked him because he had short dreads that reminded them of Dee Brown.
The thing is, Frazier was an absolutely terrible shooter.
If he got the ball at the top of the key with the shot clock winding down, his man would usually just back off into the paint.
I'm pretty sure they used to dare Frazier to shoot. I mean, it's funny now, but back then…
It reminds me of "Compliment Guy" from a Family Guy episode. That's how far away defenders were.
Nick Smith
The lanky, swanky ladies' man, Nick Smith was a holdover from the brief Bill Self era.
Smith is 7-foot-2 and averaged 2.6 rebounds per game for his career. Yikes. I think he had asthma, though, right? So, he couldn't play for long stretches of time.
Broadcast analysts, when looking for anything to say, occasionally brought up the idea of him getting looks from NBA scouts because, you know, "height."
Yet, when Smith was on the court, seeing him hit little turnaround jumpers from 10 feet brought me so much joy.
Lucas Johnson
Memba' Lucas Johnson? He played for Lon Kruger. He had grit. Grittiest dude in the late 90s. Grit city. Dove for EVERYTHING. Fought tooth and nail every game.
Best guy to have on your side and the worst enemy for the other.
When I was younger, I wanted to be like Lucas Johnson. He made sense to me — marginal athleticism and maximum tenacity were going to be my recipe for success.
However, I didn't actually have either of those things, so I turned to blogging. Sports blogging, which is the best kind.
Thank you, Lucas Johnson, for putting me on the right path.
Jereme Richmond
At one point following the run to the national championship, yet before this more recent stage of complete apathy set in, fans were desperate for a star to keep up the program's waning momentum — especially after the Eric Gordon fiasco.
Jereme Richmond was supposed to be that guy.
For a while, things seemed alright for the McDonald's All-American.
As a freshman forward, Richmond averaged 7.6 points and 5.0 rebounds per game while hitting 53-percent of his shots and being named to the Big Ten All-Freshman squad.
Then he punched Brandon Paul, got left off the roster for the NCAA tournament game against Kansas, declared for the NBA Draft, didn't make it, threatened his girlfriend and her father with a gun, went to jail for a few years, and some other stuff.
Life!
This article originally appeared on