Illinois Basketball: Malcolm Hill Is in Rarefied Air This Season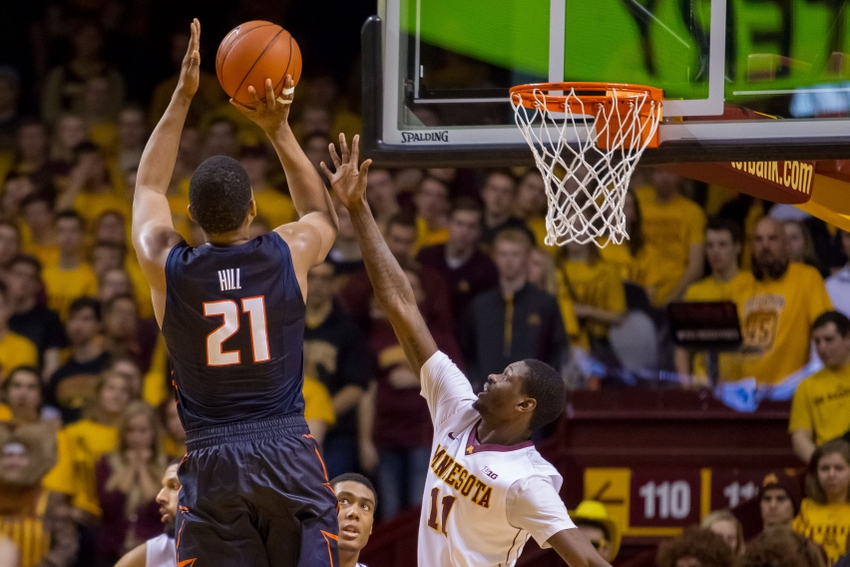 The Illinois basketball team might have hit a rough patch early on, but they have started to dig themselves out of that hole.
Illinois' recent two-game winning streak helped get the season back on track.  Many players have stepped up to make this happen.
Leron Black has really played well this season.  He has averaged 12.8 points and 8 rebounds per game.  His resurgence has been great for the Illini in the paint.
Another player who has played well is Tracy Abrams.  He is averaging 11 PPG, 2.8 RPG and 2.8 APG.  His production is huge at the point guard position.
While these players are playing great, along with the rest of the cast, the main engine that drives this team is Malcolm Hill.
Illinois Basketball: 3 Observations From the VCU Victory
In the four years that Hill has played for the Illini, the team has failed to make the NCAA Tournament.  A player of this caliber needs to be in the postseason to show the world the type of game he has.
But, through circumstances he cannot control, we haven't seen that happen and the prospects of them making it this season are completely up in the air right now.
Despite the roller coaster we have been on as fans, we still have the great privilege of seeing one of the greatest Illinois basketball players to ever step foot on the floor of the State Farm Center.
This season, Hill has averaged 18.4 PPG and 7 RPG.  He leads the team in points with the No. 2 player being Black with 12.8 PPG.  He also is No. 2 on the team in rebounds as well.
The numbers that Hill is putting up are rare for Illinois fans to witness.  The last time an Illini player averaged 18 points and 7 rebounds per game was Brian Cook in 2002-2003.
That year, Cook averaged 20 PPG and 7.6 RPG.  He ended up getting drafted in the first round of the NBA Draft and had a nine-year NBA career.
So, it has been 14 years since Illinois fans have seen these types of numbers put up by any player.  This season we are witnessing history with Hill.
That isn't the only history that Hill is making, though.
Right now, Hill sits at No. 18 on the Illinois basketball all-time scoring list.  He is tied with Kendall Gill at 1,409 points for his career.
Hill continues climb  #Illini all-time scoring list.@Malcolmillini21 tied with @KendallG13 & on heels of @Jhes_legacy  pic.twitter.com/cUhUdXxUBj

— Illini Basketball (@IlliniMBB) December 6, 2016
If Hill continued on the 18.4 PPG pace that he is currently on, he would finish his career with 1,813 points.  That would be one more point than Dee Brown and would put Hill No. 3 all-time.
That calculation is also without playing in the Big Ten Tournament and possibly the NCAA Tournament this season as well.
Hill is putting up numbers we haven't seen since the glory days of Illinois basketball and he is on pace to be one of the best scorers in Illini history.
One way or another, this season will be special for Illinois fans because we get to see a superstar like Hill set records and dominate on the basketball court.
This article originally appeared on