Illinois Basketball: 5 Games Determine If Illini Are Contenders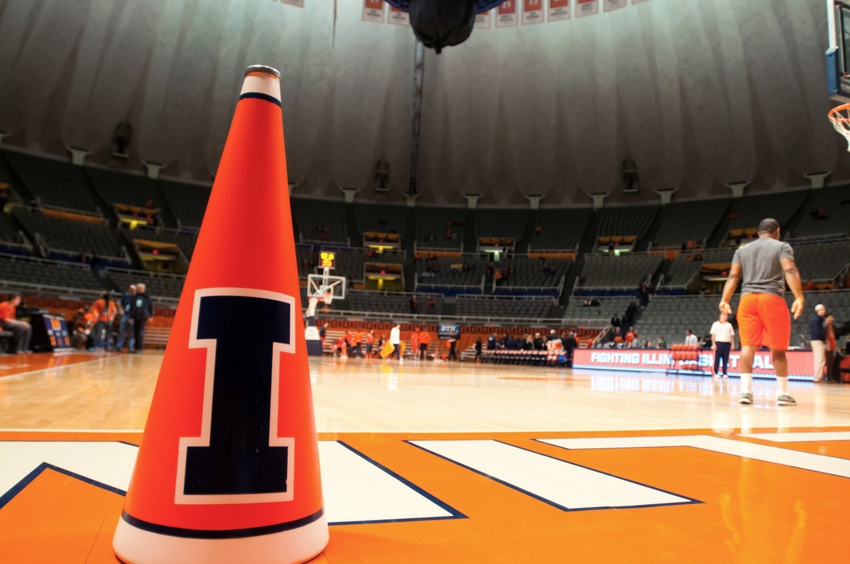 There is no question that the Illinois basketball team needs to get back to the NCAA Tournament this season.
The Illinois Fighting Illini fans haven't seen this big of a postseason drought since the late 1970's.  That is how prestigious this program has become.
Illinois starts the season off with some games that should be pretty winnable.  Southeast Missouri State shouldn't be a problem for the Illini.
Then the next two games are pretty simple as well.
But, usually, throughout a season Illinois plays certain games that will let fans and media know if this team is a contender or pretender.
Illinois has a few of those games this season as well.
I am excited to see the Illini take the court to see what a healthy program can do in Champaign.  They have the talent to get back to the postseason and I want to see that talent in action.
This Illinois basketball team is going to have to go through a tough Big Ten Conference as well.  There are some games in there that will test whether or not this team is for real.
Illinois has a chance at getting this program back on track this season.  Here are the five games that will decide if they are contenders or pretenders.
Illinois vs. Winthrop (November 21, 2016; 7:00PM CT)
Okay, I know this seems like it should be a win because Illinois is Illinois and Winthrop is Winthrop, but I don't think it is that easy.
Shaquille O'Neal's Hall of Fame Speech Gives Credit to a Former Illini
Winthrop finished last season with a 21-8 record and competed against some power five conference programs.
I don't think Winthrop is a powerhouse mid-major by any means but I do think if Illinois doesn't prepare for them it could bite them in a place where the sun don't shine.
Illinois has way more talent than Winthrop, but this talent will have played cupcakes leading up to this game.
Winthrop is returning one of their top two leading scorers in Keon Johnson.  He is a talented point guard that led the team in points and was second in assists.
Xavier Cooks will also be a threat to the Illini.  He is a 6-foot-8, 185-pound, forward who averaged 14.7 points per game and 7.1 rebounds per game last season.
But, one big advantage Illinois will have over Winthrop is height.
Illinois has Mike Thorne Jr. who is at least three inches taller than anyone on the Winthrop team this season.
I think the Illini will be fine in this game, but they have to make sure they take Winthrop seriously.
Illinois vs. West Virginia (November 24, 2016; 2:00PM CT)
The Illinois basketball team needs a big win over a good opponent and that is why West Virginia is a huge game to determine whether the Illini are contenders or not.
West Virginia had a pretty good season last year.  They finished 26-9 and made it to the postseason as a No. 3 seed, but lost to No. 14 Stephen F. Austin.
But, off of that talented Mountaineers team, they are losing their top two scorers, Jaysean Paige and Devin Williams.
This is going to hurt West Virginia this season and help the Illini attempt to beat them.  Illinois is still up against a tough test with the Mountaineers.
The ramifications of winning this game are huge for the Illinois basketball team and their fanbase.
If Illinois wins this game it shows that they are a good team and can make the NCAA Tournament.  This is huge for confidence and recruiting.
Although, if Illinois falls to the Mountaineers and it is an ugly game then it could set Illinois back a little bit.
The Illini should be able to compete with West Virginia this season and beat them.  Illinois has arguably more talent than this team and I think this will help boost the Illini up on the national radar.
Illinois vs. North Carolina State (November 29, 2016; 8:00PM CT)
The game against the North Carolina State Wolfpack isn't necessarily a 'get off the bubble' type of game but it is the ACC/Big Ten Challenge and that game is always huge.
Illinois takes on the Wolfpack in hopes of getting a win for the Big Ten.  This game is also big to show that winning can be sustained with the Illini.
Get the FanSided App
Last season was the first missed NCAA Tournament for North Carolina State in five years.  They have been a good program and that is also why Illinois needs a win.
The Wolfpack did lose an important piece to their team from the previous year.
Anthony Barber decided to forgo his senior season and head to the NBA.  This is a big blow to North Carolina State.
Barber was the Wolfpack's leading scorer with 23.5 PPG.  He also averaged 4.5 rebounds per game and 4.5 assists per game.
Even without Barber, I think North Carolina State could be a threat.  At very minimum, this would be a win over an ACC program and that always looks good.
Illinois vs. Maryland (December 27, 2016; 4:00PM CT)
The Maryland Terrapins were a great team last season and I think they will be pretty good this year as well.
Writing Illini 2d
Illinois Basketball: Illini Fans Think Trent Frazier Exceeds All
This is the first game of the Big Ten season for the Illini.  They need to get off on the right foot and I think winning this game would set the stage for a potential top-five finish in the conference.
Maryland would also likely be ranked heading into this game as well.  That means it would be a big game for the seeding in the NCAA Tournament.
Last year, Maryland made it all the way to the Sweet 16 and fell to No. 1 Kansas.  That team returns a few good players as well.
Melo Trimble will be back to face the Illini this season.  He led the Terrapins in scoring with 14.8 PPG and assists with 4.9 APG.
This team is going to be good this season and having Illinois beat Maryland would be huge.  Win this game and I think it would help solidify the Illini as contenders.
Maryland also has a good recruiting class coming in as well.
Justin Jackson is a superstar forward that can grab rebounds but is also super athletic.
Illinois will have their hands full for the first Big Ten game.  If they win this game then it should help the Illini reach the top 25 rankings.
Illinois vs. Michigan State (March 1, 2017; 8:00PM CT)
The last game that will predict whether the Illinois basketball team is a contender or pretender is the second to last game of the season against Michigan State.
The Spartans are a great team year in and year out.  They always have great recruiting classes and experience on the team.
Michigan State lost a lot of talent from last year's team but they do return some good players, though.
Gavin Schilling is back as a senior.  He was a great player off the bench for the Spartans but now will be called upon to be a big impact player.
Tum Tum Nairn will also be looked upon for veteran leadership.  He was another player that came off the bench and was a sparkplug for the Spartans.
Michigan State also has a great recruiting class coming in as well.
Josh Langford is a big, 6-foot-6, shooting guard that was a 5-star in the class of 2016.  Miles Bridges was also a 5-star and he is a 6-foot-7 forward.
Michigan State then had Cassius Winston coming in who is a solid point guard that will help lead this team.
Despite losing some players, Michigan State has reloaded and will be pretty good this season.
The reasons this is one of the top five games to see if Illinois is a pretender or contender is because Michigan State will be a top ten team and this game is at the end of the season.
Illinois needs to keep the winning momentum to get a good seed in the postseason and with a win against Michigan State that will hopefully solidify a top seven seed in the NCAA Tournament.
This article originally appeared on