Illinois Basketball: 3 Observations From the Florida State Loss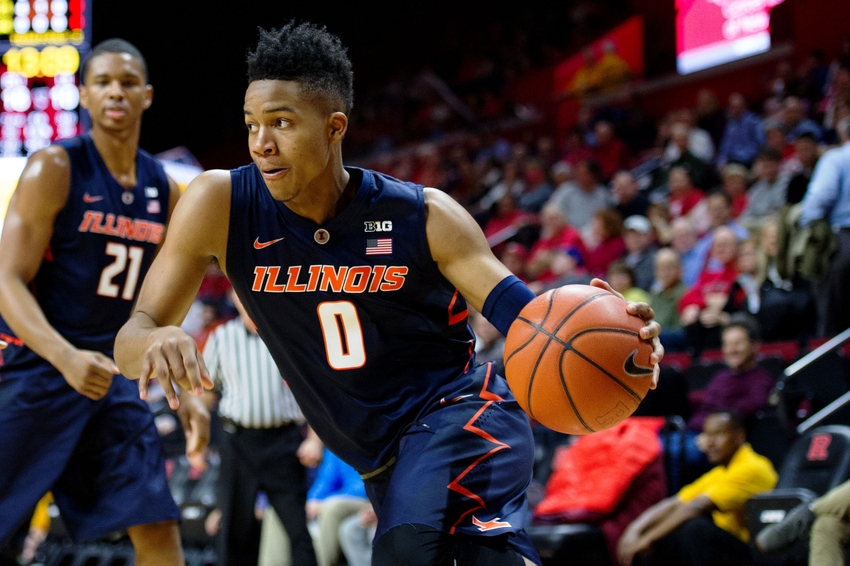 The Illinois basketball team fell to the Florida State Seminoles yesterday for their third straight loss.
This Illini team is looking for answers but they can't find their way for many reasons.
Here are my three observations from the loss to the Seminoles.
Where is DJ?
The Illinois basketball team fell to Florida State in what was a tied game with 9:57 left in the second half.
Illinois needed to match up with the Seminoles athleticism but failed too many times because John Groce continued to play a smaller lineup.
The main head scratcher in this game was the fact that DJ Williams didn't see a single minute of action the entire game.
Williams is arguably the most athletic player on the Illini team.  He can jump out of the gym and for Groce not to utilize that athletic ability is insane to me.
All Illinois basketball fans saw the progression that Williams was making last season.  He was really starting to come into his own and this season was supposed to be the year he breaks out.
But, Williams can't take his game to the next level if he doesn't get to play.
In addition to that, his mom took to Twitter to express her disdain toward the coaching staff for not playing her son.
Usually, when a parent takes to Twitter it isn't a good thing, but in this case, I can't blame her.  There is no reason Williams should be on the bench.
Give Lucas More Time
There are so many times that Illinois seems to be lost on the basketball court.  When this happens it usually means bad things are to come.
I scream at the television so many times each game because the team just doesn't move.  This shuts down the offense and a scoring drought ensues.
But, when Groce puts in freshman point guard Te'Jon Lucas, things seem to flow so much better.  He brings an energy that our other two point guards can't bring.
The game against Florida State was tied at 44-44 but then a few really bad turnovers by Tracy Abrams happened and the score ended up being 51-44.
This is the point in the second half where Lucas was subbed in.  From the point when Lucas came into the game, Illinois looked so much more in control.
When Lucas was in the Seminoles were on their heels because he is quicker than anything we have at point guard as well.
Illinois managed to keep up with Florida State when Lucas was in, but then Groce decided to take him out with the score still in reach at 58-50.  So the Illini were only down 7-6 with Lucas in the game.
Jaylon Tate came in for Lucas and from that point, Illinois continued to look lost.
The Illini went from only being down 58-50 to being down 64-51 before Tate was taken out of the game.
Groce's game management continues to fail us.  Lucas needs to be more of a focal point for this Illini team.
Class of 2017 Brings Hope
I am not 100-percent sure who will be the head coach of the Illinois basketball team next season, but there is one thing I do know for sure.
The class of 2017 brings me hope for the future of the program.
With the current team, the Illini do not have a center that is major DI caliber.  That is a terrible sign heading into the Big Ten season.
Jeremiah Tilmon will come in for 2017 and be the best center we have had since Meyers Leonard.
The point guard situation is also terrible right now.  After missing two seasons, Tracy Abrams hasn't got back into the grove of things just yet.
In addition to Abrams, Jaylon Tate is getting way too much playing time and he is killing our team right now.
But, going into next season both of these players will have departed.  That means Te'Jon Lucas will step up into the starting role.  He is the best point guard we have on the team right now.
Joining Lucas will be Trent Frazier, who is a dominating point guard from the class of 2017.
Illinois will also be getting two other guards who can score at-will and are tough as nails.  Da'Monte Williams and Javon Pickett will both add so much depth to this team.
So, no matter what happens this season, the future of the Illinois basketball program is still bright.  There is a lot of talent coming in next season and that is a reason for optimism.
This article originally appeared on