Defining the man behind Selection Sunday's most interesting team
WICHITA, Kan. — Gregg Marshall has a cold. A really bad cold. Bronchitis, actually. He's had it for 11 days, since he was watching a game at a friend's house and they sat by the fire pit even though it was too cold to be sitting outside. His wife forced him to go to the doctor. The doctor warned him that if he didn't take care of himself this thing could turn into pneumonia. Doctor's orders were this: Skip practices and recruiting and coaching — put on pause the duties of running the nation's most successful non-blueblood program of the past several years — and spend three or four days doing nothing but drinking lots of water and getting lots of rest.
"I'm not able to do that," Marshall shrugs.
Pausing is not in Gregg Marshall's constitution.
He trudges down the steps at Koch Arena, wheezing. Every flight of stairs he pauses and coughs until he is red in the face. Waiting for him on the court is a camera crew, ready to film a commercial for a Kansas grocery chain. The director reaches to shake his hand. Marshall won't do it. He doesn't want to get anyone else sick.
He sits in a folding chair, coughs until some of that nasty crud gets loose in his chest, cradles a basketball and stares directly into the camera. And all the sudden, his voice is sharp and clear.
"Hi, I'm Gregg Marshall, coach of the Wichita State Shockers men's basketball team," he says. "And I'm here to talk to you about Dillons."
Like always, Marshall is intensely focused. You can see that focus in his eyes: Put all the obstacles out of your mind; get this task done; then move onto the next task. It's the same way he turned Wichita State into college basketball's most inspiring story over the past three years. It's what he tells his players: Work hard and do your job — no excuses. Stitched on his golf shirt is Wichita State's slogan, perhaps the most blue-collar slogan in all of college basketball: "PLAY ANGRY." Hanging in the rafters above him are reminders of Marshall's greatest basketball moment as well as his most disappointing: A banner commemorating Wichita State's 2013 run as the first nine-seed to make a Final Four, and a banner commemorating Wichita State's 2014 NCAA tournament appearance, where the one-seed's undefeated season was spoiled by the most unfair draw of them all, a hard-fought loss to an eighth-seeded Kentucky team that would go all the way to the title game.
After each of those moments, Marshall and his program put aside what they had accomplished — a Final Four run, an undefeated regular season, then last season a sweet defeat of in-state blueblood Kansas to make the Sweet Sixteen — and moved on to the next thing. They put in the time to find recruiting gems like Fred VanVleet and Ron Baker. They ran some of the most disciplined, intense practices in all of college basketball. They didn't complain. They plowed through whatever obstacle was put in front of them, anything from the perception that the Missouri Valley Conference was too weak of a league, to the challenges of getting big-time recruits to consider coming to Wichita, to this nasty, nasty cold.
As Marshall speaks into the camera, the bronchitis, for a moment at least, seems gone.
"So next time you're having a party or a tailgate to cheer on the team, stop by Dillons for your favorite food and drinks."
The director signals cut, and Marshall collapses into another coughing fit.
*****
The man who for the past several years has been one of the most sought-after college basketball coaches in the nation is facing a unique challenge in the next couple days: A challenge that, for one of the few times in Gregg Marshall's life, is completely out of his hands.
Last weekend, a Wichita State team that had one of the most up-and-down seasons in Marshall's tenure — a lone signature win over a ranked Utah team coupled with a handful of questionable losses — lost to Northern Iowa in overtime in the Missouri Valley Conference tournament semifinal game. It was a disappointing regular season leavened with plenty of context: For several of Wichita State's non-conference losses, the Shockers were missing star point guard Fred VanVleet and talented transfer big man Anton Grady, who were both injured. Yet that context doesn't change the fact that, on resume alone, Wichita State and its RPI of 46 is perhaps not an NCAA tournament team.
Leaven that negative fact with some more positive facts — that advanced analytics love the Shockers, with KenPom.com ranking them 11th in the country; that they have a strong recent history of teams succeeding in the NCAA tournament; that they quite clearly have the look of an at-large team — and you see what will easily be the most intriguing case leading into Selection Sunday.
But the most surprising thing about this season isn't that Wichita State has as many supporters as it has detractors. Marshall is used to that, like when so many cast doubt on Wichita State even while it was in the midst of becoming the first team to enter the NCAA tournament with an undefeated record in more than two decades. The surprise is that Marshall is still coaching here at all.
It's been no secret in college basketball that Marshall's been a target for several high-profile coaching vacancies the past several years. The schools that have come knocking are myriad: UCLA. North Carolina State. Missouri. Texas A&M.
But last spring came one of the biggest opportunities of them all: An Alabama program that seemed committed to reengage in basketball, that had Nick Saban as part of the recruitment committee, that made Marshall not just their prime target but their only target, and that offered to open up the bank for him.
There's no arguing about what's unifying this community.
Gary Plummer, president of the Wichita Metro Chamber of Commerce
Like, $4 million a year in bank.
As a starting point.
"Alabama was pursuing him so hard," said Steve Feilmeier, the CFO at Wichita-based Koch Industries, which led the community's effort to raise money to keep Marshall. "If Gregg didn't want to stay, we had no shot at keeping him. Gregg left a lot of money on the table. The AD and the president were a little concerned there was no chance we'd be able to keep him."
Marshall's base salary was $1.85 million plus bonuses when Alabama came after him. Wichita State knew it needed to raise that number considerably; there's such thing as a hometown discount, and Marshall knows how important the equity is he's built in this community, but not many hometown discounts can close a gap between $1.85 million and $4 million-plus.
The perception outside of Wichita was that the new contract that ended up keeping Marshall in Wichita — a salary increase to $3 million for this year, which will rise to $3.5 million in 2018 and continue at that base salary until 2022 — was simply a case of getting Charles Koch to write one big check. He is, after all, one of the richest people in the world and a huge Wichita State booster.
And while Koch did pony up a considerable amount, the push to keep Marshall in Wichita was funded more like a Bernie Sanders campaign than a Donald Trump campaign.
"The athletic director told me he wasn't sure we were going to be able to keep him," Feilmeier said. "I called about 10 people that night. I called back the athletic director, Eric Sexton, the next morning. I said, 'I know you need to raise $1.5 million, but I think we just raised half of it overnight.'"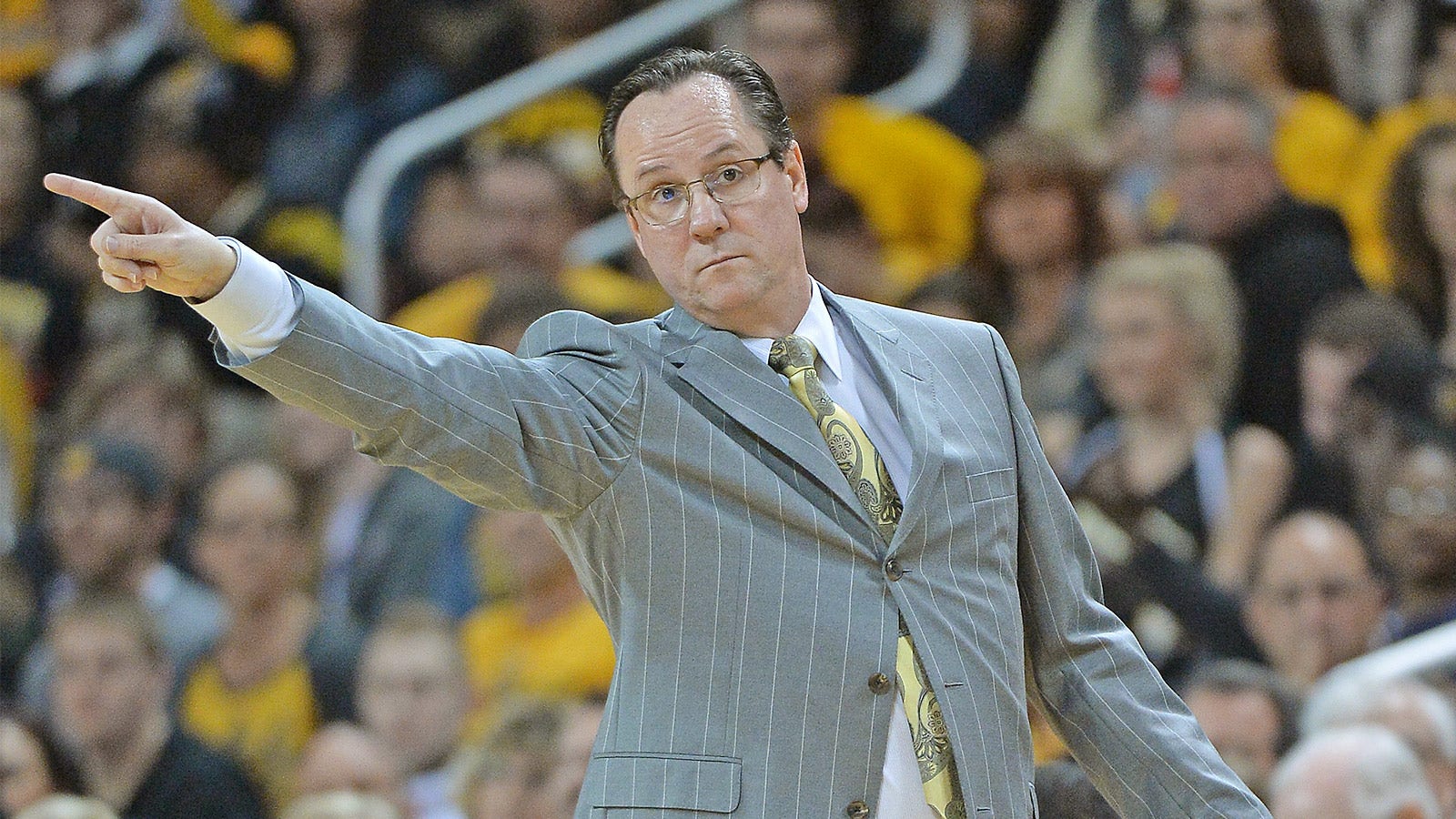 In the end Feilmeier's network reached out to 75 private donors. The majority of them gave checks of at least $10,000. It was a stunning example of what a few years of unprecedented sports success can mean to an entire community.
"There's no arguing about what's unifying this community," said Gary Plummer, the president of the Wichita Metro Chamber of Commerce.
When ESPN College GameDay came to Wichita last year, it was an enormous success and a huge point of pride: A signal that Wichita was one of the big boys now. The university itself has exploded alongside the basketball program. The first new dorms in more than three decades are being built. Local businesses speak about the recruiting advantages that come with prospective employees identifying Wichita as the home of the Shockers. The school is undergoing an initiative to use the university as a local business incubator. Not all of this is directly attributable to the Shockers' success — but locals insist much of it is. Which is why the community came out in droves to keep Marshall.
Of course, if Gregg Marshall wanted to go — for more money, or for a more prestigious conference, or simply to move up the perceived ladder — Gregg Marshall was going to go.
And yet this is where you need to understand something about Gregg Marshall: He's not particularly worried about what other people think. He tells you exactly what is on his mind, sometimes to the point of bluntness. He's a unique dude in the college basketball world: In a world filled with car salesmen, Gregg Marshall is a straight shooter, a self-made man who scratched and clawed for everything he got.
And that's something his mother saw in him since he was little.
*****
"I hate being wasteful," Marshall says while he's sitting in his office, summarizing a life philosophy that's perfectly reflected in his basketball team. "When you learn to maximize what you have, it's something that never leaves you. And that applies to coaching. You maximize what you have and where you are."
Friends and family speak of how he still collected those little shampoo, conditioner and lotion bottles from hotels even as a millionaire basketball coach; at one point he had several hundred bottles of each stacked at his house. Marshall's father, Walter Marshall, speaks about how his son has always been able to take $10 and turn it into $20, which when you think about it is kind of what Marshall has done with his diamond-in-the-rough basketball recruits. When Marshall's parents divorced when he was a kid, his mother raised him frugally. His mother, Judy Lamar, wanted her son to have nice things, but she just waited for them to go on sale — like every spring, when a local clothier in Roanoke would have his "half off half" sale and Lamar could get her son clothes on clearance for 75 percent off.
"My parents did the best they could," Marshall says. "I don't know that we ever felt poor, but we certainly weren't rich."
From as early as his parents can remember, Marshall was obsessed with basketball. Lamar's favorite black and white childhood photo of her son was taken on Christmas Day; they got him a new basketball, and he fell asleep in his flannel pajamas, cuddling the ball. In middle school he wrote an essay about wanting to become an NBA player.
"But he had white man's disease: he couldn't jump," his father recalled.
"When he was 14 or 15," his mother said, "I was making dinner, and he came up to me. He said, 'Mom, I just realized I'm never going to be tall enough or strong enough to play pro ball.' I said, 'Don't worry about it, son. You go on and play as long as you can.' But he had the saddest look on his face. He said, 'If I can't play or coach, I don't know what I'm going to do.' "
The athleticism may not have been there, but there were obvious basketball smarts and a natural toughness that oozed out of Marshall. His dad encouraged that competitive side. His father coached him in Mighty Mite football. He was tougher on his son than the other kids. "If a kid ran over Gregg, I'd make him run over Gregg again," Walter Marshall said.
It was in his childhood where Marshall's "Play Angry" philosophy began to take shape. During a high school game Marshall caught an elbow in the face, and his two front teeth popped out. His mother, a dental assistant, walked onto the court in high heels, stopped the game and told them they needed to find those teeth. She wrapped them in paper towels and came knocking on her dentist's door. Marshall remembers smelling alcohol on his dentist's breath — it was a Friday night — and remembers the dentist kicking his mother out of the room because she was so frantic. "I had to be the dental assistant," Marshall laughs. "I held all the instruments and the teeth while he put the teeth back in again."
If a kid ran over Gregg, I'd make him run over Gregg again.
Gregg Marshall's father, Walter, on coaching him in youth football
Playing angry came out more when he was a Division-II player at Randolph-Macon College in Ashland, Va. The team was playing a pickup game one spring day. Marshall was going toe-to-toe with the starting point guard, a close friend named Rod Wood. Wood barked at Marshall for coming through a screen the wrong way. Marshall felt disrespected. So he did the same thing again. And again.
"And he just stopped and planted and popped, just drilled me," Marshall says. "My nose exploded. I went to one knee. He hit me again. I'm down to all fours. At that point you gotta decide: You just got your ass kicked, or do you stand up and go? And you know which one I picked."
The deal with his college coach, Hal Nunnally, was that if a fight broke out in practice he let the players fight. There were plenty of fights in his practices. But this one was different.
"We were both a bloody mess," Marshall said. "Coach's deal was, when he said, 'My time!,' we all stopped. It was like blowing a whistle. Well, he said 'My time!,' and I didn't stop. I'd gotten up and gained the upper hand. He said it again. I didn't stop. And finally him and the assistant coach, they rush out and break the fight up. He took us to the back. My nose was broken. And he said, 'This is over. What goes on between the lines stays between the lines.'"
The coach paused.
"And if I had post players with as much heart as you two, we'd be a national championship team," the coach said.
*****
No matter what you think of this year's Wichita State team — that they are comfortably in the NCAA tournament as an eight- or nine-seed, as ESPN bracketologist Joe Lunardi and FOXSports.com bracketologist Stewart Mandel believe; that they are the most bubbly of bubble teams, lucky to even make the First Four, as CBS bracketologist Jerry Palm believes — there is no denying this: The blue-collar, play-angry philosophy that's been with Gregg Marshall from birth until now is an inexorable part of this team's identity. It has been the key to this program's identity since way before it burst onto the national stage with 2013's Final Four run, and it's become even more pronounced as the Wichita community — a scrappy, blue-collar, chip-on-the-shoulder place that used to go by "Cowtown" and still never feels like it gets the respect it deserves — has embraced this program as its own.
Marshall is someone who can will basketball players to overachieve. It's what he did at his first head-coaching job at Winthrop; he took over at a program that had gone 7-20 the year before he arrived and that had never made an NCAA tournament, and he went to seven NCAA tournaments in nine years. It's what he's done at Wichita State too, chasing after overlooked players and turning them into something special.
"When he recruits he sees things nobody else sees," said Greg White, who was Marshall's boss when Marshall spent two years as an assistant at Marshall University in West Virginia. "We could line up 10 of the prettiest models in the country on the baseline and ask who is the prettiest. You and me, we'd see the looks. Gregg would see more than just the looks. He really has an uncanny ability to convince people they can do unbelievable things."
And yet as Marshall has brought unbelievable things to Wichita State the past several years, a shift in perception has occurred. In the program we used to see as an underdog, we now expect greatness. The team that was a Cinderella in 2013 and that was doubted for its conference affiliation during its 35-1 run in 2014 now has a reputation. Maybe it was because they beat Kansas to get to last year's Sweet Sixteen, the little brother knocking off the big brother and finally getting that measure of respect. Maybe it's that some big-time recruits, guys who are on the radars of bluebloods like Kentucky, are now including Wichita State in their travels.
We could line up 10 of the prettiest models in the country on the baseline and ask who is the prettiest. You and me, we'd see the looks. Gregg would see more than just the looks. He really has an uncanny ability to convince people they can do unbelievable things.
Greg White, Marshall's boss when Marshall was an assistant at Marshall University
We like to speak about how teams like Duke and North Carolina and Kentucky get some sort of blueblood upgrades in the polls and by the NCAA tournament selection committee just because of the name on the front of their jersey. In the ultimate twist of fate, that is what is happening to Wichita State this season. On the surface, their traditional metrics are probably not those of an NCAA tournament team; only one win against a team with an RPI of greater than 70, plus one loss outside the top 100. But if you look deeper — past the 24-8 record, past the discrepancy between traditional metrics and advanced analytics — you see a team that looks like it belongs in the NCAA tournament without a doubt. You see a team that plays harder than anyone out there. You see a brilliantly coached group. And you see a brand name on the front of the shirt whose recent history has told us that, yes, the Shockers always belong among the big boys. You see a team that certainly should make the NCAA tournament — and could even make another nice little run.
Obstacles are nothing new for Gregg Marshall. There was the obstacle of an empty cupboard when he arrived in Wichita, and then stumbling to an 11-20 record in his first season. There was the obstacle of figuring out how to find the right type of players to sign with the Shockers, guys whose hearts outweighed their talents. There was the obstacle of having to prove themselves as not just a nice little one-off Cinderella story but as a year-in, year-out basketball power.
Gregg Marshall has conquered all those obstacles. And yet, between now and Selection Sunday, he's confronted with an obstacle that is completely out of his hands: Will a committee of 10 athletic directors look at this team's body of work, weigh this program's history as well as this team's potential, and put them in the field of 68?
They should. Marshall has made the NCAA tournament in 10 of the past 16 seasons; this season ought to be the 11th. But for Gregg Marshall, someone who has always overachieved through sheer force of will, an obstacle that is now in the hands of someone else is the most difficult of them all.
Follow Reid Forgrave on Twitter @reidforgrave or email him at ReidForgrave@gmail.com.