Grayson Allen Shows Player of the Year Potential Against Michigan State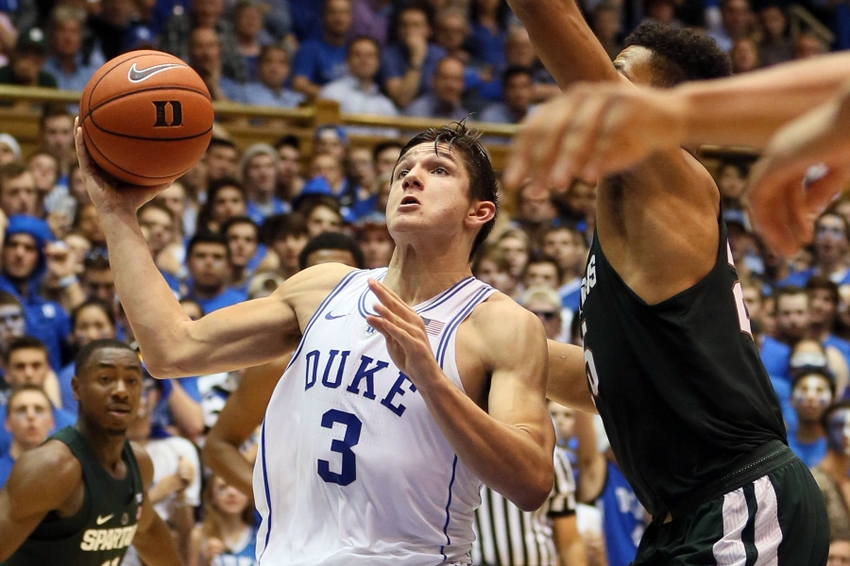 Junior Grayson Allen excelled when Duke needed it most against Michigan State, showing why he's one of the favorites for national player of the year.
Duke Basketball added to their event-best record in the ACC-Big Ten Challenge this year with a 78-69 win over Michigan State. Grayson Allen took over for the Blue Devils in the second half to pick up the team lead them to a victory.
Duke and MSU were tied at 35 after an ugly first half for the Blue Devils. The team shot poorly from the field and from three and committed several crucial turnovers that allowed the Spartans to stay close. Forward Amile Jefferson was solid early on recording 11 points and 7 rebounds before halftime. The Blue Devils had a balanced offensive effort for the game, but Grayson Allen's dominance after the break is what led the Blue Devils to the win.
Allen only scored 8 points in the first half, but excelled in the second half to score 16 and making 3-6 three pointers after the break. He and freshman guard Frank Jackson helped spark a Duke run that would give them the lead for good. The Duke guard has been struggling with a foot injury that's limited him this season, but looked great last night against Michigan State as he becomes healthier.
Grayson Allen is one of the early favorites to win conference and national player of the year awards this season, and showed why last night. Duke Men's Basketball will have a brief break before returning to action this weekend hosting Maine this Saturday.
This article originally appeared on