Georgia Bulldog of the Week: Vern Fleming, not to be over shadowed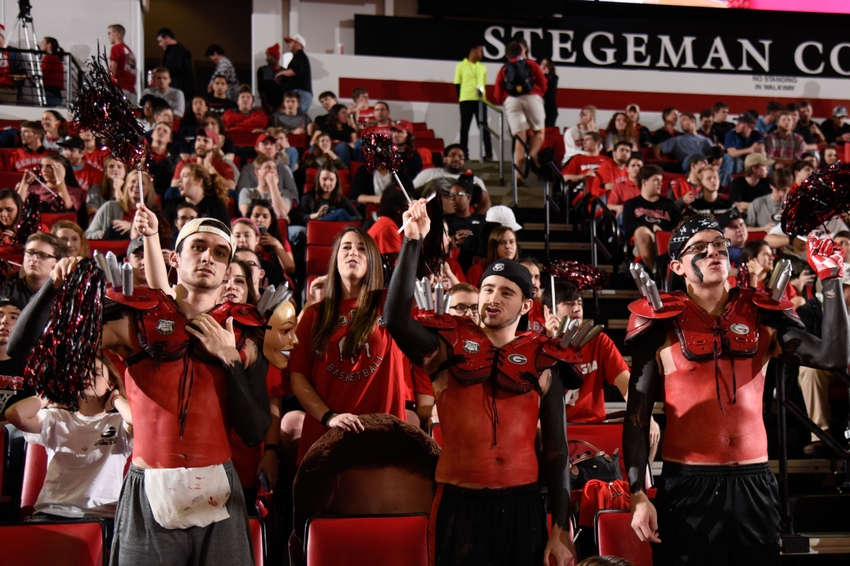 This weeks Georgia Bulldog of the Week is Vern Fleming, point guard on the Georgia Basketball team from 1979-1984.
On the Georgia basketball teams from the early 1980's, one man gets all the attention and that's Dominique Wilkins. And for good reason, Wilkins had 1,688 points in only three years in his hall of fame career. He then went on to be one of the best pro-basketball players in his era on route to the Basketball Hall of Fame.
But there was another on those same teams who was just as important for the Georgia Bulldog basketball team. That player was Vern Fleming.
1A and 1B
If Wilkins was the best player Georgia basketball had in the early 1980's, Fleming couldn't have been too far behind. Georgia played 125 basketball games from the 1980 to 1984, Fleming appeared in all of them and started in 124.
In Wilkins freshman season in 1979-80, Georgia ended with a 14-13 record and no post-season appearance. Fleming arrived a year later and together the duo led Georgia to a 19-12 record and a one-point loss to South Alabama in the second round of the National Invitational Tournament.
Wilkins and Fleming led Georgia to another 19-12 season in 1981-82, this time the Bulldogs made it all the way to the NIT semifinals before losing 61-60 to Purdue.
In 75 years of basketball, Georgia had never made a post season appearance in either the NIT or NCAA Tournament. And it wasn't Wilkins alone who led Georgia to these new heights, he did so along with Vern Fleming.
In their final year together in 1981-82, Fleming and Wilkins combined for 1,000 points.
Fleming was a giver and taker on the basketball court. His 400 assists are fifth in Georgia history and his 205 steals is fourth. He was also a scorer as he left Athens as the Bulldogs all-time leading scorer with 1,777, ahead of Wilkins. He is now fourth all-time in scoring at Georgia.
His Time
Wilkins left for the NBA after his junior year in 1982 leaving leadership of the Bulldogs in Fleming's hands. With Fleming headlining the 1982-83 Georgia Bulldog basketball squad, the team, reached heights they had never been to before or since. Georgia went 24-10, won their first SEC Championship and made it all the way to the Final Four in the NCAA Tournament.
Fleming and the Bulldogs defeated Micheal Jordan and the North Carolina Tar Heels in the Elite Eight before losing to the eventual National Champs Houston Cougars.
Everyone says that with Wilkins, Georgia would have won the National Championship in 1983, and they are probably correct. But would Georgia have ever rose to those heights without Fleming? Not to take anything away from the Human Highlight Reel but that Fleming guy was no slouch.
More from Dawn of the Dawg
Too often, players get over shadowed by their truly legendary teammates. Such was the topic of our first Georgia Bulldog of the Week Lindsay Scott. That is also applicable to Vern Fleming.
His impact at Georgia might not be as massive. The accolades he racked up while in Athens we're not as plentiful. And his career after Georgia might not have been as impressive. But Vern Fleming was not just another guy in Dominique Wilkins shadow. He was a truly great Georgia Bulldog who is not to be overshadowed just because he played with a legend.
This article originally appeared on