Georgia Basketball: Preview of the second week of the season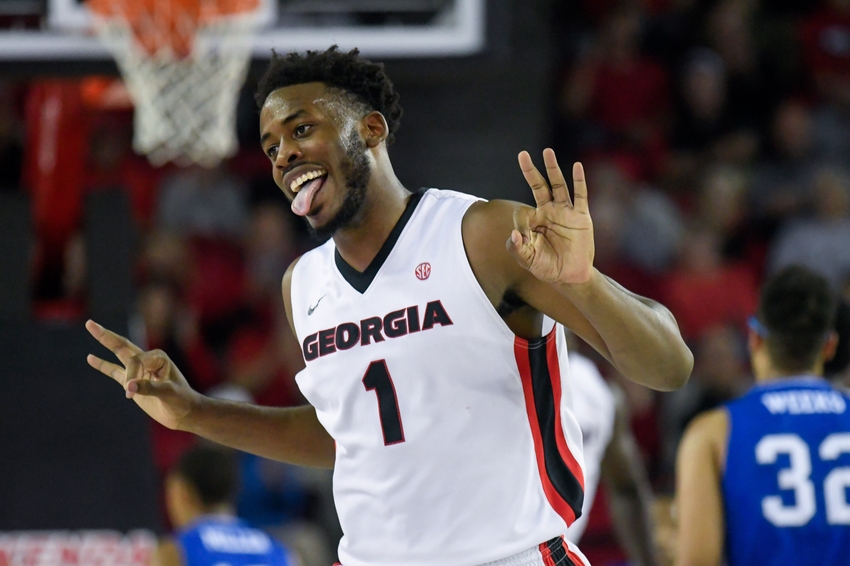 One week of the Georgia Basketball season is almost complete, week two sees the Bulldogs in Kansas City for the CBE Hall of Fame Classic.
The first full week of Georgia Basketball has not concluded yet, the Bulldogs host the Furman Paladins tomorrow, you can read a preview for that story here. With a win Georgia can start the season 2-1. They opened last Friday with a 74-64 loss at Clemson and followed that with a 60-46 win over UNC-Asheville on Monday.
But to look ahead to next week, the Bulldogs travel to Kansas City for the College Basketball Experience Hall of Fame Classic. The teams competing in the tournament are with Georgia are George Washington, Alabama-Birmingham, and no. 7 Kansas.
11/21 vs. George Washington
The Colonials ended the 2015-16 season 28-10 (22-9 regular season, 11-7 Atlantic 10) and won the NIT Championship. On route to their victory in the NIT, they defeated Hofstra, Monmouth, Florida, San Diego State and Valparaiso. For comparison, Georgia was eliminated in the second round of the NIT last season.
So far this season, George Washington is 2-0 with close wins over Maryland-Eastern Shore and Siena. Both games were decided by less than four points (75-71 over Maryland ES, 77-75 over Siena).
This one is difficult to judge. On one hand the Colonials are defending NIT Champions, on the other they've played two close games against teams they shouldn't be in close games against.
But what isn't easy to judge is how good Tyler Cavanaugh is. He leads George Washington with 18 points per game and 3.5 assists per game, and he's second with 8 rebounds per game. Last season he averaged 16.8 ppg and 7.6 rpg, both were first and second on the team respectively.
Georgia and Yante Maten specifically will have a tough time with Cavanaugh. Maten versus Cavanaugh will be the most important player match-up in the whole contest. If Maten gets the best of Cavanaugh for most of the night, the Bulldogs should win the game.
1/22 vs. Kansas or UAB
Let's go ahead and predict a win for Kansas against UAB. The Jayhawks are 1-1 right now but they haven't played out of the top 15. They started the season with a loss to no. 11 Indiana and then Tuesday night defeated no. 1 Duke.
UAB is also 1-1 with games against less impressive opponents. The Blazers beat Arkansas Pine-Bluff in their first game and then lost to Furman on Monday.
Unless UAB can pull off the biggest upset in program history, Georgia will be playing them if they lose to George Washington. But if the Bulldogs win, they'll be playing Kansas.
Kansas
In a time where other powerhouse programs are playing with mostly underclassmen who bolt to the NBA after a year or two, it's refreshing to see a team like Kansas. Four of their top six contributers are upperclassmen and they are led by Senior Frank Mason III. He's averaging 25.5 ppg, 7 apg and 5 rpg.
Kansas has the talent advantage over Georgia, and unlike many other powerhouses, they don't conceed anything when it comes to experience. They are well-balanced with three freshmen, three sophomores, six juniors and three seniors.
That means Georgia can't rely on a bunch of freshmen mistakes to pull out the upset, they have to do it the old-fashioned way; try to outplay your opponent for 40 minutes. That's easier said than done.
UAB
The Blazers aren't nearly as talented as Kansas, but there doesn't appear to be a weak link on this team. Five players are averaging double digits in scoring and four players average at least five rebounds per game.
There is no one leader on this team, they are instead led by the unit of Hakeem Baxter, Dirk Williams, Tyler Madison, Chris Cokley, William Lee, Tosin Mehinti, and Deion Lavender.
But keep in mind that so far this season UAB's only win was over a team who didn't even win 10 games last year (Arkansas Pine-Bluff), and lost their only game against a team who was above .500 last season (Furman). We'll get a chance to better judge the Blazers Thursday night when they play Troy and Monday when they play Kansas.
Georgia definetely has a talent advantage, no one on UAB's team is as good as Maten, J.J. Frazier, Juwaun Parker, or Derek Ogbeide.  It's just a matter of getting quality minutes from William Jackson II, Mike Edwards, Kenny Paul geno or someone else, to match up with all the players for UAB who play at the same level.
But Georgia should probably cruise over UAB while at least four of their starters are on the floor.
Week After
11/25 vs. Gardner-Webb
More from Dawn of the Dawg
This article originally appeared on