Georgetown Basketball: Hoyas need Tre Campbell to have big year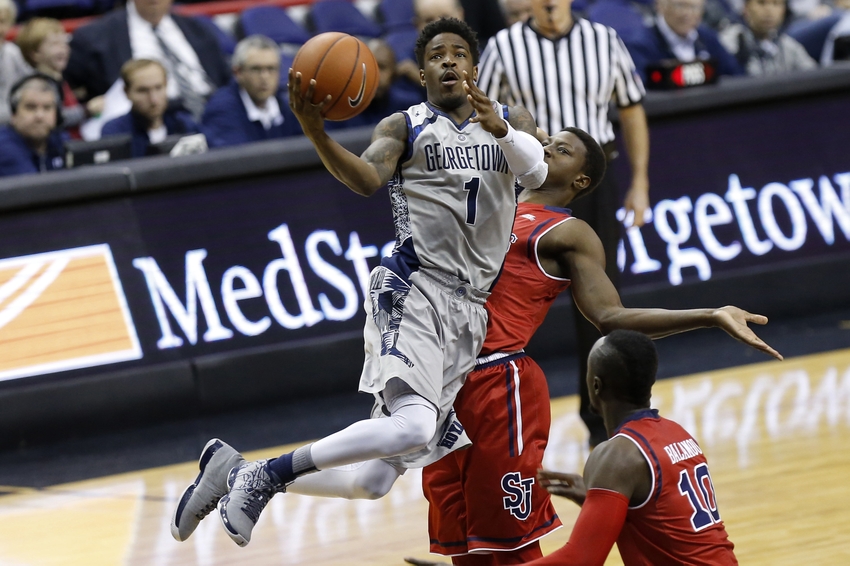 Georgetown basketball's point guard is the key to the Hoyas returning to the Big Dance in 2016-17.
Point guard Tre Campbell was supposed to be a key contributor for the Georgetown Hoyas last season.
Coming off his freshman year where his minutes were sporadic, Campbell was able to produce when needed, putting up double-digit point totals five times in games against Creighton, Marquette, Providence, Butler and Seton Hall. All five were conference games where Georgetown needed their young point guard to step up, and in all five he delivered, helping the Hoyas win four.
With the graduation of guard Jabril Trawick in 2015 and the lack of a true point guards that were able to play next to the Hoyas' star senior guard D'Vauntes Smith-Rivera, Campbell was poised to have a breakout year last season with increased minutes and opportunities.
And while the minutes did increase, going from just over 13 in 2015 to over 20 last season, his production did not.
After coming off the bench for the first nine games of the season and missing Georgetown's trip to the 2K Sports Classic at Madison Square Garden due to illness, Campbell was moved into the starting lineup for conference play.
In 18 conference games and 17 starts, Campbell averaged 8.4 points per 40 minutes on 36 percent shooting, down from 10.9 points per 40 minutes on 45 percent shooting the season before.
Campbell only managed two double-digit outings. His season highlight came in Georgetown's upset win over the fifth ranked Xavier Musketeers. Campbell erupted for a career-high 21 points while nailing five threes and hitting countless big shots down the stretch.
This is the kind of performance Georgetown will need from Campbell more consistently this season. Seeing as how the Hoyas' leading scorer from the previous three seasons, Smith-Rivera, graduated last spring, they will need somebody to step up in their backcourt. Campbell has a chance to be that player.
The Hoyas definitely lack options at point guard for this upcoming year, but they did manage to bolster their backcourt with the addition of junior college transfer Jonathan Mulmore.
Campbell will likely compete with Mulmore for the starting job, but there will be plenty of minutes to go around and plenty of opportunity for Campbell to prove that he is capable of leading the Hoyas this season.
This article originally appeared on