Game Awards: Iowa Hawkeyes 95, Stetson Hatters 68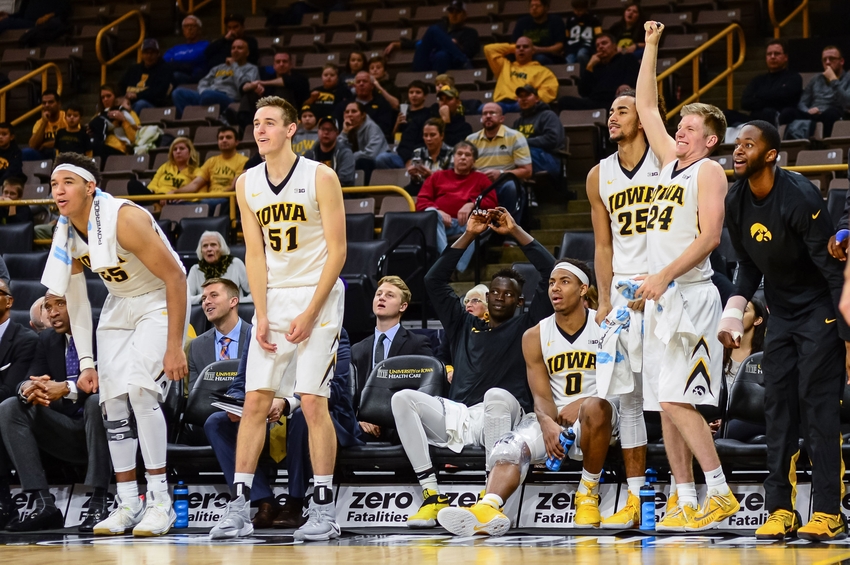 A look at who performed well and who didn't in Iowa's win over Stetson
The Iowa Hawkeyes ended their four game losing streak with an impressive win over the Stetson Hatters.
Iowa jumped out to a quick 14-2 lead and never gave Stetson a chance to come back. The Hawkeyes led 44-28 at halftime and ended up winning 95-68 in arguably their best performance of the season.
Despite it coming against a now 4-6 Stetson team, Iowa played angry and like they are out to prove something. This level of play and motivation will have to transfer over against good teams, however a young Iowa team showed great resilience in their bounce back win after a loss to Omaha where everyone questioned them afterwards.
Defense will be a problem for Iowa all season, but the zone gave Stetson a ton of problems and forced them into a lot of bad shots. The Hatters only shot 34.7 percent from the field and a brutal 8-of-33 from behind the arc. Not to mention Iowa forcing twice as many turnovers (10) as Stetson.
Iowa smothered a poor offensive team, something they've struggled with this season. Three players on Stetson did score in double-figures, however no one with at least five shot attempts shot above 50 percent from the field.
Also, Iowa received a lot more help from their bench. Seven players came off the bench and five played double-digit minutes. Iowa's bench accounted for 28 points in the win, which is miles better than the nine points they scored in Iowa's loss to Omaha on Saturday.
With Iowa State coming to town on Thursday, the Hawkeyes need any positive sign to give them confidence. They're still under .500 but a 27-point win should help them forget the horrid memories of losing to Omaha at home and go into their game against the Cyclones with a better attitude.
Ahmad Wagner went down with a knee injury and did not return to the game. He did return to the bench and was cleared to play.
Player Of The Game: Isaiah Moss
Since cracking the starting lineup against Notre Dame, Isaiah Moss has started to come into his own. He played a team-high 32 minutes last night against Stetson and had a career night.
Iowa Basketball: Get To Know The Stetson Hatters
Moss recorded career-highs across the board with 21 points on five three-point makes, six rebounds and two steals for the Hawkeyes. He quickly became the Hawkeyes top scoring option, alongside Cordell Pemsl, who dominated in the paint and finished with 21 points, too.
With Jordan Bohannon having another poor shooting night — 1-of-9 from the field and 0-of-3 from three — Moss stepped up.
Peter Jok's lone three-point make was Iowa's only other made three. Plus, his 13 points in the first half helped give Iowa a 16-point halftime lead.
Outside of his five threes, Moss also went 3-of-5 from inside the arc. He continued to thrive on catch-and-shoot situations instead of driving to the basket or creating for himself, but he did run the floor well on fastbreaks, as all three of his two-point makes were layups.
Cordell Pemsl dominated in the paint, as Stetson had no answer for him in his 22 minutes of action. Although, Pemsl has been a key player in Iowa's game plan since Tyler Cook went down, but this is the first game Moss truly proved why he got moved to the starting lineup.
Bench Player Of The Game: Nicholas Baer
In his first game coming off the bench this season, Nicholas Baer brought the hustle and intensity head coach Fran McCaffery hoped he would when making his decision to start sophomore Ahmad Wagner over him.
Baer led the bench with seven points, along with five rebounds, two assists and one steal. Plus, Baer had a monster one-handed dunk in the second half that had even Tyler Cook on his feet cheering.
Even though Baer hasn't played bad as a starter, his hustle and gritty play might be what's needed off the bench to help give a spark to the second unit. He only shot 2-of-5 from the field, however he got into the lane with backdoor cuts and drew multiple fouls, as he attempted a bench-high four free-throws.
When it comes down to it, Iowa needs stability on the bench. Baer isn't great in any particular area, but he's efficient in almost every area. His 6.8 points per game might be enough to help give life to players like Dom Uhl, Christian Williams and Brady Ellingson off the bench.
Baer is going to hustle, rebound and play solid defense, and being comfortable in a bench role due to last season helps, as well. If Baer stays active on offense and becomes a consistent option on offense with his cuts to the basket, it will relieve a lot of pressure off the second unit.
Please Be Better: Peter Jok
Peter Jok hasn't been his normal self since scoring 42-points against Memphis. In just 25 minutes of action, Jok still finished with 15 points, eight rebounds and seven assists, but the Hawkeyes need more out of their star on offense.
His 4-of-13 shooting night from the field and 1-of-7 shooting from three marks the third straight game he's failed to shoot above 40 percent from the field, as well as the second time in three games he's made two or fewer threes.
Sure, Isaiah Moss stepped up with 21 points and Cordell Pemsl and Jordan Bohannon, even though he struggled against Stetson, have emerged as reliable scoring options since Tyler Cook went down, but Jok is still the star. Iowa will lean on him more in games they don't seemingly lead by double-digits right off the bat.
Teams have started and will continue to put pressure on Jok. He's seeing fewer and fewer open shots, as teams are making a conscious effort to slow him down.
Jok needs to be better at creating shots for himself. That part of his offensive game is a big reason why he's still at Iowa instead of playing in the NBA right now.
It's not to say that he needs to shoot 68.8 percent from the field and average 42 points per game, however Iowa won't win many games when Jok only scores 15 points or shoots under 40 percent from the field, let alone both happening in the same game.
Right now Peter Jok is simply in a funk, but a good shooting night will fix it. Iowa ended their four game losing streak against Stetson with Jok struggling behind the arc, but the Hawkeyes won't stand a chance against Iowa State if he's not better.
This article originally appeared on