Game Awards: Iowa Hawkeyes 83, Seton Hall Pirates 91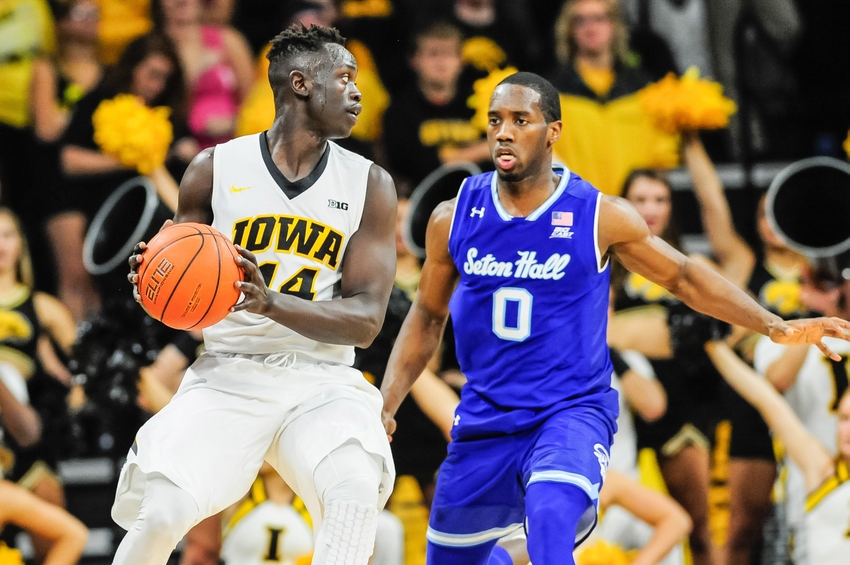 The Hawkeyes dropped their first game of the season and fall to 2-1
In a game that the Iowa Hawkeyes had a chance to win, their slow start to the second half and poor defense at the end of the game hindered any chance of a comeback. Still, the Hawkeyes led at halftime and hovered around a 3-to-5 point deficit for much of the second half, before it snowballing to eight points at the end of the game.
Neither team's bench played a major factor in the game, other than freshman Myles Powell for Seton Hall. Outside of Powell, who had a team-high 26 points, both teams' benches combined to score just 11 points. It's a big problem for both teams, especially for Iowa who thrived in their first two games when someone off the bench stepped up.
With Seton Hall being Iowa's first respectable opponent, we finally had a chance to see how Fran McCaffery would divide up minutes. Ahmad Wagner and Jordan Bohannon each saw 20 and 19 minutes, respectively, but no one else saw double-digit minutes.
Considering the mediocre play from the starters, it's a little surprising that McCaffery didn't search for a spark plug off the bench like last game when Brady Ellingson went off for 23 points. In fact, outside of Christian Williams, who saw 24 minutes, the rest of the starting lineup played at least 25 minutes. It could just be one game, or it could be telling of how little McCaffery trusts his inexperienced bench against better teams.
However, the main storyline of the game was Iowa's sloppy play on both sides of the ball. Offensively, they committed 17 turnovers, including six coming from their point guards.
On defense, the Hawkeyes failed to effectively guard Seton Hall all game. The offense made up for it in the first half when Iowa let the Pirates score 42 points, but a 49-point second half by Seton Hall was too much to overcome for Iowa. The Pirates shot 50.8 percent from the field and 47.1 percent from three. Plus, three players finished with 20-plus points.
Iowa's full-court press didn't work as Khadeen Carrington easily maneuvered his way through the defense and got to the basket without being picked up. When Iowa switched to a 3-2 zone, they left Powell open in the corner for an open three, something that should never happen while playing a zone.
Even though Iowa didn't look great, they did have some bright spots on Thursday night. Here's a look at the player of the games and a player who needs to be better moving forward.
Player of the Game: Peter Jok
30 Points, 11 Rebounds, 2 Steals, 11-21 FG
After quietly putting up 13 points in the first half, Peter Jok exploded in the second half. He finished the game with 30 points and kept Iowa in the game once Seton Hall started to pull away at the end.
He made Seton Hall pay for overcommitting to him on defense by stopping on a dime and knocking down a mid-range jumper. Jok shot an impressive 9-of-13 from inside the arc on Thursday, as he relied on his mid-range game more with his three-point shot not falling.
Iowa Basketball: Get to Know Seton Hall Pirates
Jok shot a measly 2-of-8 from deep, but one of his three-point makes brought Iowa within five late in the game. Even when struggling, great players step up and make big plays at the end of games, and that's what Jok did for Iowa. Sure, the Hawkeyes fell short and Jok forced a couple of shots at the end of the game, but it's hard to blame him considering the lack of options on offense.
He also dished out four assists, made all six of his free-throw attempts and crashed the boards by grabbing 11 rebounds for his first double-double of the season. It wasn't his best game, although he stepped up as the team's best player when nothing worked on offense for them outside of him and Tyler Cook.
When it comes down to it, Iowa had to rely on Jok and needed him to force some shots to try to ignite their offense. He created his own shot, got to the line and put pressure on Seton Hall's defense. As good as Cook was, Jok kept Iowa in the game late in the second half, and Iowa might have escaped with a win if a couple more of his threes went down.
Peter Jok continues to prove why he's a capable and reliable star player, as well as being one of the best shooters in the nation.
Player of the Game: Tyler Cook
24 Points, 2 Rebounds, 9-15 FG, 5-12 FT
Against his first major conference opponent, Tyler Cook looked like a man among boys and became a nightmare for Seton Hall. He connected on a three in the first half, was unstoppable in the paint and played solid defense on Angel Delgado. Due to the focus Seton Hall put on Jok at the start of the game, it left easier matchups for Cook in the paint.
All the hype that came with landing Cook was on full display against the Pirates. He hammered down a couple of big dunks that should have given Iowa the momentum, showed immense athleticism for a 6-9 center and played beyond his years in the post. Not to mention putting Delgado in the spin cycle for a dunk that had all of Carver on their feet.
Still, other than Cook's three-point make in the first half, his outside shot looked atrocious. He airballed or barely grazed the rim on multiple occasions. Although, the biggest worry that comes out of his 24-point performance, in which the freshman forward took over for Iowa at one point, is Cook's free-throw shooting.
Seton Hall simply had no answer for Cook in the paint. Cook proved to be too strong and quick for the Pirates to guard, which resulted in them fouling Cook on almost every layup or dunk attempt. The gamble paid off as Cook only connected on 5-of-12 free-throws.
It's a problem that many people expected, but it's still troubling to see him consistently miss at the line. It gives teams an easy solution if Cook starts to dominate.
In the end, though, Cook held Delgado to nine points on 2-of-6 shooting and looked as good as advertised on offense. Sure, his outside shot and free-throw shooting needs to improve, and Iowa expects more than two rebounds from their center, but this was Cook's breakout game.
He needs to be Iowa's second best player, and he clearly was against Seton Hall. Let's just focus on the fact that Seton Hall had to double-team Cook, and he dominated a solid front court for 32 minutes in just his third career game.
Please Be Better: Christian Williams
6 Points, 5 Rebounds, 4 Assists, 2 Steals, 2-6 FG
Iowa has to find a solution at point guard to have success this season. Right now, Christian Williams doesn't look ready to start for the Hawkeyes. His rocky start to the season continued against Seton Hall, despite seeing more than 20 minutes for the first time this season and clearly being the Hawkeyes top option at point guard.
Offensively, Williams needs to protect the ball more. He had three turnovers and continued to be loose with the ball. It caused a lot of problems the few times Iowa got in transition because Seton Hall had a chance to poke the ball away.
Plus, while he did have a big three in the first half, Williams hasn't proven to be a legitimate scoring threat this season. He shot 2-of-6 from the field, missing all four of his two-point attempts, and is now a mere 4-of-11 from the field this season. Iowa doesn't need him to score 20 points per game, but he has to be more than just a passer to keep teams honest on defense.
Defensively, Williams had a hard time guarding Khadeen Carrington. He and Peter Jok shared duties of guarding Carrington, although at the end of the game, Carrington torched the Hawkeyes by getting to the rim on almost every play. Part of the time Iowa was in a 3-2 zone, although Williams also struggled to stay in front of Carrington when Iowa played man-to-man.
It's only his third game as a starter, therefore it's too early to panic about the young guard or pull him from the starting lineup. Besides, he has been very effective on the glass and looking for Jok and Tyler Cook.
That being said, Iowa needs a third scoring option to emerge, and right now defenses don't respect Williams' offensive game. The Hawkeyes still need him to be a passer, but Williams has to show something on offense so teams can't double-team Cook or Jok.
This article originally appeared on