Game Awards: Iowa Basketball 78, Iowa State Cyclones 64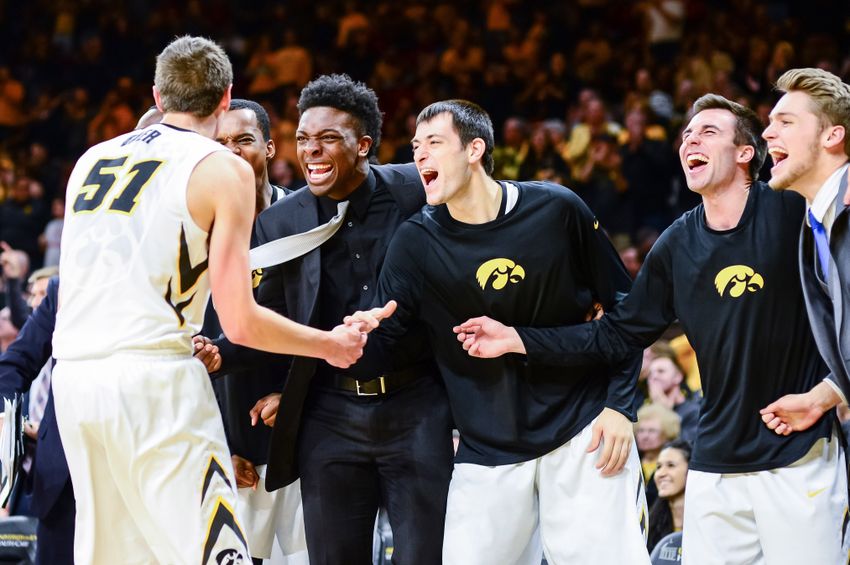 A look at who played well and who didn't in Iowa's upset win over Iowa State
It's been a rough start to the season for Iowa basketball, however they played their best game of the early season on Thursday night against rival Iowa State. Iowa's young team finally showed the potential they possess and why many felt they could be a dark horse in the Big Ten this year.
It proved to be Iowa's best game of the year in nearly every aspect. The Hawkeyes played smart, physical and with emotion. With the help of a home crowd that drowned out the Cyclones' fans, Iowa gained the momentum early with big plays on both ends of the floor.
The Hawkeyes led by 11 points 7:49 into the game. The fans were fired up and so were the players. Every time they made a big dunk or block in front of the student section, Iowa pounded their chest and let out a scream to show how much they wanted to win.
Evidently, it helped shut down Iowa State. The Hawkeyes led 44-29 at half and fought off every small run the Cyclones had in the second half. Iowa won 78-64 in a game they controlled the whole way.
The Hawkeyes' offense stayed hot, as they made 47.3 percent of their shots and 40.9 percent of threes.
Iowa had four players with double-digit points, including Peter Jok whose outside shot reemerged. Jok finished with a game-high 23 points on 9-of-17 shooting and 4-of-7 shooting from deep. He made tough shots and Iowa State didn't have an answer for him, as a result.
Although, the biggest surprise of the night came on the defensive end.
Iowa held Iowa State to 35.7 percent shooting from the field and 26.7 percent shooting from deep. Sure, the Hawkeyes blew some defensive assignments and left shooters open on the perimeter, but Iowa State failed to take advantage. Iowa simply had their best defensive game of the year and Iowa State flustered when pressing.
It's just one game, and Iowa is still a measly 5-5 on the year. However, the passion and emotion Iowa played with, and the way the bench responded and went crazy on big plays, is how the Hawkeyes need to play every game. Besides, dominating a rival can be the boost a struggling team needs to get them going in the right direction.
In a game Iowa didn't need to win but at least show up in and put up a fight, they dominated a ranked team with a team effort. Here are the stars of the game and who struggled on Thursday night.
Player Of The Game: Isaiah Moss
When I say it took a team effort to beat the Cyclones, I mean it took a team effort. There are multiple players on the Hawkeyes who played well enough to be named the Player of the Game.
Jok had a game-highs of 23 points and nine rebounds. Cordell Pemsl controlled the paint with 11 points and five boards on 4-of-7 shooting. Jordan Bohannon also played very well in 30 minutes, as he recorded eight points, five rebounds and four assists.
Iowa Basketball: Dom Uhl Must Regain Confidence
Although, Isaiah Moss, who followed up a career-high 21 points against Stetson with 14 points against Iowa State, is the player who stood out the most. Moss' 14 points on 6-of-11 shooting and four rebounds are impressive marks, but it's his defense that shined brightest.
Due to Monte Morris' uncharacteristic 6-3 point guard height, Fran McCaffery opted towards putting the taller 6-5 Moss on him instead of Bohannon. Don't get me wrong, Iowa's team defense that collapsed when Morris drove and gave him no easy looks are reasons he finished with just 10 points, five rebounds and five assists, but Moss deserves a lot of credit.
He stayed in front of Morris and never gave him an open look. To ask a player making his second career start to defend arguably the best point guard in the nation is a tall task, but Moss played better than anyone could have expected.
Plus, Moss played great down the stretch for the Hawkeyes. His defensive effort can't be understated, but neither can his seven points in the final five minutes. Moss didn't shoot well in the first half and he was hesitant at times from three, but his clutch layups at the end of the game were huge for an Iowa team trying to stop a final Iowa State run.
Isaiah Moss has played just 10 games in his career, but he already looks like an upperclassmen with years of collegiate experience.
Bench Player Of The Game: Nicholas Baer
Moving Nicholas Baer back to the bench might be the best move McCaffery makes all year. He looks comfortable as the leader of the second unit and dominated Iowa State in his 17 minutes with his undeniable hustle.
In just 17 minutes, Baer attempted a game-high seven free-throws and finished with 10 points, eight rebounds, two steals and a huge block. Baer showed his true value as arguably the hardest working player on the court at anytime.
In the first half, Iowa started to full-court press Iowa State. The Hawkeyes led 18-12 and the momentum was clearly starting to shift completely towards Iowa.
Then, Baer ripped the ball out Darrell Bowie's hands at half-court and finished the play with a beautiful layup in traffic to put the Hawkeyes up eight, which was the second great finish at the rim he had in the first half. That single play exemplifies the hustle and aggressive defense he played with on Thursday night.
It's extremely hard to game plan against Nicholas Baer because he doesn't do anything extremely well. He is good at a lot of things but he prides himself on out-hustling his opponent more than anything. Iowa State's confusion of how to neutralize Baer on either end became evident quickly.
Baer played as well as Iowa could have hoped for in just 17 minutes. He might have even seen more time if he didn't pick up four fouls, however that speaks to his aggressive defense more than anything.
Please Be Better: Christian Williams
With the way Jordan Bohannon is playing, 30 minutes for him and just 11 minutes for Christian Williams isn't the worst thing in the world. However, Williams' lack of production and impact when he plays is starting to become a real issue for a team with poor depth at the point guard position.
Against Iowa State, Williams' struggles continued. He finished with just two points, two assists and one rebound. He was the only Hawkeyes not to make a field-goal and turned it over once, while almost turning it over multiple times.
At 6-5, the lengthy Williams could have been a great match-up against Monte Morris and given Bohannon extended rest. Instead, Williams was a non-factor for most of his minutes and McCaffery couldn't wait longer than a couple of minutes to put Bohannon back in the game.
Williams made poor decisions as a play-maker, and it's surprising that Morris didn't pick his pocket considering how loose he is with the ball.
When dribbling, Williams doesn't do a great job of protecting the ball, and Iowa State got a hand on it a couple of times and almost knocked it away. That being said, he continued to try to dribble through the heart of a press, in which Iowa State nearly stole it from him.
Right now, Williams is a liability running the offense at times. Bohannon's role will only continue to get bigger until he shows consistency. It's hard to bash his play against one of the best point guards in the nation, however his non-existent play against the Cyclones exemplifies problems he's had all season.
This article originally appeared on