FSU Basketball Uses Defense to Get Big Win vs. George Washington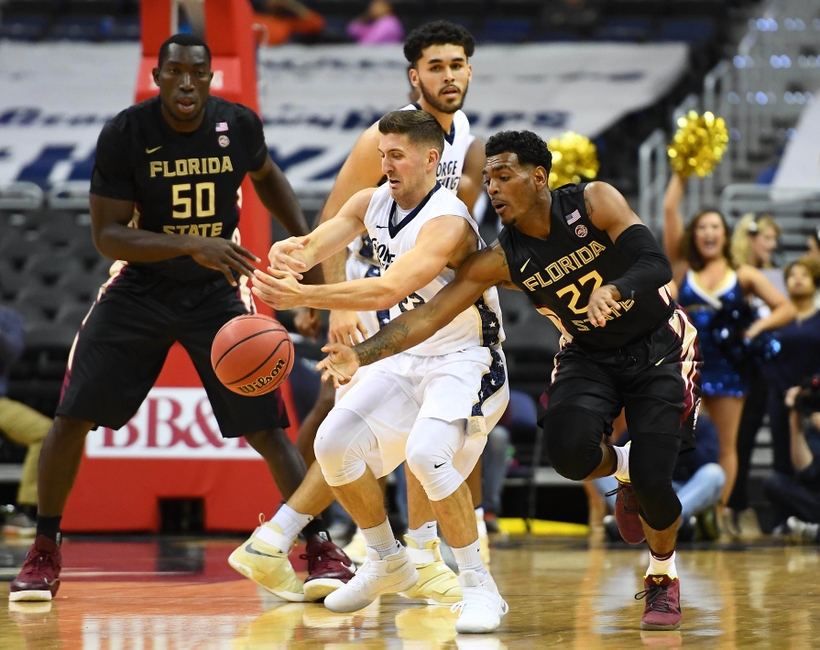 FSU basketball rolled on Sunday, defeating the George Washington Colonials 67-48 to improve their record to 7-1.
Just before tip-off, it was announced that the Seminoles would be without freshman star Jonathan Issac due to a hip injury (don't worry, it's not serious). So the question would be: who's going to pick up the slack?
Well, no one really did. At least not on offense. However, in what was their best defensive performance to date, the Seminoles forced more turnovers from the Colonials than they allowed made field goals (18 to 14). George Washington shot a paltry 23 percent from the floor, and went 4-for-21 from deep.
In particular, they did a great job of limiting the effectiveness of Tyler Cavanaugh. He averages 18 points per game for the Colonials, but was held to just eight on 2-for-9 shooting. Terrance Mann, among others, made it difficult for Cavanaugh to receive the ball in spots were he felt comfortable.
The Seminoles dominated from the opening tip. They were up 16 by halftime, and it should have been more. FSU missed layups and open three-point shots in the first half that could have put the game away even earlier. Those shots started falling in the second half, and the lead ballooned all the way to 32 before garbage time.
Considering the fact they were missing Issac, and Dwayne Bacon had a sub-par game (10 points on 4-for-11 shooting), it was impressive to see the Seminoles still play well enough to win comfortably. If they can continue to channel the defensive tenacity displayed today, the sky will be the limit for this team. And I'm not the only one that thinks so:
Now, time to give recognition to some players that stood out:
Player of the Game
Junior point guard Xavier Rathan-Mayes played one of his better games of the season. With Issac sitting and Bacon struggling, Mayes led the way for the Seminoles. He had 11 points on 4-of-8 shooting, to go with six rebounds, five assists, and two steals. Three of his five assists were alley-oops, and here's one of them:
Great to see the experienced point guard reward his big men for running the floor hard. Mayes also went 3-of-5 from three. His shooting (which had been poor before today) will need to improve in order to give Bacon and Issac more room to operate. If a defender has to stay close to Mayes to stop him from getting off an open three, that's one less guy to pack the paint.
The "Ryan Reid Unsung Hero" Award
The team defense showed today by the Seminoles was reminiscent of their 2011 team. How good were they back then? Well, according to KenPom, they had the best defense in the country. So to even resemble those guys is a major accomplishment.
Because of their effort as a whole, I'm giving the entire team the "Ryan Reid Unsung Hero" award. To force your opponent to more turnovers than made field goals is just ridiculous. And it wasn't just one or two players getting after it; they all were. CJ Walker was flying around the court on his way to three steals, Michael Ojo blocked two shots on consecutive possessions, and the 7-foot-4 Christ Koumadje was a presence down low.
It was simply a dominant showing defensively, and hopefully a sign of things to come. Defense will be the difference between this season being a good one or a great one.
Highlights
Offensively, neither team shined today. We already went over George Washington's stats, and FSU's weren't much better. They shot 41 percent from the floor, and 32 percent from three while turning the ball over 12 times. So here is my only highlight from today's viewing experience:
That's a cute baby.
Up Next
Semi-quick turnaround for the Florida State Seminoles. Their next game is on Tuesday, at home, against the 3-2 Southern Miss Golden Eagles. It tips off at 7 PM, and you can catch it on WatchESPN. I know, having to stream games is the worst, but you should all still tune in and support. Go 'Noles!
This article originally appeared on