FSU Basketball: Tarheel Fans Gain Respect For 'Noles In Victory
Kelvin Hunt/FanSided via Chop Chat

Fansided
FSU basketball lost its first game in a long time on Saturday. However, they gained respect from UNC fans even in defeat.
FSU basketball was riding a 12 game win streak into its matchup with UNC on Saturday. However, oddsmakers viewed UNC as the better team with FSU around +7.5 underdogs.
Ultimately, they were spot on as UNC often held a seven or eight point lead with the 'Noles mounting surges here and there to keep UNC fans nerves on edge.
Poor free throw shooting and UNC's ability to crash the boards ultimately did the 'Noles in on the road.
Here's our initial thought right after the game:
Love FSU…but folk saying FSU is better TEAM than UNC…they are not…but have lots of time to get there by March

— ChopChat.com (@ChopChat_) January 14, 2017
The 'Noles are arguably more talented, but UNC's experience and ability to overcome their BIGS in foul trouble for much of the game were huge.
UNC fans were nervous prior to this game as FSU just beat their arch rival Duke earlier in the week. Although UNC was victorious Saturday afternoon, UNC fans understand that FSU is a team to be reckoned with.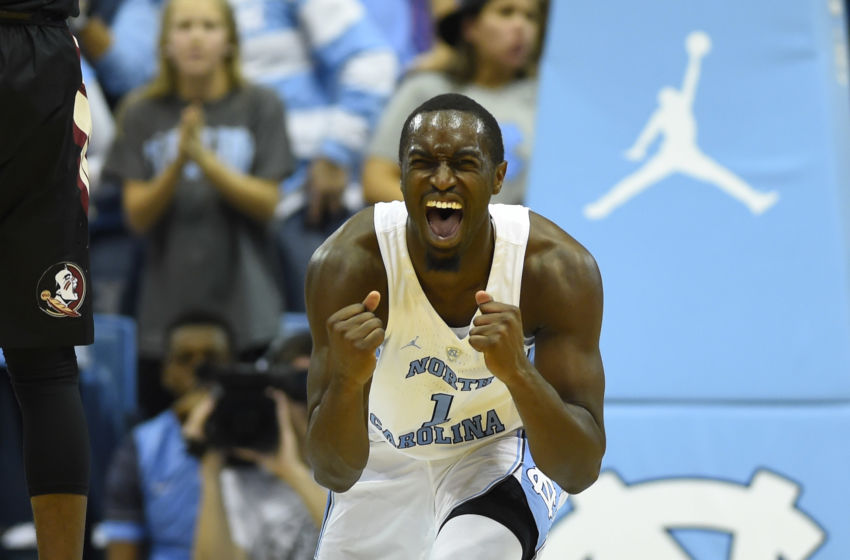 UNC Fans React Post-Game
The first post reaction to the initial post from their Scout Forum is telling:

Very athletic, lots of bodies, but very poor when it comes to fundamental basketball.

Great win for the Heels today-a win by double digits with no TB; and Hicks, Meeks, and Jackson all in foul trouble.

Maye was huge on the boards, and Pinson is rounding into form.

LOVE THIS TEAM!
A direct response to this statement is below.
Wrong, they are really good.
i disagree…. very talented and well coached. they will have a nice season.
Pretty poor analysis of a very good team.
Yep. Heels played really well today to pull out the win. If we don't bring the A-game this would've been a loss.
Neither team really played their A-Game.
you want to see them in ACC tourney??? I certainly don't. They are going to finish 1 or 2 in ACC….
Agreed, they are far deeper with talent than they've ever been in my lifetime. I think this team is better than any of the Cassell squads, a couple of which were really good.

We had to play an absolutely outstanding team basketball game to win on our home floor, a game which was tight until the very end, with big performances by each of our leading scorers and games by Theo and Luke that brought tears to my eyes.

Kudos to Hamilton for putting together a great team. They are legit.
UNC Fan Reaction Continued
It's hard to win on the road in the ACC..

FSU has loads of talent and will finish in the top 3 or 4 of the ACC

Good win for the Heels

FSU did play undisciplined toward the last 6 minutes of the game. But UNC played well today down the stretch with the homecourt..

Go Heels
Terrible analysis. For one FSU has been a great defensive team but limited on offense. Now they can run with the best of them. They also have a player who can create own offense. They are a legit top 15 team in my opinion.
Clueless OP. This FSU team is for real.
FSU is good and I'm glad unc doesn't play them at home this season
That F$U is the real deal buddy!
FSU is a sweet 16 team with final 4 talent. I think they'll finish top 4 in the ACC with a decent chance at top 2. This is not the typical FSU team.
I think we caught them at a good time, too. Coming in on a 12 game streak and us being at home, I felt good about it going in. Florida State is really good, don't kid yourself.
Disagree with the OP. This year's FSU team is excellent. We played better, and got some favorable calls, but man they are good. We would not have wanted to play this game in Tally. Hamilton is an extraordinary coach.
FSU is very good. I think they're the best team our Heels have played this year.
They could still win the ACC. Very good squad.
Final Thoughts
As you can see, the consensus from UNC fans is this FSU team is ultra talented with the ability to beat any team on any given night.
I do believe that's the case with this team being the most talented of the Leonard Hamilton area. No ACC team is going to go undefeated in conference play and it's incredibly difficult to win on the road.
Here's the key though:
No shame in losing to UNC on the road…they are a National Championship caliber team…key is not letting this loss turn into another one

— ChopChat.com (@ChopChat_) January 14, 2017
How FSU basketball responds when they host No. 20 Notre Dame Wednesday night will tell you all you need to know about this team. It looks like the Tuck will be sold out for that game.
If you looked at the schedule a couple of weeks ago and said FSU basketball would be 3-1 in the current stretch of the last four games people probably would have been doubtful.
FSU fans were hopping on the bandwagon during the 12 game win streak. Now, don't let one loss to one of the best teams in the country deter your support the rest of the season.
This article originally appeared on