FSU Basketball Recap: Seminoles Stay Unbeaten in Dominant Fashion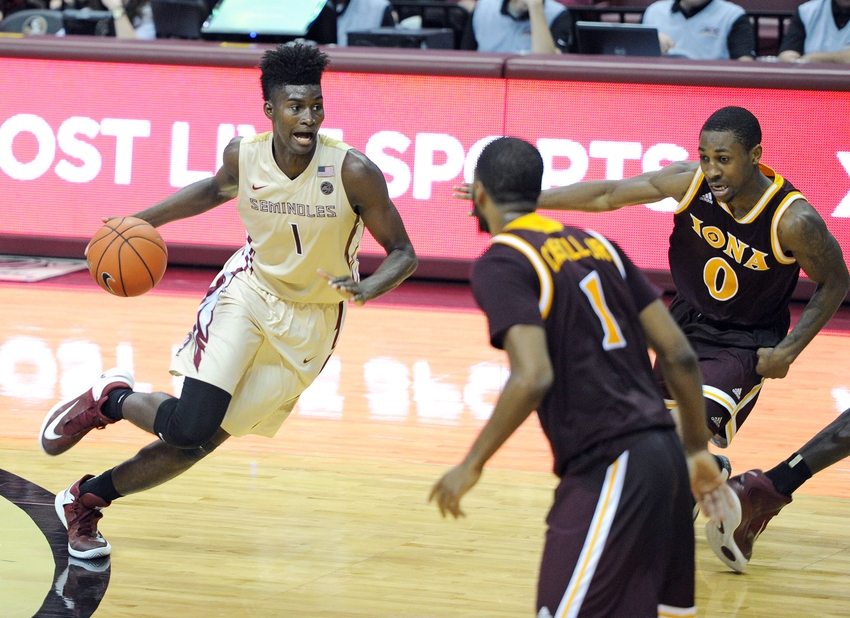 The FSU basketball team stayed hot this weekend, scoring 100 points in back-to-back games for the first time since 1996, improving to 4-0 on the season. 
It's still football season in Tallahassee so I don't blame 'Nole fans for not noticing, but guess what? This FSU basketball team might be really good. Offensively, this could be the best unit Coach Leonard Hamilton has ever had in his time in the state's capital. If they can dig deep and be at least solid defensively, they could make some noise come March.
It may seem like I'm getting way ahead of myself, but it's hard not to. I mean, scoring into the triple-digits in two games straight hasn't happened for FSU since I was five years old. That's twenty years. So rather than rain on the parade by questioning the quality of the opponents so far, or mentioning the occasional lapses on defense, I instead choose to fully buy in.
Could this Florida State basketball team totally implode once conference play begins (like they did last year) and make me look bad? Sure, but I don't think that's going to happen. I'll explain why in a separate post this week. For now, we'll take a closer look at both results from this very successful weekend.
Florida State Seminoles 100 – Winthrop Eagles 86
Winthrop is a good team with aspirations to win the Big South conference. This was supposed to be a tough test for Florida State. However, once news came out that Winthrop's best player, Keon Johnson, would miss the game with injury, it became clear that FSU would roll.
The Eagles played inspired basketball in the first half. They had an answer for every run made by the Seminoles. Xavier Cooks was unguardable. Particularly troubling for the 'Noles was the lack of defense: giving up 46 points to a team without its best player, at home no less, is unacceptable.
The second half was a different story though. In what is becoming sort of a theme, FSU's depth just buried the Eagles as the game went on. With about ten minutes to go, Christ Koumadje threw down a couple of monster dunks and the lead grew to double digits. Florida State never looked back.
Dwayne Bacon led all scorers with 15 points while Xavier Rathan-Mayes had nine assists and just one turnover. Michael Ojo had 13 points, nine of which shockingly came at the free-throw line, and 10 rebounds. Cooks led all Winthrop scorers with 23.
Florida State Seminoles 100 – Detroit Mercy Titans 71
The build-up to this game was decidedly less interesting. Detroit came into yesterday's game with a 1-2 record, and not much of an identity as a team. They have a new head coach and dismissed their leading scorer from last year during the off-season. It wasn't a question of whether FSU would win, but rather by how much.
Despite some early sloppiness by the Seminoles, especially defensively, the game was pretty much over by half time. Bacon was getting to the rim at will, Jonathon Issac was dominating the glass, and FSU went into the break up 48-35.
The second half was much of the same. The game got so out of hand that with a full five minutes remaining, Coach Hamilton felt comfortable enough to sub in Brandon Allen for the first time this season. He's a walk-on.
Bacon again led all scorers, this time with 22 points. He was a one-man dunk contest, to the extent that the ACC Digital Network released a highlight video displaying the show he put on. Don't worry, I'll link to it below. Jonathon Issac also had a nice game, scoring 14 points to go along with 10 rebounds and a pair of assists.
Player of the Weekend
Pretty obvious, but the MVP of the weekend has to be sophomore stud Dwayne Bacon. He averaged 18.5 points in these past two games, and scored in every way imaginable. Neither Winthrop nor Detroit could slow him down.
Not much more I can say about him that most of you don't already know, but just to hammer it home: he's really good. FSU is fortunate to have him back for a second year. I wouldn't be nearly as high on this team if Bacon had joined Malik Beasley in going to the NBA. Thankfully, he did come back, and he's definitely gonna lead this team all the way… (to a tournament-berth, at least).
"Ryan Reid Unsung Hero" Award
For those of you that have no idea what I'm talking about, read about how this prestigious award came into existence right here. Basically, this goes to the all-important "glue guy" who helped the team the most, despite modest statistical contributions.
FSU Basketball Game Preview: vs. Detroit
For his hustle, his grit, and his tenacity, this week's Ryan Reid Unsung Hero Award recipient is point guard Trent Forrest. Statistically speaking, Forrest was good for 10.5 points, three rebounds, three-and-a-half assists, and three steals per contest this weekend. But his value as a player goes way beyond that.
His energy and hustle helped Florida State put both opponents away in their respective second halves. He's an absolute pest defensively. He doesn't mind crashing the boards with the big men. And most importantly, he always seems to give great effort.
Forrest also has a great feel for the game. He knows when to attack the rim to score, and when to set up teammates. Once he can refine his mechanics as a shooter, he's going to be a handful for the rest of the ACC.
Weekend Highlights
Time for everyone's favorite part of my recaps: the highlights. The ACC was kind enough to make a video featuring the three best dunks from Dwayne Bacon's monster afternoon against Detroit:
Here he is making a defender fall after a crossover move, and finishing a layup through contact:
And to cap us off, here are a couple of Christ Koumadje dunks from Friday night:
That was a fun weekend of basketball.
Up Next
Florida State now travels to the Barclays Center in Brooklyn for the NIT Season Tip-Off Tournament. Next game is on Thursday at 12:30 PM, against the Temple Owls. You can watch it on ESPN2.
This article originally appeared on