FSU Basketball Recap: Seminoles Split Games At NIT Tip-Off Tourney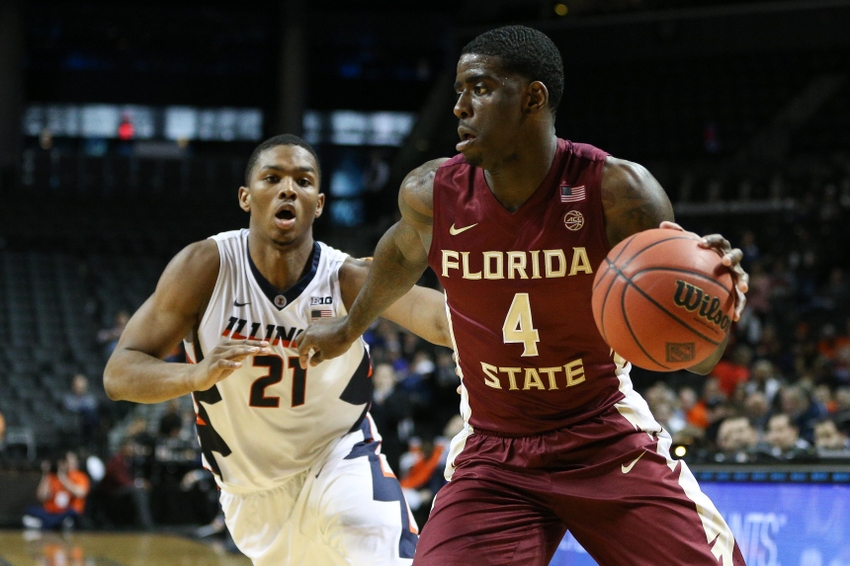 The FSU basketball team suffered their first loss of the season, dropping their first game to the Temple Owls, but bounced back with a lopsided win against Illinois. They now sit at 5-1 on the year. 
For Florida State, the NIT Season Tip-Off Tournament went about as expected. Most reasonable fans believed the team would earn a split in these two games. However, the way in which they earned the split is what has started to raise questions.
Fans already want to know: are these Seminoles going to be yet another disappointment? Or was that loss to Temple merely a hiccup? Could they use the loss as a learning experience, and avoid similar results going forward?
My honest answer is that I have no idea. Though it was discouraging to see them lose to a 2-2 Temple team (after holding an 18-point lead with about 12 minutes remaining), they did manage to bounce back nicely and beat Illinois by double digits. Not to mention that Temple went on to beat West Virginia in the final, so that loss doesn't look nearly as bad as it did on Thursday.
So while no one knows what the future holds for FSU basketball, it's hard to be mad at a 5-1 start. They're currently ranked 38th overall on KenPom, which puts them firmly in the tournament picture. And for a team that relies heavily on so many newcomers, that's a great sign.
But enough looking ahead, let's talk about what exactly went down in Brooklyn. We recap the NIT Season Tip-Off Tournament:
Florida State Seminoles 86 – Temple Owls 89
No way around it, this was a frustrating result for the FSU basketball team. They played well enough to win comfortably for about thirty minutes, but fell apart in those final ten. With about 13 minutes remaining in the game, Jonathon Issac had a crazy sequence. Rather than explain it, I'll just show it to you:
With the lead stretched to 18, Florida State, in all of their youthful inexperience, appeared to relax. Somewhat inexplicably, Dwayne Bacon and Jonathon Issac were both on the bench at the same time, and Temple was able to go on a quick 7-0 run which helped them build confidence.
Two of Temple's players caught fire in the second half: freshman Quinton Rose and sophomore Shizz Alston Jr. Alston is not a shooter (to put it kindly), yet was able to make 4-of-8 three pointers en route to a 22 point game. Rose, meanwhile, scored a career high 28 points, going 12-of-15 from the foul line.
After the under-8 timeout, Temple went on another run. They scored 15 points, compared to just two for Florida State, and it took them all of two minutes to do it. The 'Noles went from up 18 to being behind in a total of eight minutes.
Bacon did his best to keep them in the game late, making tough shots and getting to the basket to score. It was almost enough for FSU to steal the game in the last possession.
With 4.6 seconds left, trailing by one, Coach Leonard Hamilton drew up a beautiful play to get Issac a wide-open look at a layup. He went up and missed. He finished the game with 19 points, seven rebounds, and three assists. Bacon led the way for FSU with 22 points on just 12 shot attempts. Temple as a team scored an absurd 58 points in the second half, and just like that, the Seminoles had their first loss of the season.
Florida State Seminoles 72 – Illinois Fighting Illini 61
Solid bounce-back win for the Seminoles. Although it was a tight contest for about thirty minutes, FSU was able to pull away late. The trio of Jonathon Issac, Trent Forrest, and CJ Walker, were all instrumental to the win.
At the under-12 timeout, despite leading for most of the game, the 'Noles trailed 44-42. Then, the following three possessions helped change FSU's fortunes:
FSU made all three of their free-throw attempts during the run. On Walker's and-1 layup, Illinois star Malcolm Hill picked up his fourth foul. Even though Illini head coach John Groce left him out there for the remainder of the game anyways, Hill was far less effective. He couldn't be as aggressive as he wanted for fear of fouling out, and FSU was able to cruise.
The freshmen — Issac, Forrest, and Walker — combined for 35 points, while Dwayne Bacon added 17 of his own. Interestingly enough, Bacon sat for most of the run made by Florida State. He finished the game having merely played 21 minutes, which shows the confidence that Coach Hamilton has in his young guys. Although that confidence does not always pay off, it helps the 'Noles immensely for the future.
Malcolm Hill finished the game with 18 points and eight rebounds for the Fighting Illini'.
Player of the Tournament
Dwayne Bacon should be the player of the tournament, but the fact that he sat for most of the latter part of the second half against Illinois means that he's going to have to share the award. Making his first appearance in this feature, CJ Walker will be FSU's Co-Player of the Tournament.
Against Temple, Bacon was the only Seminole who had the ability to score once things got tight. Probably shouldn't come as a surprise, since he's Florida State's most talented player who has experience in big games. Notice the time and score, and the difficulty of the shots Bacon was making to keep the Seminoles in it.
CJ Walker, on the other hand, was playing in just his sixth game of his college career. And despite that, Coach Hamilton still trusted him enough to play 25 minutes, in a game that FSU almost had to have. Illinois appears to be headed for a rough year, and could have been considered a bad loss on Florida State's resume.
Walker was dynamic. He made both of his three-point attempts, as well as a couple of layups in heavy traffic. Beyond that, his ability to put pressure on the Illini guards, and make them earn every step they took, was a major factor in Florida State pulling away. The diminutive point guard is going to be a lot of fun to watch, both this year and in the future.
"Ryan Reid Unsung Hero" Award
If you're not sure what this "award" is, read about it by clicking here.
FSU Basketball: NIT Season Tip-Off Tournament Preview
For his four steal performance against Illinois, Trent Forrest repeats as "Ryan Reid Unsung Hero" award-recipient. Two of those steals came in consecutive possessions, and were key in the Florida State run that put the game away. Forrest also led the team in minutes played, and there's a reason for that. Coach Ham loves his defensive versatility, and the effort he plays with.
Forrest isn't just a defensive specialist though. He can score too, there are simply better offensive options on the team. Against Temple, with the game on the line late, Forrest grabbed a rebound and went the full length of the court to score a layup, all with a defender on his hip. His layup cut the lead to one, and gave FSU a chance to win it at the buzzer. Like Walker, Forrest is going to be fun to watch grow as a player. Believe it or not, the future is bright in Tallahassee.
Highlight of the Tournament
Since I already gave you guys a couple different highlights, I'm gonna keep this section short. Here is a glimpse of what Florida State's defense used to do:
If the Seminoles can channel that sort of energy more often, to go along with their offensive capabilities, they're going to be tough to beat. (That is, unless poor-shooting teams like Temple catch fire from three and steal games. Yes, I'm still bitter).
Next Up
Florida State has a quick turnaround; they face the Minnesota Golden Gophers on Monday night as part of the ACC-Big 10 Challenge. The game is at the Donald L. Tucker Center. Tip-off is at 7 PM, and you can catch it on ESPNU.
This article originally appeared on