FSU Basketball Recap: Noles Top Minnesota in ACC-Big Ten Challenge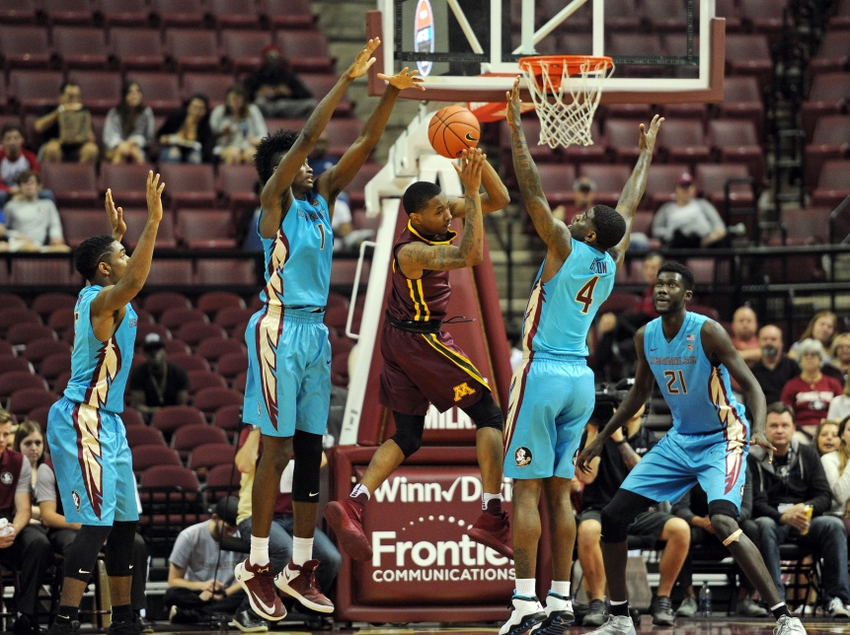 The FSU basketball team defeated the Minnesota Golden Gophers 75-67 in what was a sloppy mess of a game. 
Finally. After eight consecutive losses in the ACC – Big Ten Challenge, the Seminoles finally came out on top. It may have been the most ugliest game of the season (the first half surely was), but a win is a win. FSU basketball is now 6-1 for the year, which is their best start since 2010.
The first half of the game was the most unpleasant 30 minutes of basketball imaginable. Minnesota missed nine of their last 10 shots, yet still led by three at the break. The two teams combined for 19 turnovers and 28 fouls. The officials whistled every bit of contact, no matter how small. And neither team could find a rhythm.
The second half was a different story. The refs loosened up a bit, which allowed both teams to settle in and play. This favored Florida State, as they were able to attack the basket in the half-court and in transition. The Seminoles made 11 of their first 17 shots after the break, and their lead grew to double digits.
Putting the game out of reach was a team effort. Dwayne Bacon, Xavier Rathan-Mayes and Michael Ojo (?!) all took turns scoring early in the second half, when the game still hung in the balance. And unlike the Temple game, Florida State did not let up once their lead ballooned to 18. The Seminoles were able to fend off a late run made by the Gophers, and won comfortably by eight.
The loose whistle displayed by the refs hurt both teams, but it definitely hurt Minnesota more. They're a team that lacks depth, as they prefer to go seven or eight deep at most. The Gophers couldn't afford to have their starters get into foul trouble. Especially not their freshman stud Amir Coffey, who was whistled for his fourth foul with a whole 16 minutes left in the game. Once he went out, Minnesota struggled to pose much of a threat.
For the game, the Seminoles held the Gophers to 32 percent shooting. They also forced 17 turnovers, and out-rebounded their opponent 41 to 35. Point guard Nate Mason led the way for Minnesota with 11 points and three assists. The aforementioned Coffey was held to seven points on 3-of-10 shooting in 18 minutes. Great job by Florida State's defense all around.
Solid win for the Seminoles. Let's take a look at who stood out tonight.
Player of the Game
In what was a great all-around performance, Jonathon Issac is our player of the game. Issac finished tonight's contest with 14 points, 13 rebounds (career-high), two steals, and two blocks. He was everywhere tonight, and he continues to prove what a special talent he is. I mean, there's a reason this many NBA scouts showed up to the game:
Never seen this many scouts at #FSU hoops. DAL, DET, ATL, HOU, SAS, OKC, MIL, GS, and two each from BKN, CLE, and PHI.

— David Visser (@DavidBVisser) November 28, 2016
Issac will go in the top 10 of this upcoming draft, and he may sneak his way into the top five if he keeps performing at this level. I've said it before and I'll continue to say it: enjoy him while you can.
Dwayne Bacon also had a nice night, scoring 18 points and pulling down five rebounds. He's another guy that will get drafted, more than likely in the first round too. Crazy to think, Florida State might just have two first round picks on the same team. Look how far we've come.
The "Ryan Reid Unsung Hero" Award
By now, I assume everyone know what this section is dedicated to. If you don't, familiarize yourself. For his performance tonight, Michael Ojo is our "Ryan Reid Unsung Hero". He scored a mere 12 points, and only played 17 minutes, but his impact was undeniable. Ojo drew four fouls, made six of his nine free throw attempts, and used his size to make life miserable for Minnesota's big men.
Also, three of his five rebounds were on the offensive end, which gave his team extra possessions. That could be the difference in a game down the road.
It's great to see what a player he has become. As a freshman, Ojo could barely grab a rebound. Now he's a force to be reckoned with. A force that also shoots over 70 percent from the foul line. The big man has deft touch, but can also throw it down with the best of them:
I have a feeling this won't be the last time Michael Ojo is bestowed with this honor.
Highlights
Easily the best play of the game:
A no-look behind the back assist that ends with a dunk. Oh, and they're both freshmen. We should all thank Coach Leonard Hamilton for amassing this much talent on one team. I'm serious. Go send him a "thank you" tweet right now.
This was also pretty cool. Florida State's big men had a great game in general, both offensively and defensively, as displayed here:
A block immediately triggering a fast break? Christ Koumadje must have been watching Bill Russell highlights recently. This would be my top play of the night, but Koumadje and Bacon are sophomores, not freshmen like the first two. Slackers.
One last thing, though it's less of a highlight. In two consecutive possessions, Issac and Bacon made very similar turn-around fade-away jumpers, and I thought it was interesting enough to share.
It's almost like Bacon saw Issac make his shot, and then decided it was his turn. But while Issac did the full spin, Bacon faked like he was going to do the same, stopped halfway, and then spun back. That's just so hard to defend.
Up Next
Florida State travels to the Verizon Center on Sunday to face off against the 3-3 George Washington Colonials, in the BB&T Classic. We'll take a closer look at that game later in the week. For now, enjoy the win. And don't take 6-1 for granted. Go 'Noles!
This article originally appeared on