FSU Basketball Improves to 2-0 With Convincing Win Over Iona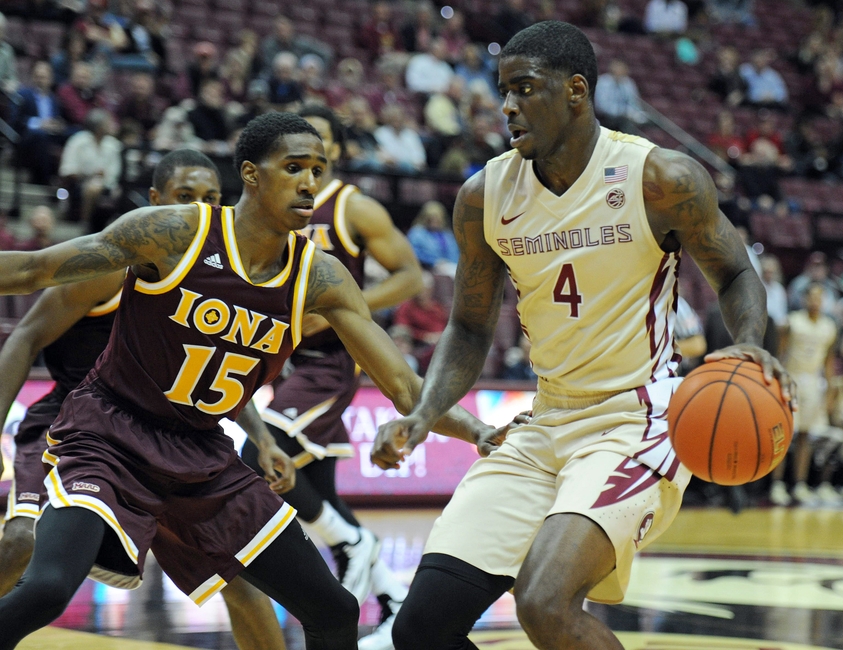 FSU basketball defeated the reigning MAAC Champions, 99-78, in a great performance for Leonard Hamilton's men against a tournament team from last year. 
Sure, Iona may have lost four key seniors from their tough 2016 team, but the way the 'Noles dominated from start to finish was impressive. Florida State played like a team on a mission, and the Gaels could offer up little resistance.
The game got out of hand once Jordan Washington, Iona's second-team All-MAAC big man who averaged 14 points per game last season, got into early foul trouble. After he was forced to sit, FSU basketball began to impose their will on the glass and in the paint, and there was no slowing them down.
The 'Noles shot an obscene 71 percent (!!!) from the field and out-rebounded the Gaels 45 to 31. The difference in size and talent was evident, but it was good to see Florida State really play hard; they didn't rely on their opponent to just lie down, a defect of some recent FSU teams.
What's most impressive about this performance is that the 'Noles could have probably played even better, which is absurd to say about a team that just scored 99 points.
For starters, the 3-point shooting was poor (again). The 'Noles finished 4-of-17 from behind the arc, putting them at a paltry 28.9 percent from deep for the season. That number has to go up once the competition improves.
Also, junior point guard Xavier Rathan-Mayes didn't play up to his lofty standards. He scored only 9 points, had two assists, shot two-of-six from the floor and missed four of his eight free throw attempts. XRM never seemed to get comfortable after air-balling a free-throw in the first minute of the game.
Regardless, FSU basketball did a lot more good than bad overall. If they can build upon these first two games, the 'Noles could really make some noise once conference play begins.
Player of the Game
Going into tonight, I fully expected that Dwayne Bacon would be the honorary Player of the Game in my first post-game recap for Chop Chat. Surprisingly, however, that honor goes to freshman phenom Jonathon Isaac. The 6'10" power forward showed why he's projected to be a top-ten draft pick in next year's draft.
Not only did he score 20 points in his second career game… it only took him 8 shot attempts to do so. He also brought down 7 rebounds, and made all 6 of his free throws. Issac is a lot of fun to watch, and I hope Florida State fans take note of how special he is. It is extremely rare for someone with his length and size to be so fluid of an athlete.
Honorable mentions should go out to Bacon (who was cooking early…sorry), SF Terrance Mann, PF Jarquez Smith and PG Trent Forrest. They all scored in double digits, and they all played with a swarming ferocity on defense. Good showings by a lot of guys tonight.
The "Ryan Reid Unsung Hero" Award Recipient
Okay, I literally just made up the award, but hear me out:
Every game, I want to give special credit to a player who may not put up the gaudy numbers that Bacon and Issac will, but who is still vital to the team's success. A guy who does the dirty work. There's no better player to name the award after than Ryan Reid, Florida State's former glue guy extraordinaire.
Reid's senior year was all the way back in 2010. He was a starter on a team that made it to the big dance, he was the team captain, and yet he averaged all of six points-per-game. Fans may not notice the Ryan Reid's, but that doesn't change the fact that every good team needs one.
The first installment of this coveted award goes to Phil Cofer. He didn't light up the scoreboard (he finished with 13 points and six rebounds), but his impact was undeniable. When the game was still tight early on, Cofer checked in and changed the dynamic with his offensive rebounding and his put-backs (aka, the dirty work).
Without Cofer, FSU doesn't build a 15-point halftime lead, and the game probably feels a little tighter going forward.
Highlight(s) of the Game
My favorite play of the game was undoubtedly this reverse layup finish by Dwayne Bacon:
Bacon slithers into the lane, gets past his defender, goes up towards the rim, gets fouled, and still finishes. The beauty of the play is in the simplicity.
Second favorite play of the night was Bacon shutting down a passing lane, intercepting the ball, and throwing a pin-point pass to a streaking wide receiver, Terrance Mann:
Yes, I am trying to endear myself to FSU basketball fans by using football cliches to describe basketball plays… also, would everyone hate me if I said Bacon is a much more accurate passer than Sean Maguire?
Special Shoutout
This feature is probably a one-time thing, but I wanted to give a shoutout to Iona's Sam Cassell Jr. The son of former FSU great Sam Cassell (duh), lit up his dad's old team to the tune of 28 points, 5 three-pointers, and 3 assists. He has a weird release on his jumper, but no matter where he shot it from tonight, it looked like it was going in.
It was fun, and it was easy to enjoy because the Seminoles were up by 20 most of the second half anyways. Best of luck to the younger Cassell going forward.
Next Up
Florida State plays again on Friday, at the Donald L. Tucker Center, against undefeated Winthrop. They were voted the favorite to win the Big South Conference by the media before the season, so it will be another nice test for a young and talented FSU basketball squad.
Tip-off is at 7 PM, and you can catch the game on WatchESPN.
This article originally appeared on