FSU Basketball Game Preview: vs. Winthrop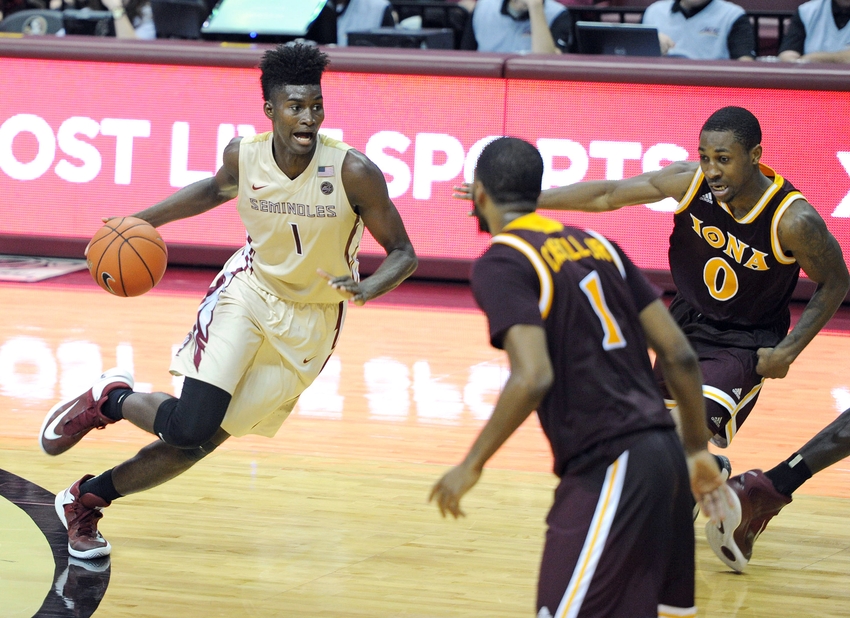 Here's a preview for FSU basketball and their next game during the 2016-2017 basketball season. 
We're merely two games into the season but so far, this rendition of FSU basketball has looked as good as advertised. The team boasts solid experience, valuable depth and next-level talent.  Coach Leonard Hamilton also has to be pleased with the effort level displayed by his team.
If the 'Noles can maintain this level of play for their next two games (both at home), they should head into the NIT Season Tip-Off Tournament undefeated and full of confidence.
Up next for Florida State, a match-up with a team that was unanimously voted favorite to win the Big South Conference. Here's a preview of tonight's game between the Seminoles and the Eagles of Winthrop.
The Last Time The 'Noles Took The Court 
Florida State basketball faced a big test on Tuesday night, and they passed with flying colors. The Iona Gaels were coming off a year where they won their conference tournament and played in the big dance. Further, they returned second team All-MAAC big man Jordan Wasington, and introduced fifth-year transfer Sam Cassell Jr., both of whom are going to give a lot of teams trouble this season.
FSU pretty much dominated the game from start to finish. The final score was 99-78, even despite the fact that the 'Noles left a lot of points on the floor. They missed 13 of their 17 three-pointers, and stars Dwayne Bacon and Xavier Rathan-Mayes combined for just 19 points. Regardless, they managed to find other ways to score, which is a great sign for the future. A well-balanced scoring attack will take this team a long way.
Defensively, Florida State resembled their teams of old. They held Iona to 37.3 percent shooting from the floor, and 29 percent shooting from three. FSU's depth this year should allow them to return to their "junkyard dog" brand of defense, where perimeter players swarm ball-handlers and big men protect the rim with ferocity.
It was an impressive performance by the 'Noles, and hopefully one indicative of things to come.
Opponent Preview
Winthrop comes into Tallahassee riding high. They are 2-0 thus far, winning both of their games by an average of 16 points. Also, they are the first team to be unanimously voted favorite to win the Big South in eight years. They return a lot of experience to a team that almost won their conference tournament last season.
FSU Women's Basketball Week In Review: November 9th-16th
The main players to watch out for are Keon Johnson and emerging big man Xavier Cooks. Johnson averaged 20 points per game in conference play last year, shot over 40 percent from three, and made 80 percent of his free throws. He's small (listed at 5'7″), but he's a tough scorer, and will be a handful for FSU.
Cooks, meanwhile, is a forward who has already won a player of the week award in the Big South this season. He scored 21 points and had 10 rebounds in their opening game of the year. Cooks has good size at 6'8″, is versatile, and can extend his range past the three-point line. If the 'Noles can slow down those two players, they should come out with their third win in three tries this year.
Interesting Fact
There's no history between these two programs, so as far as something interesting, I'm gonna go with the fact that both schools list garnet and gold as their colors. That's interesting, right? Anyone?
However, Florida State has used the garnet and gold since the football team first donned the colors in 1904. Winthrop can't claim the garnet and gold until 1979, when the school decided to make the colors official.
I say both teams settle this ugly dispute on the court tonight. Game tips at 7, and you can watch on WatchESPN.
This article originally appeared on