FSU Basketball Beats Rival Florida Gators for the Third Straight Year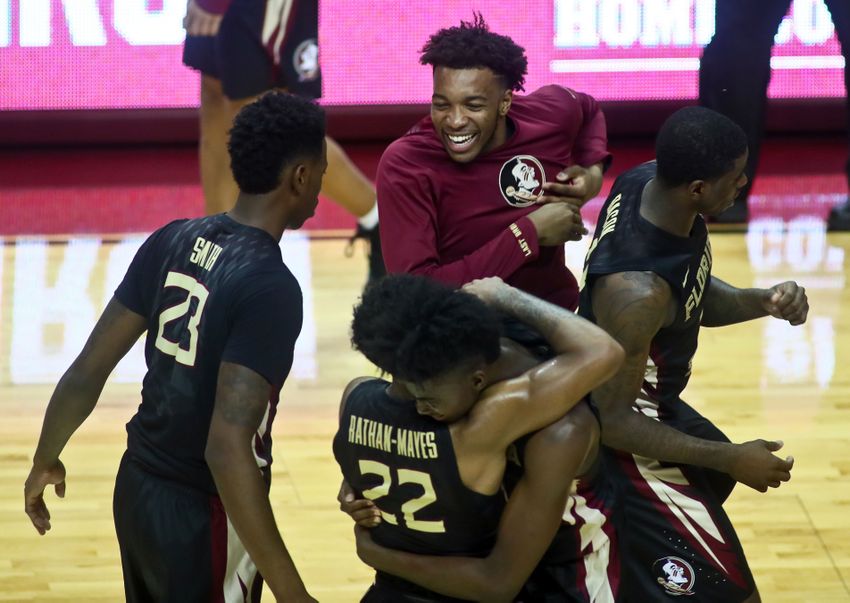 FSU basketball defeated the Florida Gators for the third year in a row by the final score of 83-78 to extend their record to 9-1 on the season.
Behind huge performances by Dwayne Bacon and Terrance Mann, the Florida State Seminoles won a heated contest against their biggest rivals. Though FSU basketball was up by 12 with 7:06 left, they did a poor job of closing the game out. Missed FT's and stagnant offensive possessions allowed the Gators to cut FSU's lead down to three. And with under a minute left, Florida's KeVaughn Allen had a good look from deep to tie the game.
He missed, Mann grabbed his biggest rebound of the night and was immediately fouled. He made both FT's and iced the game. The win was their third consecutive against Florida, and their most important of the season so far.
Outside of Mann and Bacon, FSU basketball didn't get much scoring production from anyone else. Their next leading scorer was Jonathan Issac with nine points, on 1-of-4 shooting. The freshman star struggled in his return, clearly exhibiting rustiness after missing a week of action. Junior point guard Xavier Rathan-Mayes also had a quiet game; he scored just seven points and dished out two assists.
As for the other guys, the Gators received a big boost from their embattled senior point guard, Kasey Hill. He scored 21 points on an efficient 10-for-15 shooting, to go with three assists and two steals. And Allen, despite playing through foul trouble, still dropped 15 points and helped Florida make it a close game late.
However, despite some sloppiness towards the end, Florida State was able to do enough to win, and that's all that matters. The Seminoles are now 10-1 on the year, with games against Manhattan and Samford coming up before conference play begins.
Let's hand out some awards to celebrate the momentous victory.
Player of the Game
This one is easy. For the second year in a row, Bacon put on a show against the Gators. He finished with 24 points on 9-for-18 shooting, and made six of his seven free throws. Bacon did a great job of getting to the rim and making acrobatic shots against a tough Gators defense.
And when he couldn't get to the basket, he used his lethal mid-range jumper to shoot over smaller defenders. Massive game from the Florida State star sophomore. And he did it in front of a large contingent of NBA scouts too:
Scouts from the Magic, Pacers, Heat, Hornets, Wizards, Cavs are here at the #FSU vs. #UF basketball game.

— Andrew Miller (@Andrew_Miller36) December 11, 2016
Good on you, Bake.
Honorable mention goes to Terrance Mann, who played his best game of the year. He had 16 points and 10 rebounds to go with two assists and a steal.
Ryan Reid Unsung Hero Award
For the second recap in a row, Jarquez Smith is our unsung hero of the game. He scored just one basket, but it was arguably the most important one of the night. After missing two free-throws that would have stretched the lead to five, Smith set a screen for Mann, and flashed to the elbow for an open jumper.
Admittedly, I was yelling at the TV, asking Smith what he was thinking shooting that shot. Nonetheless, it went in, and extended FSU basketball's lead to two possessions. And that bit of breathing room was enough to help them seal the win.
Smith making jumpers to secure big-time victories? This year has been so much fun so far.
Highlights
Shoutout to the ACC for having the highlights ready so quickly. Believe me, they're not as swift about it for other games… like when Florida State plays against George Washington, for example. Anyways, enjoy:
Up Next
Due to finals, Florida State gets nearly a week off before their next game. They don't play again until Saturday, December 17th, at 1:30 PM. The game is in Sunrise, Florida, at the BB&T Center. So it's a good chance for you South Florida 'Noles to check the team out in person. For those not planning on attending, you can watch it on FS2 and Sun Sports.
I leave you with this beautiful chant from an excited crowd at the Donald L. Tucker Center:
That's music to my ears. Go 'Noles!
This article originally appeared on