Frank "Crazy Bounce" Jackson, Duke's Leaping Phenom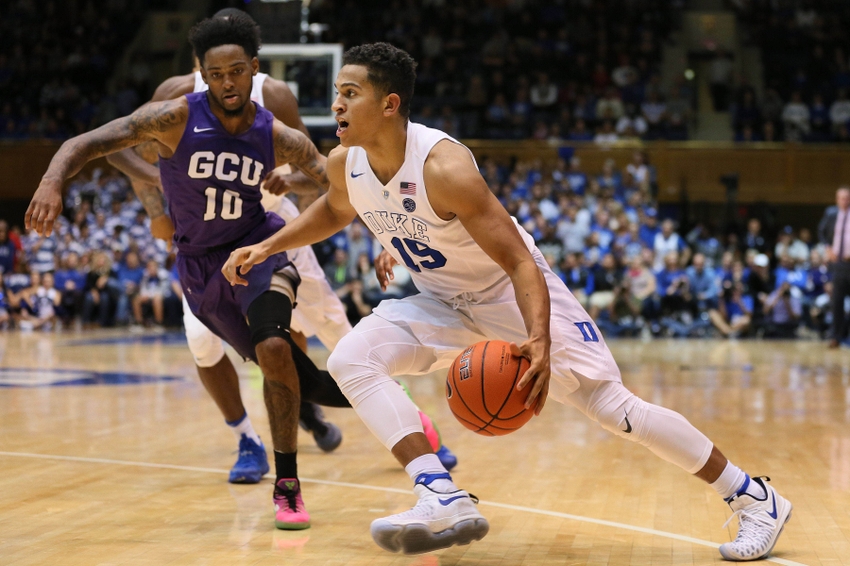 Frank "Crazy Bounce" Jackson.
Blue Devil nation, Jackson has "Crazy Bounce".
Using the correct basketball slang, from the playground to the hardwood, we always refer to jumping as having "Bounce".
Fans, he's not a trampoline, although he might as well be.
In fact he is. Frank Jackson is a walking trampoline.
As always, here's my first play call.
Jackson hop-scotches across half court with the ball in his left hand, defender reaches, as he crosses back left instantly.
After the crossover back left, Jackson drives down the right side as his Nike's leave the block.
Call me a basketball scientist, because this guy's vertical needs an experiment.
Hold that thought, first let me incorporate the hypothesis.
My guess is once he takes off from the block, the only data that needs to be calculated would be his "Bounce".
So here's the early data.
Jackson takes off from the block, and it's SLAM JAM!
Now here's the hypothesis for having "Crazy Bounce".
Frank Jackson+360 Windmill+Between the Legs = "BOUNCE".
Oooooooh boy, Jackson just caught a 360 windmill, between the legs!!!
All I can say is when you raise your head high in the air,  Jackson soars in mid air for about 10 seconds.
I now bring to you the scientific experiment, of why Jackson has "Crazy Bounce".
SLAM JAM!
Aside from the "Bounce", Jackson is inevitably one of the best point guards to come out of high school. In essence, Jackson's game was more innately presented back in his hometown Alpine, Utah.
Why was Jackson one of Utah's Greatest High School Players?
One dribble, and a euro-step first please.
DANG! "CRAZY BOUNCE".
Amazingly, Jackson was ranked the No.10 overall recruit in the 2016 class, along with ranking No.4 as a point guard by ESPN. Along with ESPN, Rivals.com was another recruiting service, that ranked Jackson No.12. When it comes to this young man, rankings were just an extra intangible that extended his resume.
Consequently, Jackson was a nationally known star. In fact, not just a star but an All-American. The freshman guard garnered McDonald's All-American honors, in addition to being named a second team Naismith Trophy All-American in 2016, and USA Today All-USA selection as a senior.
Enough accolades for "Crazy Bounce" Jackson.
In addition to the hops, Jackson can shoot it from deep. The Blue Devils offense seems to always produce great three-point shooters. Duke's great history of shooters, isn't anything new for basketball experts in this day and age.
Jackson goes coast to coast, and cocks his arm back for another,
"SLAM JAM".
At least this will be the last part of the experiment.
Fans, here's the final data.
Frank Jackson not only is a primetime point guard, but his basketball IQ seemingly explains why he's seeing minutes as a freshman. Legendary head coach Mike Krzyzewski, honestly never plays freshmen unless they fit immediately into the Blue Devils system. With that being known, Jackson has shown not only his teammates, but the NCAA that he's on the brink to become one of college basketball's elite guards this season.
The point of this experiment was to not only emphasize on his "Crazy Bounce", but to also show Duke fans a little clarity about his style of play.
Well, looks like my scientific observation is complete.
Last play call, from my laboratory.
Score is 71-71. 10.2 seconds left.
Jackson takes the inbound pass, with a fancy around the back dribble, rises up.
Here comes the "BOUNCE".
SLAM JAM!
This article originally appeared on