College Basketball Road Trip: Stauskas' closeup, UI alum's Olympic bronze
Stop six on the Fox Sports College Basketball Road Trip sent us to Champaign, Illinois, one of my favorite college towns in America during any season besides winter.
We arrived to find Champaign frigid (as usual) and engulfed in massive piles of snow that turned the entire area into a driver's obstacle course. Our destination was the State Farm Center, an old-school arena that is a great place to watch a game.
But since the action on the court left much to be desired — Michigan throttled Illinois from the opening tip for a 84-53 win — here are some alternative"Observations from the Open Road" to keep you entertained.
They don't make facilities like the State Farm Center any more, a simple '˜O'-shaped facility that traps the sound on the court when the place is rocking.
However, it isn't set up well for today's modern fan experience, a big reason that the university is renovating the arena this year. While the steps make for a difficult climb, there are no real amenities to offer fans other than basketball.
There are few concessions besides popcorn and hot dogs and no luxury seating to speak of. It is decidedly old-school, which I love, and the last of a dying breed in major college basketball.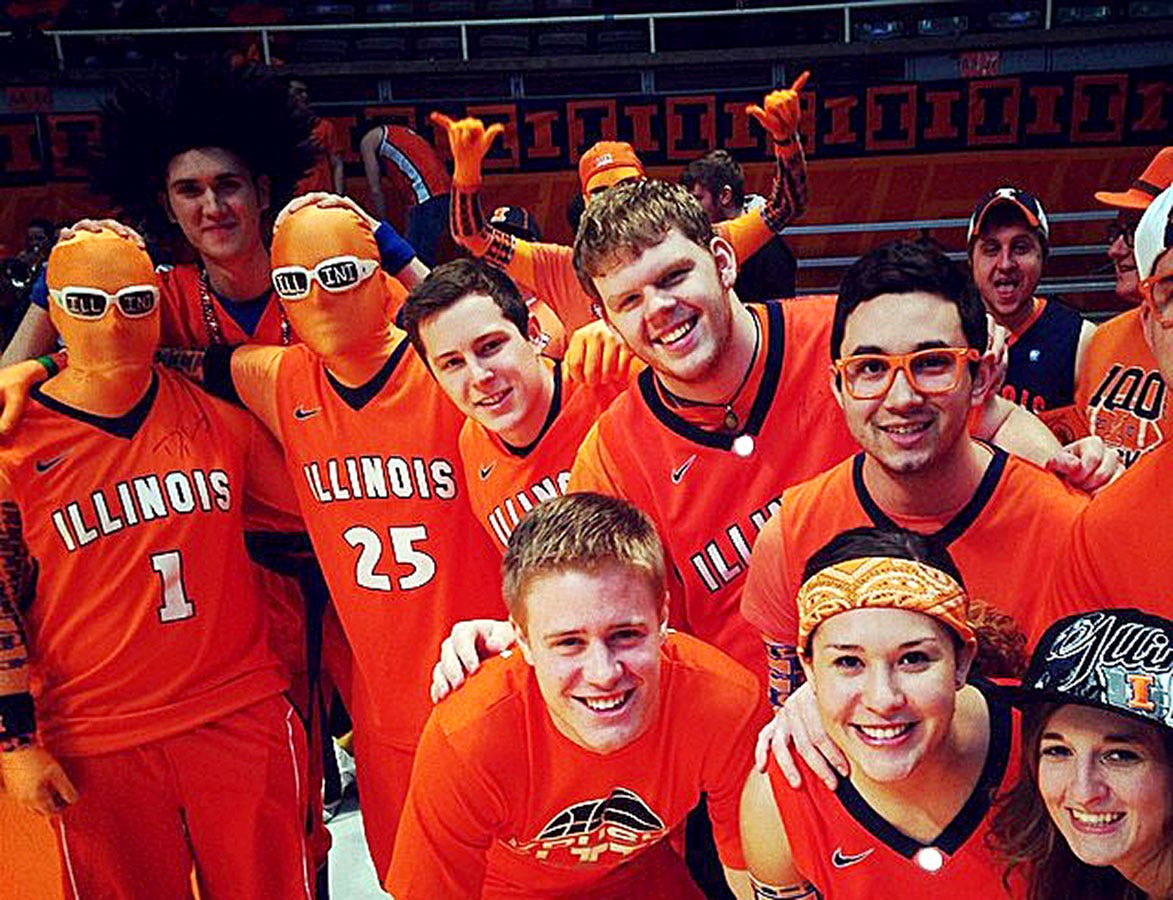 Part of what makes the Fighting Illini experience a good one is the fact that their students bring it every game. Along our travels, judging the student sections has been a side project of mine, and Illinois comes in with a surprisingly strong grade thanks to their "Orange Crush". Buoyed in part by to their great seats, the Illini students stay standing the entire game and are loud and boisterous, even on Tuesday as their team laid a total egg. They are hard on opposing players (You know you have a solid student group when they are still taunting down 27) and they kept cheering as if still hoping for the possiblilty of a comeback down to the final minutes. It may be delusional, but at least it is passionate. I will take the latter — and the Orange Crush — every time.
Michigan's Nik Stauskas is really impressive. Just like with T.J. Warren last night for NC State, Stauskas is much more remarkable in person than on television. Close up, you can see the energy he brings to every play and how defenses need to account for him at all times. He had 24 points versus the Illini, including a career-high seven three-pointers, but he set up at least another 12-14 points for Michigan by drawing defenses and making the right reads.
The Canadian-born sophomore also plays with an unbelievable swagger, showcased on two occasions when he drained tough, contested threes directly in front of a student section that was loudly chanting "U-S-A." Both times he smirked at the crowd and stared them down, leaving the "Orange Crush" speechless and shaking their heads in disbelief.
Stauskas is a future NBA player and as the Wolverines now start to hit their stride, I expect him to have a huge postseason and vault into the national sports consciousness over the next few weeks.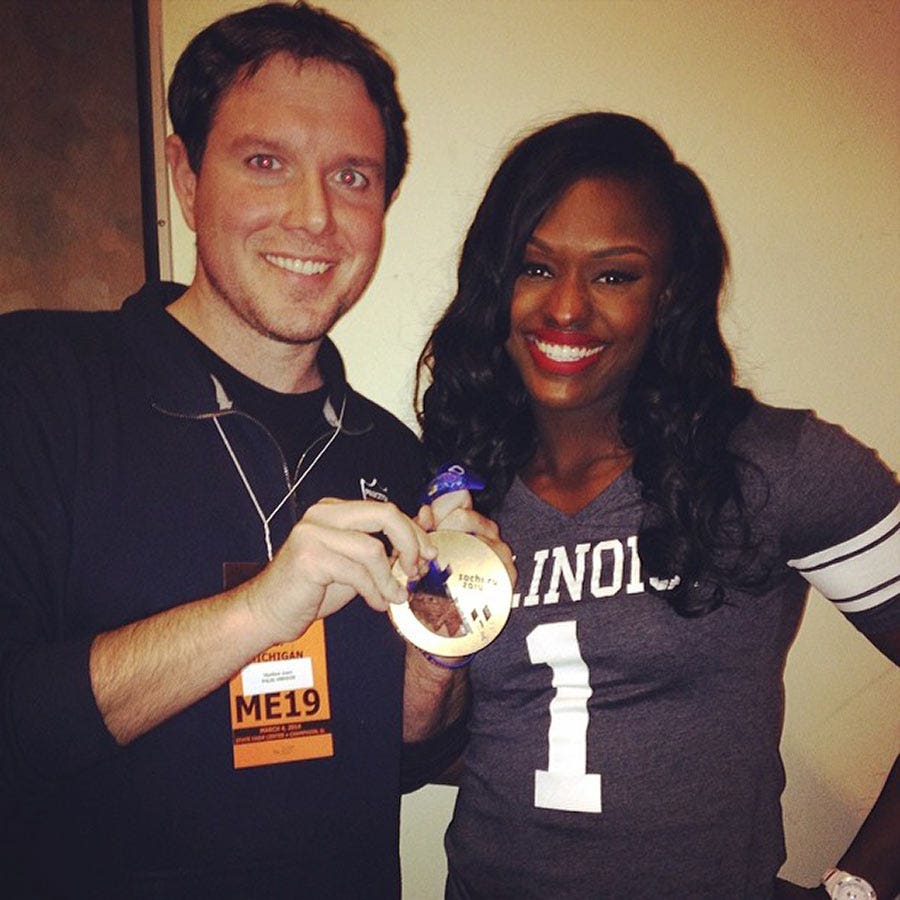 One rare highlight of the game for Illinois fans was the introduction of Illini alumnus Aja Evans, fresh off her bronze medal bobsled performance at the Winter Olympics. Evans was a track star at Illinois and told me that she got into bobsled only two years ago. But as is often the case in the sport, her track skills translated and she made a tough US Olympic team and the Sochi podium. She posed with her medal in a picture with hundreds of fans (People love holding medals and, as you can see, I had to take part too).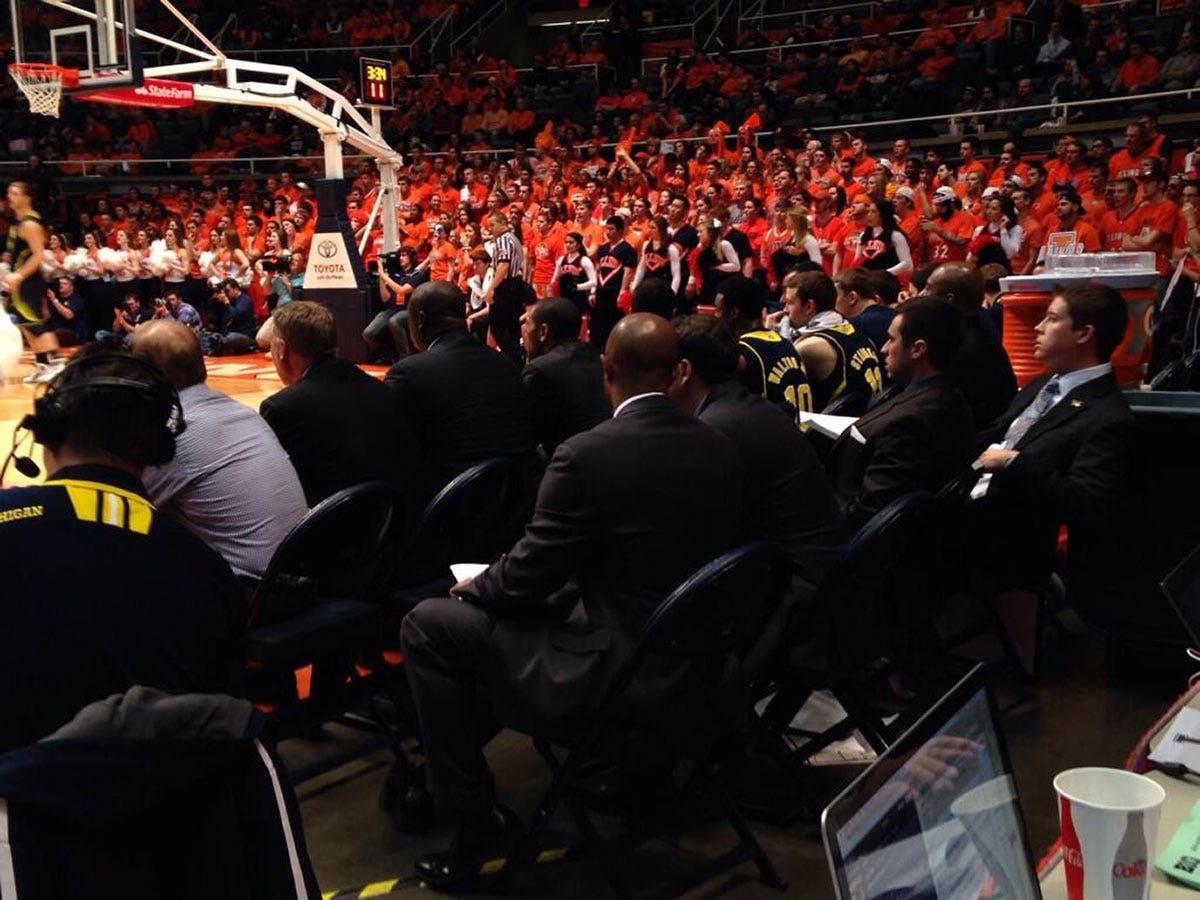 There are too many coaches in college basketball. Look at the picture above of Michigan's staff: Nine guys in suits all sitting and watching five people play basketball.
And they talk all the time. Constant chatter comes from their sidelines, thus forcing individual message to get lost in the shuffle. For the players on the court, the collective sound just has to be garble, occasionally punctuated by screams of "Next!" every time a player makes a mistake (It'€™s a good message, incidentally: If you screw up, move on. More coaches should teach that mindset).
The one man who stands out from the staff is the one not dressed in an expensive suit but in Dockers and a wrinkled shirt: Head coach John Beilein. It is good to be king.
It isn't a good sign when you know a referee's name. But there isn't a game that he is now involved in when "TV Teddy" Valentine is not a storyline.
Thanks to his history that dates back to Bobby Knight, and his recent run-in with Mick Cronin, TV Teddy is always the first referee noticed and he is the only one recognizable to the average college basketball fan.
Because of the score of the game, his presence mattered little but he was talked about from the moment he walked on the court. Every call he makes is done with confidence, which is good, but also expressed with an arrogance that infuriates coaches, announcers and fans. In a profession where the entire point is to not be known, Ted Valentine is a rock star — and not in a good way.
Finally, as a veteran road tripper, here is a tidbit I feel like I should share with you. When you are on a two-week journey like ours, picking the correct restroom is of the utmost importance. I have found the secret to happy restroom breaks on the road is to utilize hotel lobbies. The Holiday Inn/Hampton Inn-type hotel offers privacy in its lobby restroom and is almost always impeccably clean, as they are rarely used. Trust me on this; follow my lead on hotel restrooms, and it will dramatically change all your future road tripping experiences.
And with that piece of knowledge, we are off to Bloomington for a chance to see the Hoosiers. As of now, Indiana hasn't credentialed us, so we could be in for quite a scene when we arrive on campus. More on that tomorrow. See you then.