Fox, Monk, Adebayo Named to Naismith Award Watch List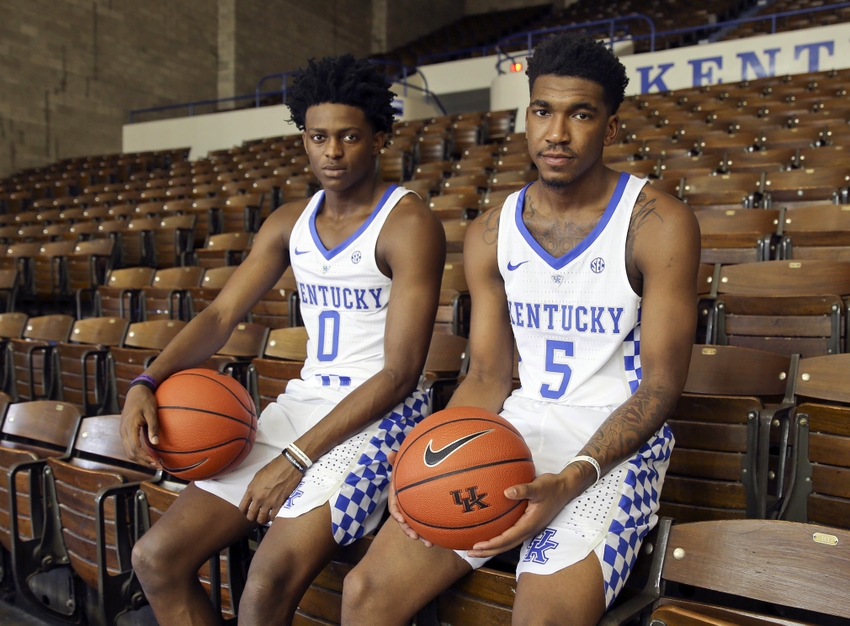 Freshman Trio Explosive in Kentucky's 2 Exhibition Blowout Wins
The preseason accolades continue to amass for this season's Kentucky Wildcats, as the sensational freshman trio of De'Aaron Fox, Malik Monk and Bam Adebayo were among 50 NCAA basketball players named to the 2017 Naismith Men's College Player of the Year Award Preseason Watch List.
In two games of exhibition play this preseason, the Cats have been nothing short of sensational, leaning heavily on the play of the three super-frosh. Wildcat Blue Nation has reported previously that Fox's speed make him all but unguardable in the open court, Monk is a high-flyer that can score at will, and Adebayo's presence in the middle gives Kentucky elite scoring and rebounding inside the paint.
Fox lead the team in scoring this preseason with 18.5 points per game, getting the rack at will on his way to an impressive 66.7-percent from the floor. His defense was also a bright spot pressuring the ball, recording three steals per game to go with his 5.5 assists.
Adebayo averaged a double-double in two exhibition games, with 11 points and 10 boards, showing signs of being a force inside offensively, as well as a valuable rim protector.
Monk, meanwhile, has scored 15 points per game, along with 4.5 assists and 3 steals per contest. Though Coach John Calipari has said the freshman's on-ball defense needs improvement, Monk has been freakish in his on-court athleticism. His quickness and leaping ability, along with a nice stroke, have shown Monk will be able to get his shot off at will this season. If Monk continues to hit the mid-range jumper, he could be the go-to guy in crunch time for these Cats.
The Cats tipoff their season this Friday night when they host Stephen F. Austin at Rupp Arena. The game will mark the official debut of Kentucky's top rated 2016 recruiting class, which has the Cats ranked as high as #2 in the nation in the preseason AP Poll.
Mid-major Stephen F. Austin opens their season after three consecutive NCAA Tournament appearances and a 53-1 record in conference play within the Southland Conference over the last thee years.
More from Wildcat Blue Nation
This article originally appeared on