Former Arizona Basketball player react to HUGE win over Michigan State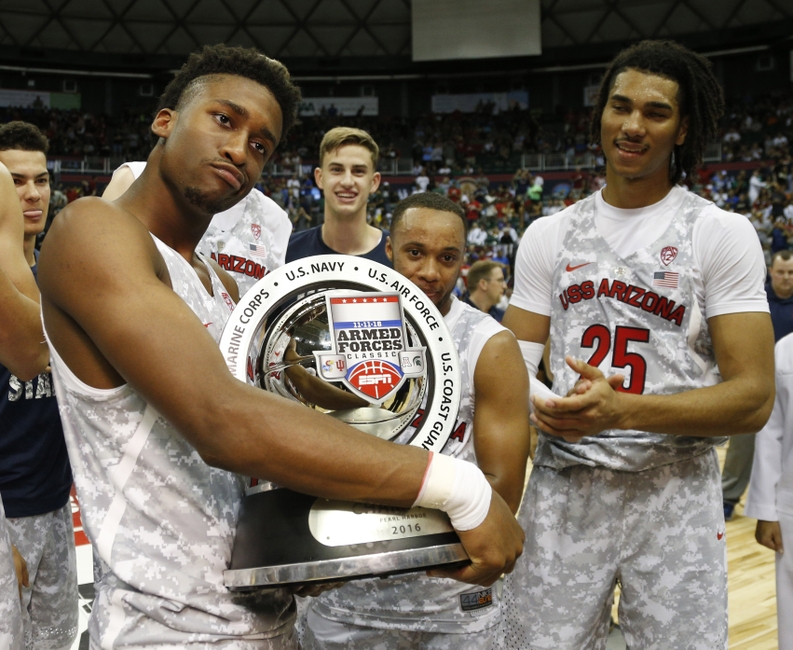 The No. 10 ranked Arizona Basketball team traveled to Hawaii to take part in the Armed Forces Classic and beat the No. 16 Michigan State Spartans 65-53. Twitter reacted accordingly.
The Arizona Basketball team came away with a Huge Win in Hawaii in their first game of the season. It wasn't just any game or any win, this was huge because of the adversity this team has endured thus far in the season, and because they were taking on Izzo's No. 16 ranked Spartans.
Izzo has a very highly ranked class of freshman including Miles Bridges playing for him this season Bridge's was an Arizona target who started out on fire in this game. He had never played against Sean Miller until that night.
After being behind 17-2 in the first half, the Cats came back and fought hard. Kobi Simmons scored a team-high 18 points, making 80% of his free-throws. Kobi proved he IS a scoring machine. When he went down with an ankle twist, Wildcats fans most probably got down on their knees and prayed hard, 'Please, please, please don't let Kobi be injured!'
Comments post game care of Arizona Athletics (full press conference video below):
"Kobi Simmons as a freshman showed a lot of confidence a lot of ability," said Miller, "We went into halftime, I think he had about 15 of our 34 points, and that's a big reason we got back in the game. He was outstanding, and he has a lot of talent, we watch him every day, I think the best is left to come too."
"I feel like you have to have confidence when you step on the floor," said Simmons, "My teammates know what we need to do and I came in and just sparked a little bit."
"It was a great game for college basketball," said Allen, "But, you know we have like 35 games left so we are going to have to celebrate tonight, put this game behind and get ready for our game next Tuesday."
Arizona was awarded a trophy from the Armed Forces and Kobi expressed the feelings we all had after that win. It was the first game played in the season in College Basketball, and it couldn't have been a more exciting come-from-behind win.
But it wasn't Simmons who scored the game-winning basket and then followed it with a game-winning block, and that player was Sean Millers leader and only senior, Kadeem Allen. Watching Kadeem Allen take the ball from baseline to baseline with seven seconds left in the game tied with Michigan State 63-63, and like a bullet, hit his target, was sheer joy.
If you are like us, huge fans of the Arizona Wildcats, you may have lost your voice last night, and at the very least jumped up and down as the Cats took down the Spartans in their first game of the season.
Here is the play if you missed it:
But we weren't the only people watching, former Arizona Wildcats were also watching and celebrating. We thought we would have some fun and bring you all their Tweets.
Excellent ATO end of game situation by Sean Miller, cleared out whole side, got Kadeem Allen going to strong hand, great finish. Fun game

— Miles Simon (@milessimon) November 12, 2016
Postgame Press Conference:
One can only imagine how having Allonzo Trier in the line-up could help this team win by a bigger margin, but it is not looking bright as he didn't travel with the team. Chance Comanche proved tonight his defense and presence on the team and the court makes a huge difference, a big man with the hassle of a guard. The team still only has eight scholarship players in their lineup if they came out of the Spartan battle with no injuries, but it's a great eight! BearDown!
This article originally appeared on