Florida Gators Basketball: UF Needs A Win Over Miami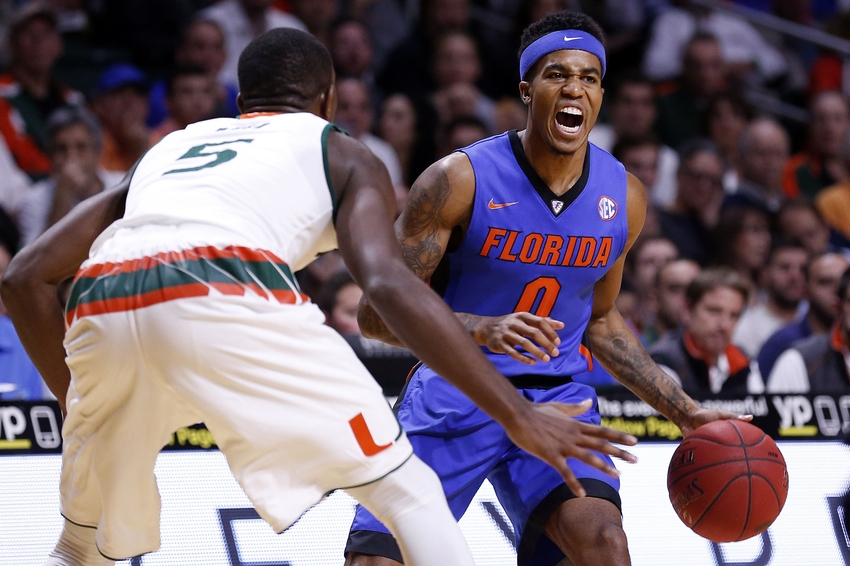 Following the Florida Gators football team's loss to the Florida State Seminoles, Gainesville needs the men's basketball team to beat the Miami Hurricanes.
---
The Florida Gators men's basketball team has gotten off to an outstanding start to the 2016-17 college basketball season. Mike White has led his team to a 5-1 record with five wins over postseason-caliber competition and a quality loss to the Gonzaga Bulldogs.
The next test on the schedule projects to be about more than just winning and losing; it's about responding to adversity.
The Florida Gators football team suffered a disheartening 31-13 loss to the Florida State Seminoles on Saturday, November 26. It was the fourth consecutive game that Florida lost to its in-state rival.
As the football team copes with its seniors losing all four games to Florida State, the men's basketball team can help stabilize emotions in Gainesville.
The Florida men's basketball team will play the Miami Hurricanes on Sunday, November 27 at the Advocare Invitational. Both teams are 4-1 after five games and both are coming off of tough losses to Top 25 opponents.
Florida lost 77-72 to the No. 11 Bulldogs of Gonzaga and Miami fell 73-56 to the No. 21 Iowa State Cyclones.
Though Miami's most recent result paints the picture of a team that can't hold its own against Top 25 competition, that may not be the case. The Hurricanes defeated the 5-1 Stanford Cardinal 67-53 and defeated a potentially strong Penn Quakers team 74-62.
With an explosive playmaker in Ja'Quan Newton, the Hurricanes could hand the Gators their second consecutive defeat.
With the burden of a fan base in need of a win, Florida must come out with a passion against Florida. This is about more than winning a rivalry game; it's about soothing the pain from a devastating loss to another rival.
The best way to do that is to avenge another loss to a rival: the 2015-16 slip-up against Miami.
Moreover, it's about ensuring that Florida will end its two-year drought and get back to the NCAA Tournament.
With a win over the Hurricanes, Florida would have pieced together an impressive resume early in the season. All five of its wins were over teams that finished above .500 in 2015-16 and played some form of postseason basketball.
That includes two teams that made the NCAA Tournament—Florida Gulf Coast and Seton Hall—and another two that made the NIT—Belmont and St. Bonaventure.
Its lone loss was to a 5-0 Gonzaga team that's been an NCAA Tournament mainstay under head coach Mark Few. It was a five-point loss during a game that could've been won, which should help its resume more than it hurts it.
By defeating Miami, the Gators would improve to 6-1 and would have a chance to be 7-1 before facing the Duke Blue Devils and Florida State Seminoles in December.
Florida will have plenty of resume-builders the rest of the way—most notably: Duke, Florida State, and the Kentucky Wildcats—but this is close to a must-win game. Head coach Mike White has stressed that it's about progress and not winning or losing, but this is a rare early exception.
A win over Miami would ensure that Florida enters conference play in late December with at least six quality wins for the committee to value.
More importantly, it'd provide a fan base in mourning with a win in a rivalry game.
More from Hail Florida Hail
This article originally appeared on