Florida Gators Basketball: UF Cracks AP Top 25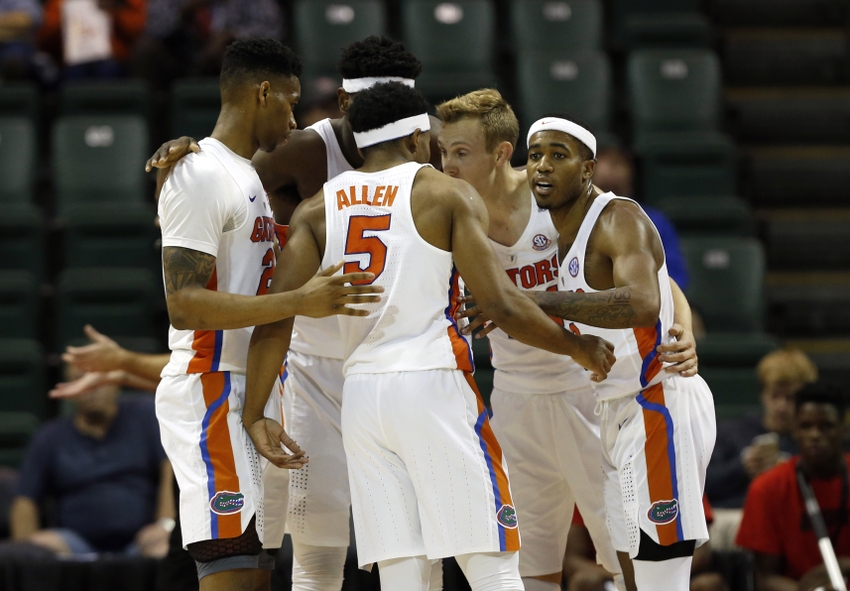 The Florida Gators men's basketball team has made the AP Top 25 following a 6-1 start to the 2016-17 season. Find out where UF resides in this week's poll.
---
Mike White has the Florida Gators looking like a postseason-caliber team early in his second season as head coach. Florida is off to a 6-1 start to the 2016-17 college basketball season and recently earned a third-place finish at the AdvoCare Invitational.
The Gators are beginning to receive the respect they deserve for the quality team they've become.
Florida is coming off of strong victories over three teams that made the 2016 NCAA Tournament: Florida Gulf Coast, Seton Hall, and Miami. It also defeated 2016 NIT participants Belmont and St. Bonaventure, and 2016 CIT participant Mercer.
The Gators announced the Top 25 ranking via the official men's basketball Twitter account.
It's a deserved honor.
Florida defeated Florida Gulf Coast by a convincing margin of 80-59. It followed with wins of 76-64 over Mercer, 73-66 over St. Bonaventure, 78-61 over Belmont, and 81-76 over Seton Hall.
Florida lost 77-72 to the No. 8 Gonzaga Bulldogs, but played quite well and followed up with a 65-56 win over Miami.
Though it was a loss, Florida's strong showing against the No. 8 team in the country helped its ranking. It led Gonzaga at halftime and played well enough during the second half to be within striking distance until the end.
Though the Gators were on the wrong end of victory, it was a quality loss that should help Florida's NCAA Tournament resume come March.
The Gators currently have three players averaging at least 12.0 points per game: KeVaughn Allen, Canyon Barry, and Devin Robinson. Starting center John Egbunu is thriving with averages of 9.4 points, 7.9 rebounds, and 2.4 blocks in 25.0 minutes per game.
Justin Leon and Chris Chiozza have been solid contributors, as well, and both Kasey Hill and Keith Stone had breakout performances against Miami.
Florida has depth and a young coach who has already won three conference championships during his brief coaching career. Expect the Gators to continue to ascend.
More from Hail Florida Hail
This article originally appeared on