Florida Gators Basketball: Seton Hall Game A Golden Opportunity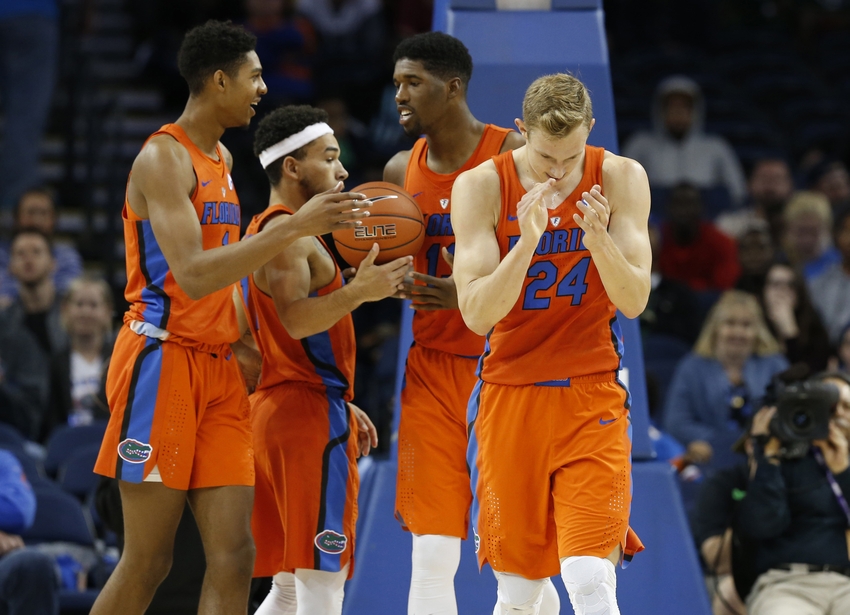 The Florida Gators basketball team has a golden opportunity against the Seton Hall Pirates on Thanksgiving Day. The reasons are multifaceted.
---
The Florida Gators basketball team is off to a 4-0 start to the 2016-17 season. All four of Florida's opponents finished above .500 and played in a postseason tournament during the 2015-16 college basketball season.
On Thanksgiving Day, the Gators will have a golden opportunity to win a game with long-term ramifications against the Seton Hall Pirates.
The Gators will face Seton Hall in what's essentially a home game at the HP Field House in Kissimmee, Florida. The game is a part of the Advocare Invitational, which has a field of competition that could make or break Florida's resume early in 2016-17.
Along with Seton Hall, the likes of the Gonzaga Bulldogs, Iowa State Cyclones, Miami Hurricanes, and Stanford Cardinal are all a part of the field.
That process will begin on Thanksgiving Day in a game that could go a long way towards determining the trajectory of the season. It'll be a tough game to win, but a manageable outing nonetheless.
Here's why a win over Seton Hall could be so significant in the long run.
Postseason-Caliber Win
Against the Seton Hall Pirates, the Florida Gators will face the first power conference test of the 2016-17 season. By defeating the Pirates, the Gators would add a fifth quality win and their first victory over a team that's expected to play in March.
Seton Hall went 25-9 and reached the 2016 NCAA Tournament under Kevin Willard, and it projects to be even better in 2016-17.
Seton Hall lost its best player, Isaiah Whitehead, but it's maintained depth, developed new stars, and added a highly-touted freshman in four-star recruit Myles Powell. Through three games, Seton Hall is 3-0 and playing at an extraordinarily high level.
Four different players are averaging at least 15.0 points per game for Seton Hall and only one is averaging upwards of 30 minutes.
Khadeen Carrington showed flashes of stardom a season ago and is averaging 21.7 points through three games. Junior Angelo Delgado has been a consistent double-double threat throughout his career and Desi Rodriguez provides invaluable balance alongside him.
Throw in Powell, who went off for 26 points against the Iowa Hawkeyes, and Seton Hall has the type of talent that Florida would be praised for overcoming.
National Exposure
Not only are the Florida Gators set to play a power conference team on Thanksgiving Day, but the game will be held on national television. The broadcast will begin at 8 p.m. ET on ESPN2, which has clear implications.
The selection committee only gets to watch so many games of every team, which makes this outing one of extreme importance for Mike White's Gators.
Securing a win on national television would be beneficial against any caliber of opponent. To do so against a Seton Hall team that has the talent to play in March, however, would be a massive achievement this early in the season.
Resume building may matter more during the latter months of the season, but earning early wins can build momentum both within the locker room and outside of it.
Florida needs to play well for 40 minutes, no matter the outcome of this game. An ugly win is still a win, but this could be a statement game from a team that has even more skeptics than it does fans in Gainesville.
Florida has a chance to win a nationally televised game over a postseason-caliber opponent. The implications are clear.
Building An Identity
The Florida Gators have depth, balance, and a commitment to teamwork that one could easily respect. Florida also has four games under its belt and minimal signs of which player will take the reins and lead the charge in 2016-17.
Throughout the Advocare Invitational, the Gators will have an opportunity to build a team identity and establish a go-to player in clutch moments.
Canyon Barry has been delightful to watch early in 2016-17. He's averaging 13.3 points on 48.6 percent shooting and has taken at least nine shots in three of Florida's four games. KeVaughn Allen is the best slasher on the team and has scored 30 points over the past two outings.
Kasey Hill is the senior leader, John Egbunu is the interior anchor, and Justin Leon can be a matchup nightmare at 6'8″ with legitimate 3-point range.
All could emerge as breakout stars, but this game is Devin Robinson's chance to prove that he's more than an upside player. He'll battle against a powerful frontcourt that will test him with Angel Delgado and Desi Rodriguez.
The question is: can Robinson rise to the occasion? Or will another player step up and establish themselves as the go-to scorer?
Florida doesn't need to force-feed any one player, but establishing a team identity could directly coincide with establishing an alpha.
More from Hail Florida Hail
This article originally appeared on