Florida Gators Basketball: Mike White Sending The Right Message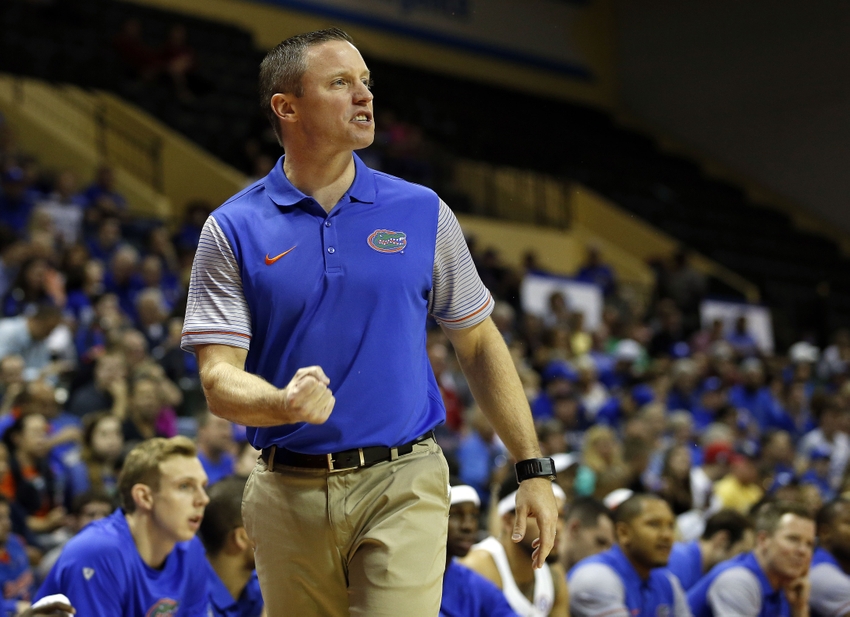 The Florida Gators basketball team is off to a 5-0 start to the 2016-17 college basketball season. Head coach Mike White is sending the right message.
---
The Florida Gators men's basketball team has given fans reason to be ecstatic about the future of the program. Florida is off to a 5-0 start with wins over five teams that finished above .500 and played postseason basketball in 2015-16.
The most recent victory offered White the perfect opportunity to teach his players an invaluable lesson.
Florida defeated the Seton Hall Pirates at the Advocare Invitational by a score of 81-76. It was an ugly game that included missed free throws and a relatively high turnover count, but it was also a learning experience.
Per Mark Didtler of The Associated Press, White is focused less on wins and losses than he is on steady improvement that creates consistency in the long-term.
"Seton Hall made a bunch of mistakes tonight, and we made a bunch of mistakes tonight," Florida coach Mike White said. "That's college basketball in November. Was it a good win? Yes. But right now it's more about us continuing to improve."
That's the best possible message a coach can send to his team this early in the season.
Wins and losses are what matter on paper, but the true test of a team is how they respond to adversity. No team is flawless, few go undefeated, and none go through a full season without having to dig deep at some point or another.
Thus, while defeating Seton Hall may have been a result worth applauding, the outcome of the game is second to the progress made.
The progress made includes the emergence of a clutch scorer in KeVaughn Allen and the continued success of transfer Canyon Barry. It was a stellar showing by both men, with Allen scoring 21 points and closing out the victory, and Barry adding 20 of his own.
Beyond the victory is the intriguing reality that Allen emerged as a genuine closer.
As White stated, this victory was about more than the final score. It was about building confidence, learning positive tendencies, and improving upon the issues that present themselves in every given game.
Though the progress delves deeper than the result, junior guard Chris Chiozza spoke about the value of defeating a high major team.
"It gives us confidence beating a high major team like that, especially on a neutral site," [junior guard Chris] Chiozza said. "I think that's going to help us down the road."
There aren't many influential factors than earning a win over a quality power conference opponent.
Thus far in 2016-17, Florida has done its part to enter the Top 25 conversation. It'll have a chance to earn a Top 25 ranking when it plays the No. 11 Gonzaga Bulldogs on Friday, November 25.
Win or lose, White is sending the right message to his players.
With this long-term vision and attention to detail, Florida should be a polished and cohesive unit come March.
More from Hail Florida Hail
This article originally appeared on