Florida Gators Basketball: KeVaughn Allen Makes A Statement Against Seton Hall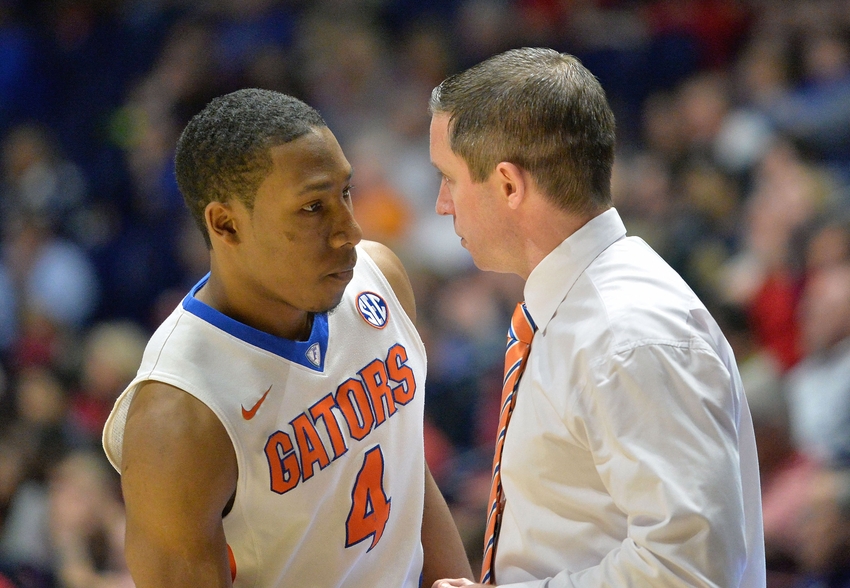 The Florida Gators defeated the Seton Hall Pirates by a score of 81-76 on Thanksgiving Day. In the process, KeVaughn Allen made quite the statement.
---
Four games into the 2016-17 college basketball season, the Florida Gators had four quality wins and an unidentified closer. The presence of a closer may be unnecessary in some eyes, but coaches learn early who they can trust when the pressure mounts.
During Florida's 81-76 victory over the Seton Hall Pirates, sophomore guard KeVaughn Allen established himself as that type of player.
Allen scored a season-high 21 points in 35 minutes as Florida pulled out an 81-76 nail biter in the Advocare Invitational. He added six rebounds, one assist, one block, and a steal, and shot 7-of-14 from the field, 3-of-8 from 3-point range, and 4-of-4 at the free throw line.
Most importantly, Allen scored 11 of his 21 points in the second half, including four points in the final minute.
Allen also had a critical steal with less than two minutes left that set up the bucket displayed above.
Allen played well in both halves, but it was his clutch heroics that matter most here. He has the potential to average 20 points per game, but what Florida needs most is for him to tap into his potential as a closer.
Allen can break his man down off the bounce, space the floor, and finish at the rim—and no one on the roster combines those skills better than he.
Allen emerging as a true No. 1 scoring option would be an ideal turn of events. Regardless of where he fits into the pecking order for the first 30 minutes of a game, however, Florida needs Allen to continue to excel in the clutch.
Head coach Mike White acknowledged that the burden will be heavy and the expectations high for Allen in 2016-17.
White on KeVaughn Allen — "He was different tonight. I kinda joked with him, that's what we're waiting on. He was in a good rhythm."

— Kevin Brockway (@gatorhoops) November 25, 2016
Allen is beginning to realize his star potential in the early games of the 2016-17 season.
In 2015-16, Allen had a 32-point game against the Florida State Seminoles and scored 27 points against the Ole Miss Rebels. He scored 22 points during the NIT Quarterfinal against George Washington and had 19 points during a showdown with the West Virginia Mountaineers.
Consistency was an issue during Allen's freshman season, but there were clear indications of his legitimate star potential.
Now a sophomore with a year of significant playing time under his belt, Allen is building towards a memorable career at Florida. He had 13 points and five assists against Mercer, 16 points against St. Bonaventure, and dropped the previously alluded to 21 against Seton Hall.
Most importantly, Allen has taken it upon himself to step up in clutch situations and play with the fearlessness that a leader requires.
Allen still has his fair share of question marks, but his performance against Seton Hall could be the start of something special.
More from Hail Florida Hail
This article originally appeared on