Florida Gators Basketball: John Egbunu Becoming Ultimate X-Factor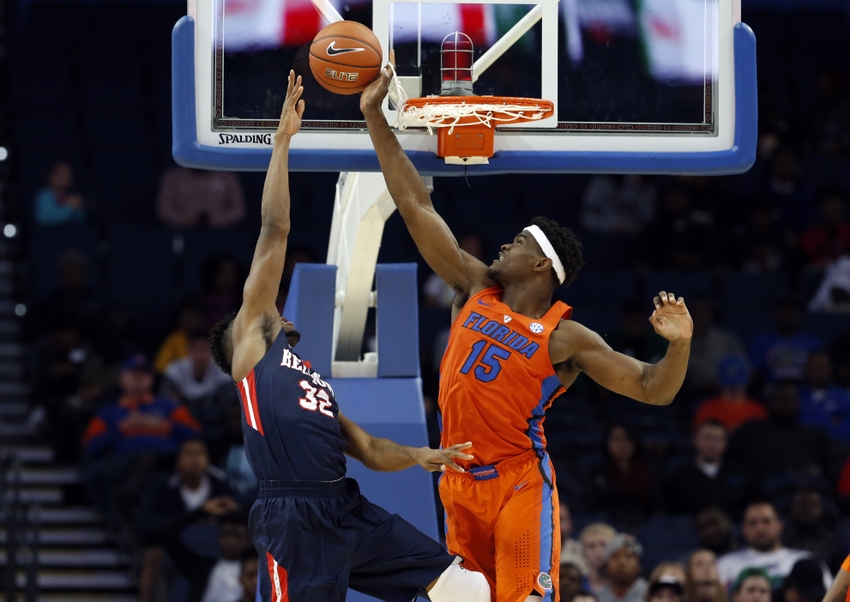 The Florida Gators have one of the most intriguing players in the country in starting center John Egbunu. The junior big man is becoming a stabilizing force.
---
It didn't take very long for John Egbunu to emerge from the depths of obscurity and generate NBA hype. The Nigerian big man moved to the United States in 2011 and has dedicated himself to being the best basketball player and person he can be.
Though it's only been four games, Egbunu is rapidly developing into the stabilizing force for a Gators team with high expectations.
Four games into the 2016-17 college basketball season, the Gators are 4-0 with a number of quality wins. They haven't yet faced a team from a power conference, but all four opponents finished above .500 and played postseason basketball in 2015-16.
Though other players have garnered more headlines for their scoring and playmaking, it's been Egbunu who has been Florida's X-Factor.
In four appearances, Egbunu is averaging 9.8 points, 8.5 rebounds, 4.3 offensive boards, 1.3 blocks, and 0.8 steals in 23.0 minutes. He's done so on a respectable slash line of .483/.000/.688, and has recorded at least six points and eight rebounds in every game.
Those may not be gaudy numbers on the surface, but upon digging deeper, it becomes clear that Egbunu has been dominant.
Egbunu's season averages translates to marks of 17.0 points, 14.8 rebounds, 7.4 offensive boards, 1.7 blocks, and 1.3 steals per 40 minutes.
Whether Egbunu's playing time increases or not, the Gators know exactly what to expect when he's on the floor. His size at 6'11" and 255 pounds, as well as his wingspan of longer than 7'0″, makes him an intimidating force in the paint.
His chiseled frame and explosive leaping ability makes him even more of a deterrent for slashers thinking of challenging his defensive proficiency.
Perhaps most importantly, Egubunu is a dominant rebounder who isn't afraid to get physical on either end of the floor. He's improving his fundamentals on box outs and is an absolute workhorse on the offensive glass.
The fact that he's adamant about backing players down and scoring from the post creates the potential for Florida to have a source of consistent offense when the perimeter shooting goes cold.
Few teams in the country have a center with that combination of skills and gifts.
Egbunu is still a work in progress on the offensive end of the floor, but you can't teach size, power, athleticism, or energy. His work ethic and physicality are powerful forces that could be the glue to everything Florida is hoping to accomplish.
If Egbunu remains confident at the free throw line—Canyon Barry could be of aid there—his playing time should increase.
The Florida Gators may have found their X-Factor in John Egbunu.
More from Hail Florida Hail
This article originally appeared on