Florida Gators Basketball: Former UF Star Bradley Beal Finding All-Star Form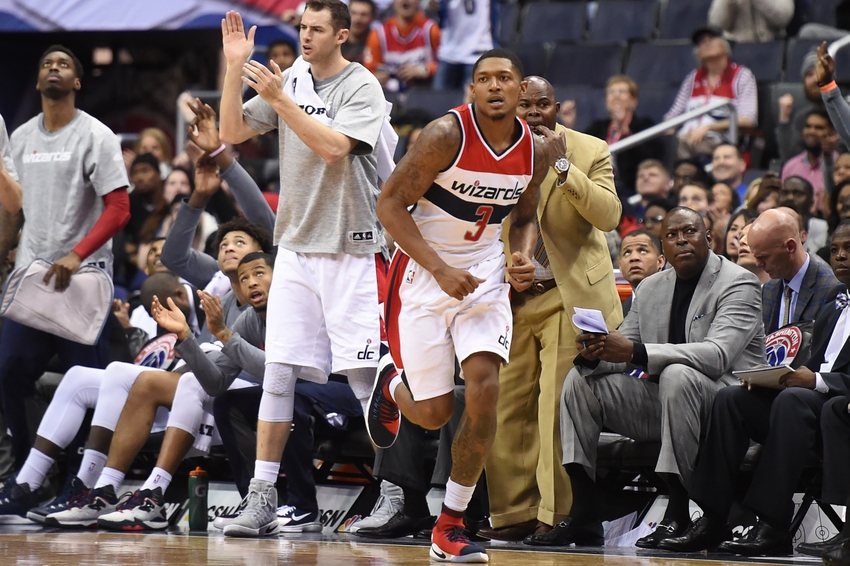 Former Florida Gators basketball star Bradley Beal is beginning to find his All-Star form with the Washington Wizards in the NBA.
---
One of the most rewarding aspects of supporting the Florida Gators is being able to watch former players thrive at the next level. As it pertains to the NBA, the likes of Al Horford, David Lee, and Joakim Noah have gone on to accumulate decorated resumes after starring at Florida.
One could argue that the former Gators star with the best chance of achieving superstardom is Washington Wizards shooting guard Bradley Beal.
Beal was selected at No. 3 overall in the 2012 NBA Draft. It was the highest any Florida basketball player had been selected since Al Horford went No. 3 overall in 2007 and Neal Walk was selected at No. 2 in 1969.
Since coming back from a hamstring injury, Beal has reminded fans of what makes him such a special talent.
The 23-year-old returned from his injury with 18 points and five assists in 29 minutes during a 119-112 victory over the New York Knicks. It was far more of a blowout than the final score implies—one that limited his playing time and production.
The following game, Beal made the most of his 40 minutes by going off for a season-high 34 points, five rebounds, four assists, and one steal.
Washington lost 114-111 to the Miami Heat, but it was a much-needed reminder of why Beal received a max contract from the Wizards.
For those unfamiliar, Beal signed a five-year deal worth $127,171,313 during the summer of 2016. Some deemed it a gamble due to his checkered injury history, but at 23 years of age, Beal has already appeared in 21 postseason games.
That includes two playoff series victories and star-caliber postseason averages of 21.2 points, 5.2 rebounds, 4.6 assists, and 1.6 steals per game.
For as well as he's played, Beal has been forced to endure a grueling slate of injuries. He's missed at least 19 games in three of his four completed seasons and has already missed three games due to a hamstring issue in 2016-17.
On Monday, November 21, Beal put the complaints on hold by dropping a career-high 42 points during a 106-101 victory over the Phoenix Suns—just one game after he scored 34.
That's how you silence the critics.
Beal was unconscious against the Suns. He shot 14-of-22 from the field, went 5-of-10 from beyond the arc, shot 9-of-11 from the free throw line, and even pulled down four rebounds for good measure.
Per J. Michael of CSN Mid-Atlantic, Beal took advantage of the opportunities afforded to him by fellow star John Wall.
"John just kept calling plays for me. They just kept coming to me," said Beal, who scored 10 consecutive points during a four-minute stretch of the third quarter to keep Phoenix from pulling away. "I just stayed aggressive. The basket just felt like it was an ocean."
Beal has the potential to be one of the greatest ex-Gators in NBA history.
Beal is on pace to become the third former Gator in NBA history to average at least 20 points per game. Lee did it in 2009-10 and 2011-12, and Walk became the first to achieve the feat in 1972-73.
With more performances like this, Bradley Beal can rewrite his reputation and continue to do the University of Florida proud.
It's a good time to be a fan of former Florida Gators players in the NBA.
More from Hail Florida Hail
This article originally appeared on