Florida Gators Basketball Closing In On Top 25 Ranking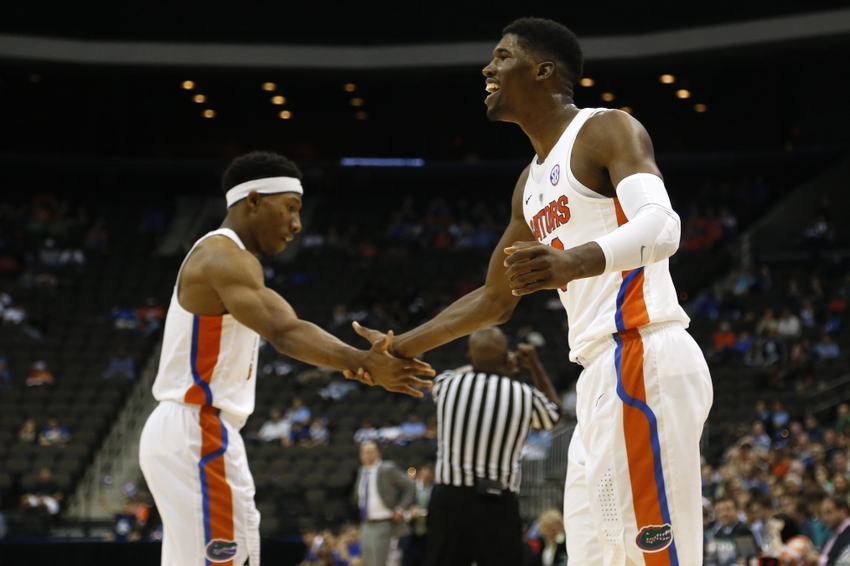 The Florida Gators basketball team isn't yet in the Top 25, but they're getting closer to that elusive ranking. Find out where they are in this week's AP Poll.
---
The Florida Gators are off to a 3-0 start under head coach Mike White in 2016-17. Though they weren't power conference foes, Florida earned three wins against teams that had quality 2015-16 campaigns in Florida Gulf Coast, Mercer, and St. Bonaventure.
Though those wins haven't yet pushed the Gators into the Top 25, they've been impressive enough to help the cause.
Florida began the season with an 80-59 win over Florida Gulf Coast, which made the 2016 NCAA Tournament. It defeated Mercer 76-54, which was 19-15 in 2015-16, and defeated St. Bonaventure 73-66, which was 22-9 and made the NIT a season ago.
One can find Florida with 34 votes in the, "Others receiving votes," section on the AP Top 25 Poll from this recent week.
Others receiving votes: California 56, Maryland 55, Miami 44, Cincinnati 39, Wichita St. 36, Florida 34, Seton Hall 15, Butler 14, Dayton 14, Virginia Tech 12, Notre Dame 6, Ohio St. 4, Colorado 4, Ohio 1, Tennessee St. 1, Rutgers 1.
With the sixth-most votes outside of the Top 25, Florida is dangerously close to cracking the Top 25.
Florida has won its three games on the strength of its depth and versatility. Four different players are averaging at least 10 points per game, including Devin Robinson at 13.3 points, 7.3 rebounds, and 2.0 steals in 27.0 minutes, and Canyon Barry in 12.0 points in 22.3 minutes.
That doesn't include center John Egbunu, who's averaging 9.0 points, 8.7 rebounds, and 1.3 blocks in 24.0 minutes.
In limits minutes, a number of players have been productive and efficient.
Florida is still waiting for a star to emerge, but the results have been promising thus far. Robinson has the potential to be that player, as do perimeter playmakers Barry, Kasey Hill, and KeVaughn Allen.
The next test for Florida will come against the Belmont Bruins, which won 20 games and made the NIT in 2015-16.
If Florida defeats Belmont and shows out at the Advocare Invitational, a Top 25 ranking could be on the horizon.
More from Hail Florida Hail
This article originally appeared on