Florida Gators Basketball: Canyon Barry Is Becoming A Super Sub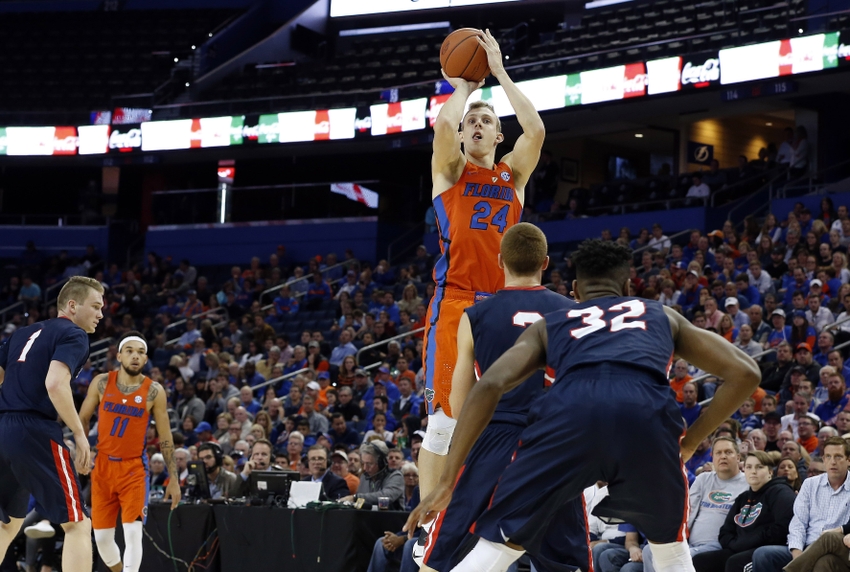 The Florida Gators were excited to land transfer Canyon Barry, but he's far exceeded expectations during the first four games of the 2016-17 season.
---
Canyon Barry faces expectations that most college basketball players could never fathom. He isn't just another player with big shoes to fill; he's the son of one of the greatest players in college basketball, NBA, and ABA history.
Rick Barry had to be proud of what his son was able to achieve during the Florida Gators' fourth game of the 2016-17 season.
Barry played just 21 minutes against the Belmont Bruins, but still managed to score a game-high 17 points. He shot 6-of-9 from the field, went 1-of-4 from beyond the arc, shot 4-of-4 at the free throw line, and made solid plays defensively.
Behind Barry's explosive performance, the Florida Gators earned an impressive 78-61 victory and improved to 4-0 on the season.
I was a beautiful all-around game from the Gators, with Barry leading the way as a scorer in just 21 minutes of action.
Barry played three productive seasons at the College of Charleston. During the 2015-16 campaign, he averaged 19.7 points, 3.4 rebounds, 1.3 assists, and 2.2 3-point field goals made in 31.9 minutes per game.
In 2016-17, he's proving that he can be just as effective and prolific in limited time with the Gators.
Florida's starting lineup has intriguing chemistry, but it needs the support of a player who can come in off the bench and provide a spark. Mike White may have found that super-sub in Barry.
That's an invaluable truth for a Florida team that has yet to identify a true No. 1 scoring option.
Whether or not a star emerges in the starting lineup, Barry has proven capable of coming in and providing instant offense off the bench.
Through four games, Barry is averaging 13.3 points and 4.3 rebounds in 22.0 minutes. He's scored in double-figures in three of Florida's four games, including the 13 points and six rebounds he recorded against Florida Gulf Coast and the 16 points he scored against St. Bonaventure.
Thanks to Barry's heroics off the bench, Florida is one step closer to a Top 25 ranking and an end to its two-year NCAA Tournament drought.
If Barry maintains this efficient and explosive scoring pace, the Florida Gators should be successful in 2016-17.
This article originally appeared on