Duke Guard Earns Player of the Week Award After Upset of Undefeated Opponent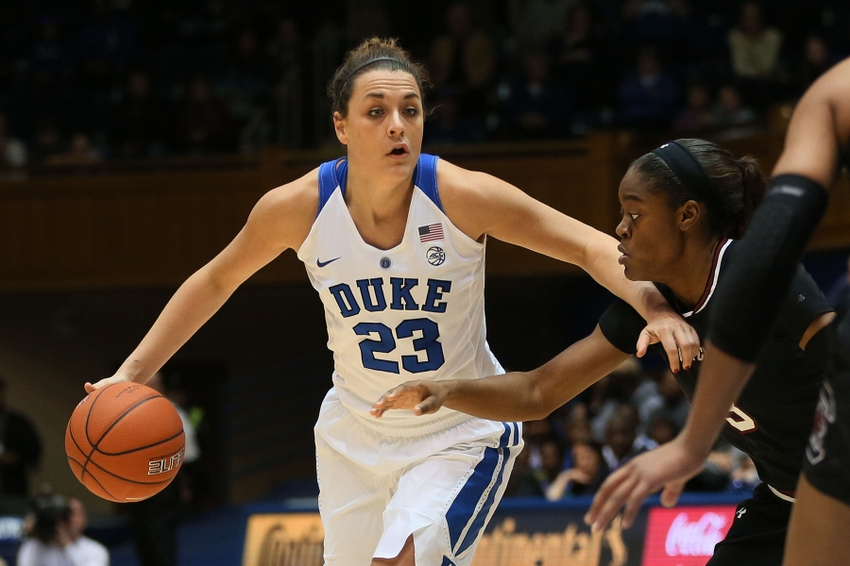 Redshirt junior guard Rebecca Greenwell was named the ESPNW Player of the Week after starring in Duke Women's Basketball's upset of #3 South Carolina.
Unranked Duke pulled off a huge upset over the weekend after taking down undefeated #3 South Carolina. The Blue Devils got a huge effort from redshirt junior wing Rebecca Greenwell, who was named the espnW Player of the Week after starring against the Gamecocks.
The 6-1 guard led all players with 29 points in the win over South Carolina Sunday afternoon. Greenwell was also extremely efficient in the game, shooting approximately 60% from the field (9-15) and making 4-7 three-pointers. Senior forward Oderah Chidom also performed well for the Blue Devils recording 15 points and 8 rebounds. Greenwell and guard Lexie Brown, who struggled vs. the Gamecocks, were recently named to the Naismith Trophy Watch List.
Duke Women's Basketball struggled last season and underwent an investigation after missing the NCAA Tournament for the first time since 1994 and losing key players. Until yesterday's victory, the program had lost 8 straight to ranked opponents. However, the team is ready to move on from last year and hopefully this win will help them gain momentum for the rest of the season to get back to the national rankings and the postseason. Greenwell believes this win is just the beginning of what the team is capable of for this season:
"I think it shows we can play with anyone out there. We knew that from the beginning of the season, but now it's just showing it to others."
Duke will be back in action on Thursday evening when the Blue Devils host Elon. Congrats to Rebecca Greenwell on earning espnW Player of the Week honors and it's great to see the Duke Women's Basketball program heading back in the right direction.
This article originally appeared on