Duke Basketball: Wendell Carter completes Blue Devils' "package deal"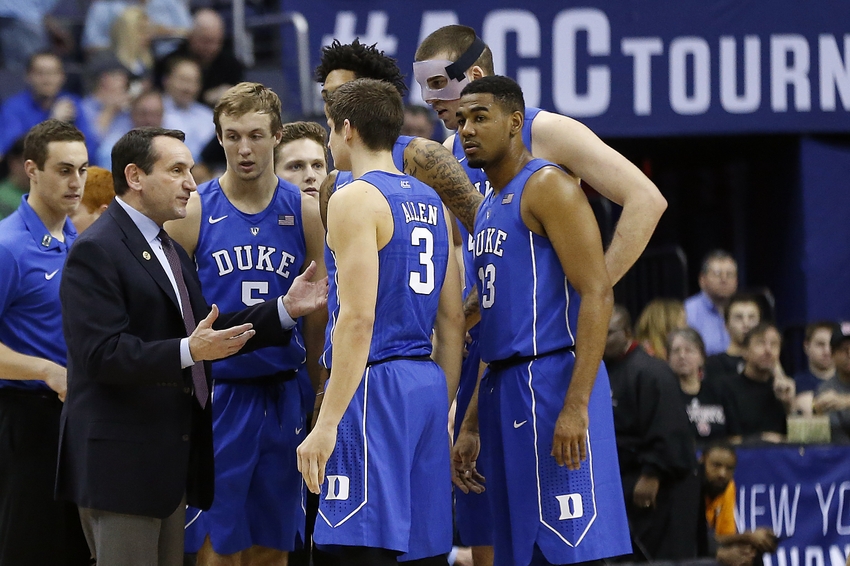 Mike Krzyzewski and Duke basketball have three commitments in their class of 2017.
Five-star big man and the 3rd best recruit in the class of 2017, Wendell Carter, chose Duke over Harvard, Georgia Tech and others on Wednesday.
The 6'9″ forward from Atlanta joins his long-time Team USA teammate Gary Trent Jr., who after committing to Duke two weeks ago said he would do anything he could to bring Carter along with him.
Together, the two top-10 players have given the Blue Devils the sixth best 2017 recruiting class in the nation. Duke is also awaiting the decisions from small forward Kevin Knox, point guard Matt Coleman and center Mohamed Bamba. Should they need to land even just one more highly sought-after player, they have a chance at bringing in the top recruiting class in the country for the second straight year.
Carter is widely regarded as the top offensive big man in the 2017 class. His post moves, coupled with his range and passing abilities, set him apart from other bigs in the 2017 class. He will also be expected to rebound efficiently while at Duke, as Amile Jefferson (graduation), Harry Giles (NBA), Jayson Tatum (NBA) and Marques Bolden (NBA) are expected to depart.
Much like what is occurring at Kentucky, the one-and-done recruiting pitch has paid massive dividends for Duke head coach Mike Krzyzewski. Each year, he has at least one incredibly well-known future NBA star on his roster. Jabari Parker, Justise Winslow, Jahlil Okafor and of course Brandon Ingram are just a few of the big names.
All of these players enjoyed success at the college level while working with the winningest coach in the history of the game. Now, they are finding success in the NBA.
The result has been a snowball-effect; each class' highest ranked recruits are gravitating towards powerhouses like Duke and Kentucky for a chance to play for a Hall of Fame coach, compete for a National Championship and be a lottery pick.
In fact, Duke's biggest issue this year is figuring out how to get all of their recruits valuable touches and minutes. Once their injured trio returns to action, Coach K will be forced to decide how to get freshman Frank Jackson and sophomore Luke Kennard the playing time they have shown they deserve.
This issue has led to Duke losing players. Alex Murphy transferred to Florida for playing time, and Semi Ojeleye opted to enroll at SMU. This past year, Derryck Thornton saw the writing on the wall when Jackson committed to Duke and headed for the door.
But this system has worked successfully for the Blue Devils. And they have won titles in the process.
Luckily for Coach K, that only means more prospects imagining themselves in Duke blue. Are you starting to see a pattern?
More from Busting Brackets
This article originally appeared on