Duke Basketball Senior Will be Key to Blue Devils' Success This Season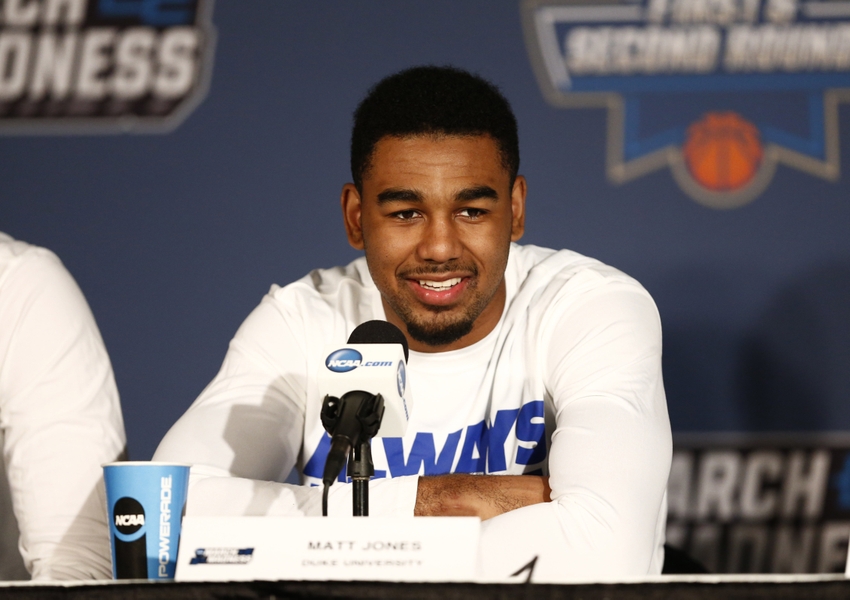 CBS Sports highlights overlooked senior captain Matt Jones as the player who could be key to Duke Basketball's success this season.
The Duke Men's Basketball team has very high expectations for the upcoming college basketball season, and are currently the favorites to win the 2017 national title. The Blue Devils have a talented and young team with several star players, but CBS Sports recently spotlighted an unsung hero who could be the key to Duke Basketball's success this season.
Senior guard Matt Jones will play a key role for Duke this year as a veteran guard and joins redshirt freshman Amile Jefferson and junior Grayson Allen as team captain. Jones has had a lot of experience and been through a lot with the Blue Devils, losing to Mercer in the first round as a freshman and then playing a key role on the 2015 National Championship Team.
Jones had a career year last season last season averaging 10.4 points per game and shooting 41.5% from three. Duke was 15-4 last season when Matt Jones scored in double figures. The 6-5 guard is known as a perimeter defender and three point threat for the Blue Devils, and has been willing to play any role from the Blue Devils. He has played point guard, shooting guard, small forward, and probably also power forward for Coach K in addition to starting and coming off the bench at different times.
Matt Jones' role for next season is unsure with a stacked roster for the Blue Devils including talented wings Grayson Allen, Frank Jackson, Luke Kennard, and Jayson Tatum on the roster, but Coach K will definitely get him on the court because of his "selflessness, defensive attributes and having the knack to make timely 3-point shots".
This article originally appeared on