Duke Basketball: Five reasons why the Blue Devils will win it all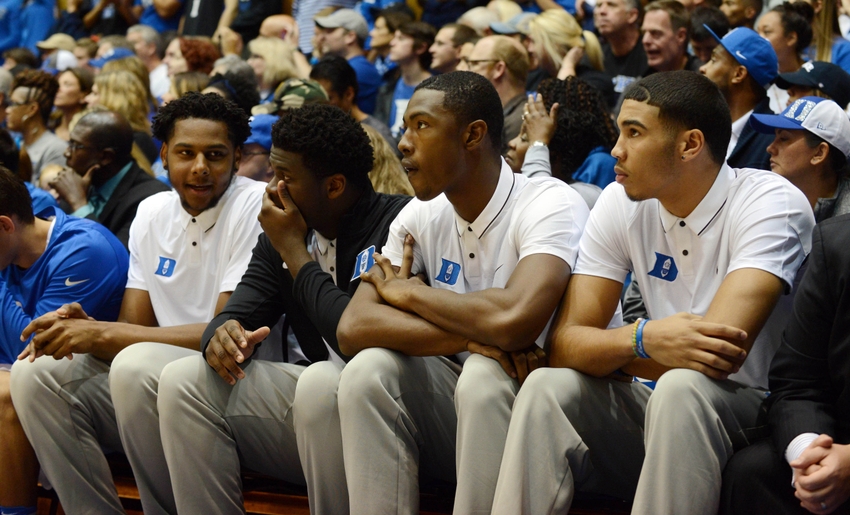 Duke basketball is the clear favorite to win the National Championship, especially if they get their three freshman back and healthy.
Due to their talent-rich recruiting class and sizeable group of experienced returnees, the Duke Blue Devils have long been the favorite to cut down the nets in March. They were ranked number one in the country all summer long as analyst after analyst fantasized about how dominant the team with the number one, two and 16 top recruits would be. As we all know, that story still has yet to unfold, as the three most discussed freshmen have not yet taken the court.
Despite the injuries, Duke picked up just one loss through their first six games, while relying primarily on junior Grayson Allen and sophomore Luke Kennard. The loss came against Kansas on a last-second Frank Mason III jumper at the Champions Classic at Madison Square Garden.
Afterwards, Duke dropped in the AP Poll from 1st to 6th nationally. However, the team has gained valuable experience as a result of facing tough competition without their most advertised offensive weapons.
The players who haven't been talked about much this offseason, like Kennard and Frank Jackson, are making a statement with their play early on. The amount of success the Blue Devils have enjoyed this year is a testament to their bench as well as the system they run for Coach K. The team we've seen so far is going to win it all in 2017, and here's five reasons why.
5. Luke Kennard is a weapon
The sophomore, Luke Kennard, has outperformed expectations by becoming Duke's most reliable scoring option through six games. He is providing security as a ball handler for a team that lacks a true starting point guard.
His offensive productivity has taken pressure off Grayson Allen and has created another lineup headache for Coach K, who will be forced to decide between Kennard and Jayson Tatum at the two once Tatum returns from a foot injury. Tatum has been Coach K's preferred option throughout the preseason, but Kennard's play since being thrusted into a starting role has many wondering if Mike Krzyzewski should limit the sophomore's role.
He is the team's leading scorer with 17 points per game through their first six contests. But it's his leadership that has been the difference maker for the Blue Devils. Kennard's thorough understanding of the drive-and-dish offense Krzyzewski has implemented this season allows him to take smart shots and find open looks for his teammates. Kennard has been a major reason for Duke's success early on, and we have no reason to believe he will slow down.
4. They have tested depth
While the starting five has accounted for nearly 80 percent of the team's total minutes, the Blue Devils' reserves have shown that they are more than capable of filling in as needed. Names such as Chase Jeter, Javin DeLaurier, Jack White and Antonio Vrankovic don't generate as much excitement as Harry Giles, Jayson Tatum and Marques Bolden, but they are valuable players for this elite Duke squad.
Jeter has already played an instrumental role in Duke's early season match-ups, getting minutes in Amile Jefferson's stead. DeLaurier is a versatile big who was ranked 44th in ESPN's top 100. White is one of Australia's best young players, and his capacity to score should increase throughout his career as he adjusts to college hoops.
Also, if Bolden, Giles and Tatum all come back healthy, that could thrust Kennard, Jeter and Matt Jones into lesser roles. Those players would be top tier players in other programs and have shown they can carry the load with Duke's top talents injured.
When the chips are down and the Blue Devils need to play their best basketball in order to advance, having these role players will take pressure off the team's first scoring choices and allow Coach K to rest his key players when necessary.
3. Leadership of Amile Jefferson
There's no question about it: Amile Jefferson is the heart and soul of this Duke team. The graduate student was elected captain this offseason after four years of working as hard as anybody in the country.
He has battled injuries throughout his career and played alongside some of the best big men in college basketball.
Jefferson has blossomed into a vocal leader whom Coach K can count on to keep a level head in big moments.
Jefferson's long and athletic frame has allowed him to play solid defense down low, while not becoming a liability against smaller, quicker big men who can score from the perimeter. The bench erupts every time their captain comes away with a block or a steal, and his contributions will not go unnoticed as he leads his team to the National Championship.
2. Role players gaining early experience
Players who would've seen much less playing time at the beginning of the season have gotten the chance to take control of the country's most potent offense because of injuries.
Luke Kennard and Frank Jackson have emerged as potent scorers, which will allow Coach K to keep multiple offensive threats on the court at all times.
Having weapons like Jackson, Kennard and Amile Jefferson will allow Duke to win games even if their stars struggle to score or stay heathy.
1. The freshman trio
Harry Giles, Jayson Tatum and Marques Bolden didn't receive their respective recruiting rankings by chance. When they get healthy and take the court, alongside Grayson Allen, Luke Kennard and Matt Jones, the Blue Devils will be feature the most potent offense in the country.
Giles and Bolden create a serious threat in the front court and Allen, Tatum and Kennard will keep defenses honest by knocking down shots and moving the ball within the confines of the system. Amile Jefferson, Matt Jones and Frank Jackson are also expected to play key roles as well.
A team with this many weapons is almost a lock to win it all in March. Get your popcorn ready.
More from Busting Brackets
This article originally appeared on