Duke Basketball: Blue Devils take home Hall of Fame Tip-Off crown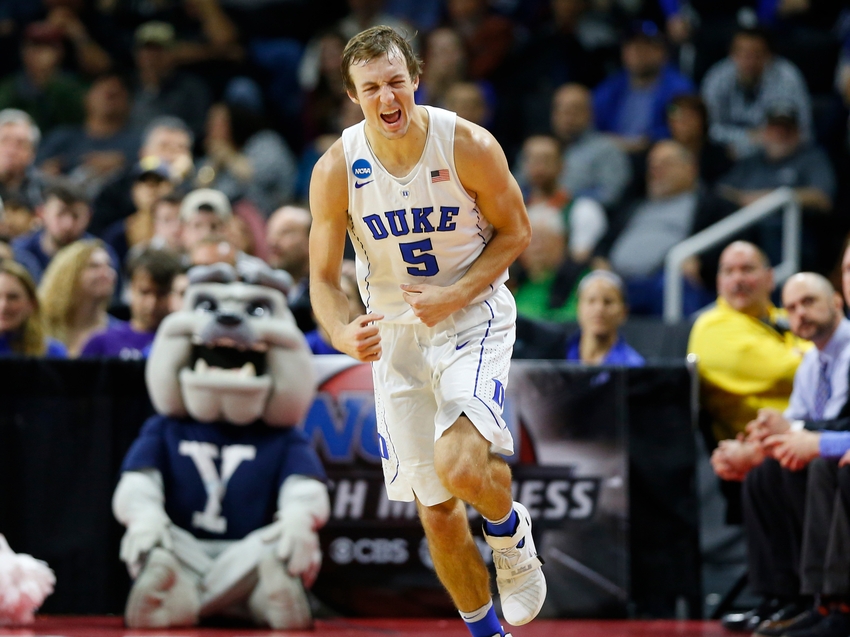 Luke Kennard and the Duke Blue Devils showed why they will be the most dangerous offense in the country when their three star freshmen return.

75

65
Duke handed the Rhode Island Rams their first loss of the season Sunday afternoon in the championship game of the Hall of Fame Tip-off.
Duke was led by sophomore Luke Kennard who dropped 24 points, including an efficient 4-of-5 from beyond the arc. Kennard's 9th career game with over 20 points came at a crucial time for the Blue Devils, who surprisingly were not able to rely on guards Grayson Allen (who was less than 100 percent) and Matt Jones on the offensive end. Allen struggled to score throughout the entire game, going 3-of-11 including 0-of-5 from three.
Forward Amile Jefferson had a strong outing, scoring 17 and grabbing 15 boards to help the Blue Devils secure the victory.
While Allen struggled to hit shots, his skill set still enabled Duke to put points on the board. Duke's drive-and-dish, uptempo offense is designed specifically for sharp shooters who can also drive to the rim like Allen and Kennard.
No one player is expected to put up the majority of the teams points every game because each possession is about moving the ball to the open man and taking what the defense gives you. Allen's quick first step allowed him to beat his man and move the ball in order to take advantage of Rhode Island's defensive rotations all afternoon.
The offense has served Kennard well so far, as the sophomore has been able to average nearly 17 points in 35 minutes per game. With all of the attention on Allen and the freshman class, Kennard has taken leadership of the Blue Devil offense and has become the team's leading scorer.
Hassan Martin and Jared Terrell kept URI within striking distance well into the second half. Terrell scored 22 points on 53 percent from the field and Martin put in 15, while recording an astounding five blocks to anchor the Rams defense.
URI showed why they deserved an early-season match with the nation's preseason favorites; their 34 rebounds were only two less than Duke's total, and they forced their opponent into 10 turnovers while giving away the ball just nine times. Frankly, the only thing the Rams weren't able to account for was Kennard and Duke's efficiency. 
This game bodes well for Duke moving forward as they were able to defeat a physically tough Rams team without three of their top five players and a banged up Allen. If Duke is able to move the ball and spread the floor with the same authority in March when they do have Harry Giles, Jayson Tatum and Marques Bolden available, they will undoubtedly be the country's toughest team to defend.
More from Busting Brackets
This article originally appeared on