Duke Basketball: Blue Devils hold down Michigan State with rotation of six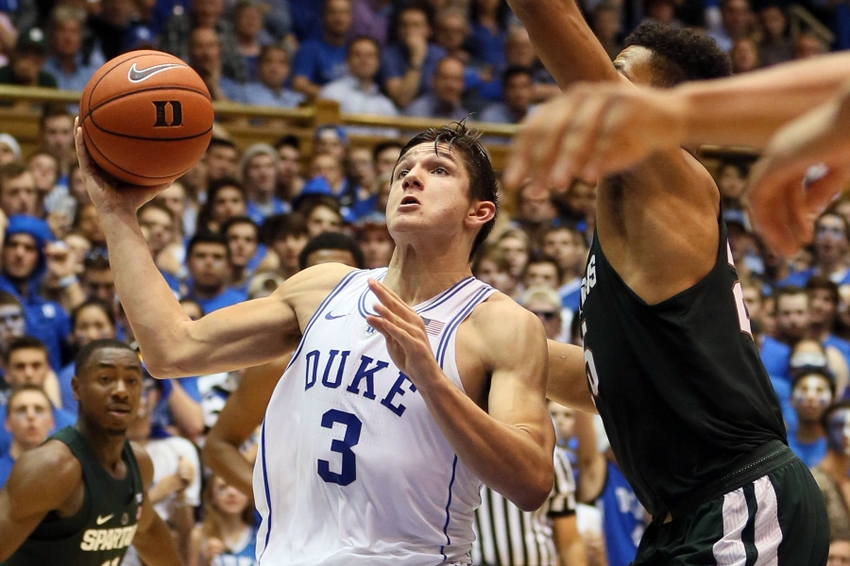 Grayson Allen and Luke Kennard both scored 20+ points in Duke basketball's win over Michigan State Tuesday night.

78

69
Despite injuries to Marques Bolden, Harry Giles and Jayson Tatum, the Duke Blue Devils have only lost a single game so far this season.
The spectacular play continued on Tuesday night as the Blue Devils used a rotation of six to knock off Tom Izzo and the Michigan State Spartans, 78-69, on Tuesday night at the Cameron Indoor Center.
Grayson Allen and Luke Kennard led the Blue Devils with 24 and 20 points respectively, while Amile Jefferson recorded 17 points and 13 rebounds. Frank Jackson was the final player in double figures for Duke, as he scored 11 points on 5-of-6 shooting.
The Blue Devils were surprisingly out-rebounded by Michigan State and let their opponents shoot 49 percent from the field overall. But they also forced 18 giveaways, shot 46 percent from the field themselves and held Miles Bridges to just 11 points on 4-of-13 shooting.
Duke Basketball: Freshman trio not expected to play versus Michigan State
So, this is another impressive victory for Duke. Even though the Spartans are also depleted at this point in the season, they are still a contender in the Big Ten.
The Blue Devils have now beaten Michigan State, Kansas, Rhode Island and Penn State without the full state of their roster.
In other words, it's rather obvious why Duke came into the season as the far-and-away top team in the country. If Bolden, Giles and Tatum get inserted in the lineup this season (they all seem to be making progress), the Blue Devils will have three potential lottery picks joining their roster.
There will be an adjustment period as Duke tries to balance their shot selection, and players like Kennard and Matt Jones go from playing 40 minutes a game to 25-to-30 a night. The chemistry is not going to be superb from the get-go and there is no guarantee that all three freshman will be 100 percent at any point during the season.
There are also point guard issues that need to be addressed. Even with Bolden, Giles and Tatum in the lineup, Allen, Kennard, Jones and Jackson will likely continue to split the role with Tatum factoring in as well.
Regardless, Coach K is the right man to fit these talented pieces together.
Meanwhile for Michigan State, the Spartans actually played pretty well. Eron Harris has had two straight great games after shooting a combined 4-of-23 in two games last week against St. John's and Baylor. Nick Ward (11 points in 14 minutes) continues to show a lot of promise in the paint. And even Kenny Goins and Josh Langford combined to score 17 points last night.
We continue to be unsurprised by Michigan State's early season losses though. The Spartans are 4-4 because of their youth, injury trouble and brutal schedule. Izzo has taken his team from Hawaii to New York to the Bahamas and finally, to the Cameron Indoor Center. That's a lot of miles and missed practice time for a young team that needs to develop and improve in order to succeed in March.
However, these early season tests and bouts of adversity are going to be a positive later in the year for Michigan State. While Izzo apologized for scheduling this early season slate, it might actually help his team in the long run.
More from Busting Brackets
This article originally appeared on