Could Oregon Ducks Dillon Brooks Play This Week?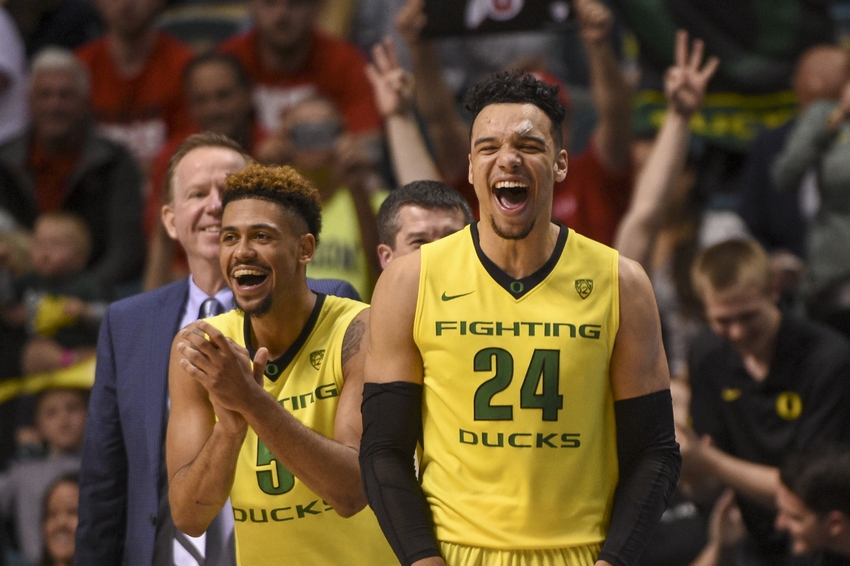 Dillon Brooks may see the court for the Oregon Ducks sooner rather than later.
Oregon Ducks Guard Dillon Brooks has been out with a foot injury so far in 2016. He is expected to be back in the lineup in time for Pac-12 play in late December. Last week before Oregon met Army at Matthew Knight Arena he was seen at mid court joking with his team mates. According to Fran Fraschilla from ESPN Brooks looked good in practice, but I don't expect to see him before the end of this month on the court.
Fraschilla thinks Brooks could be on the court on Thursday against Valparaiso at Matthew Knight Arena. If that is the case, the hometown crowd will certainly have something to cheer about on a Thursday night. It is still ultimately up to the doctors and foot injuries are finicky. They will give Brooks as much time as they believe he needs.
Gut feeling we won't see Dillon Brooks for Oregon today but he ran well in practice. Ducks have Valpo Thursday/Maui Monday. Think he'll go.

— Fran Fraschilla (@franfraschilla) November 15, 2016
The Oregon Ducks continue the season on Tuesday with a road game against Baylor before heading home against Valparaiso. The team then travels to Hawaii' for the Maui Jim Maui Invitational which starts with Georgetown next Monday, November 21st.
Oregon has played a mostly small-ball fast lineup without Brooks on the court led by Chris Boucher and Tyler Dorsey over the last two games. Payton Pritchard has also played a big role against Army and Kavell Bigby-Williams has shown an inside presence for the Ducks.
More from Autzen Zoo
This article originally appeared on