Former UConn star Nykesha Sales has a great idea to spotlight women's basketball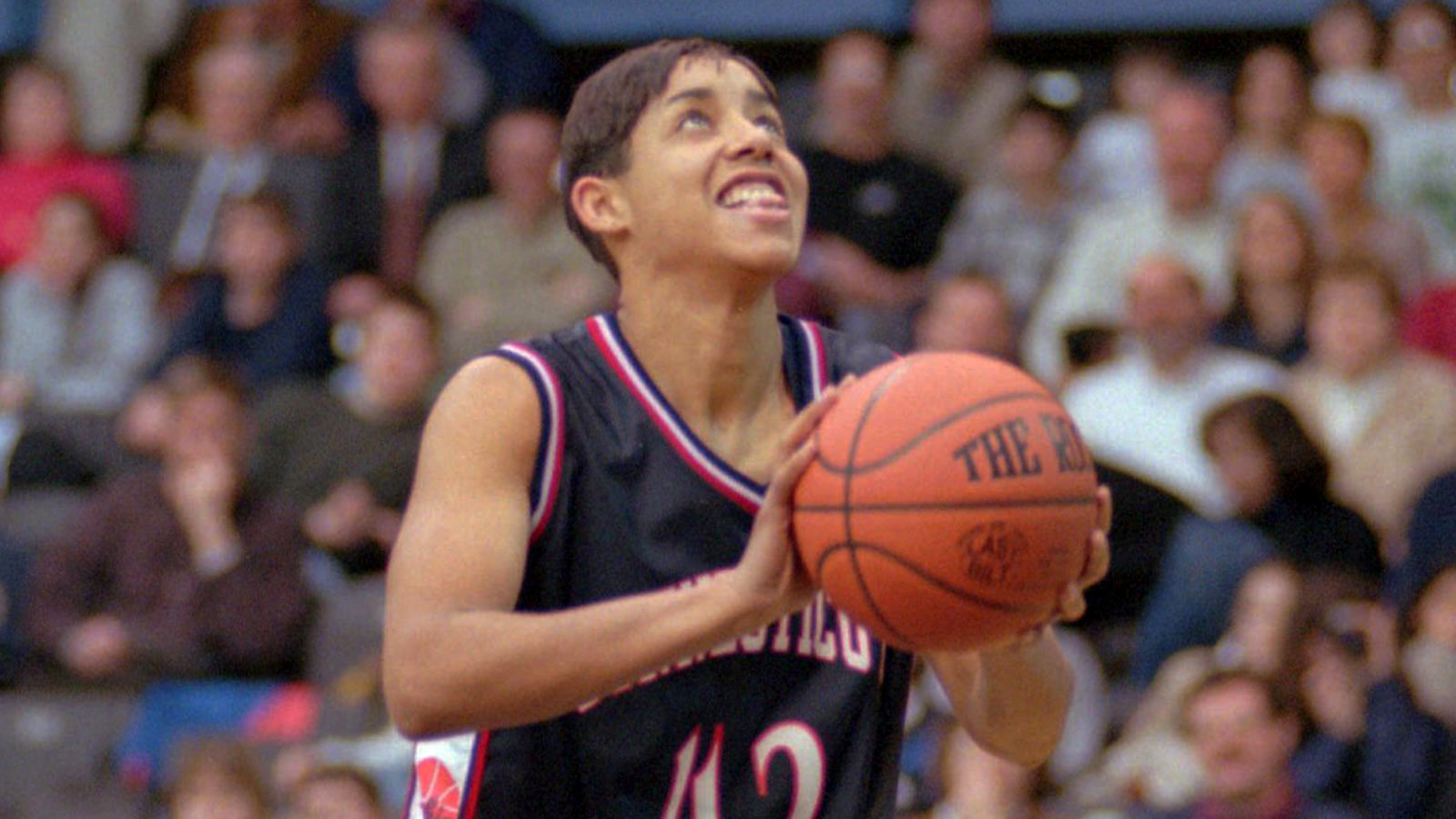 The UConn women's basketball team is 596-40 since the start of the 1999-2000 season. The Huskies have won nine of the last 16 NCAA championships, including each of the past three under a current senior class that is 149-5. During that span, they've rattled off both a record-setting 90-game win streak and a 73-game streak they'll take into this Sunday's national semifinal against Oregon State.
At the Final Four in Indianapolis, Geno Auriemma's team will be an overwhelming favorite to win once again against a remaining field composed entirely of first-time attendees. The question has been raised in recent days — and to a degree, years — whether UConn is simply too good.
In a general sense, the answer is yes. Each Huskies win during the ongoing 73-game run has come by double digits, and their four most recent NCAA tournament victories — ostensibly over four of the best teams they've faced all year — have come by an average of nearly 45 points, including a 98-38 win over No. 5 seed Mississippi State that drew the ire of at least one prominent columnist.
But while it's evident that UConn is in a class of its own at the college level, what's less clear is how that superiority would translate to the professional game. It's a hypothetical that frequently comes up in response to dominant collegiate programs, particularly football. But with women's basketball and this particular team it's not such an open-and-shut case.
If the UConn women's team started playing in the WNBA tomorrow, it would definitely be competitive and win games, according to former UConn star and longtime WNBA All-Star Nykesha Sales. The mystery is how good they'd ultimately be.
"I always thought that there was a difference," Sales said of the step up in talent from college to the WNBA. "You have some players that were really good in college and don't amount to who they should be in the pros. I think Connecticut works very well together, but there are some really talented players in the WNBA. Sometimes they don't have the best records, but they still can compete.
"I'm definitely a Connecticut fan, and I cheer for them at the utmost, but just saying that they would dominate all professional teams, WNBA, I don't agree with that," Sales continued. "I think there would be some really great games, and I think that would be their best competition, but would they be 40-0? I don't think so."
Sure, but no one expects perfection anyway, even from the best of the current WNBA lineup. (The highest winning percentage in WNBA history is .900, set by the 27-3 Houston Comets in 1998.) Still, one could argue that Connecticut would be better, say, than the San Antonio Silver Stars, who, at 8-26, had the league's worst record last year.
I'm not saying Connecticut wouldn't prevail, but it wouldn't be the type of blowouts they have (in college) in the WNBA.
Nykesha Sales
"I agree (they would), but when it comes to that pride and the factor of, 'OK, these are college players and we're professionals,' I think they would play a lot harder and do all they can not to lose," Sales said of the WNBA teams. "So the competition would be better. I'm not saying Connecticut wouldn't prevail, but it wouldn't be the type of blowouts they have (in college) in the WNBA."
One good way to find out for sure, Sales said, would be to actually test the theory. The women's college season ends in April and the WNBA schedule tips off in May. That could lend itself to a series of games that would not only be fun, but good for the sport.
"I think that's something that people should explore," said Sales, who left UConn as the program's all-time leading scorer in 1998. "You always have preseason games and you have different tournaments and showcases, and that's something that people should try. Let's do pro teams vs. the best college team, and it would be something amazing, I really think."
Would such an exhibition be practical, however? That probably depends on who is answering the question.
Certainly, there would be hurdles to clear with the NCAA, which would want to maintain the amateur status of the Connecticut players. But beyond that, it seems, on the surface, like a no-brainer for the Huskies. The program is by no means hurting for credibility in the women's hoops world. But if you think recruiting is already like shooting fish in a barrel for Auriemma, imagine what beating even a single WNBA team would do for his program's reputation.
The only obvious drawback for Connecticut is the potential for a serious injury to a player — there would be no shame for even the best college team in losing to a bunch of pros, after all. But by that logic, Auriemma probably didn't need to play Breanna Stewart 30 minutes in his team's 98-18 preseason win over Vanguard, either. It's a marginal risk that is worth the reward.
The bigger hangup in agreeing to this exercise would likely be for the WNBA. Namely: What's in it for them?
#UConn defeats Texas in Elite 8, 86-65. #Going4Eleven
RECAP: https://t.co/kWfK54GlVH pic.twitter.com/33V3OwH5wZ

— UConn Women's Hoops (@UConnWBB) March 29, 2016
If UConn strolls in and beats a team of pros — even if it's one of the league's moribund franchises — it calls into question the credibility of the league as a whole. A potential loss would only become more damning as the quality of the opponent increased. If Connecticut somehow knocked off the defending champion Minnesota Lynx, the league might just have to fold. Add to that the same risk of injury the Huskies players would be facing, and it's easy to see why the WNBA might decline any potential invitation.
That said, there would be plenty of attention surrounding a WNBA-vs.-UConn matchup, and that's probably not the worst thing for a league struggling to find widespread relevance in a crowded sports landscape.
Though the numbers were up slightly for WNBA games televised on NBA TV last season, with an average of 56,000 viewers over 52 regular season games according to Sports Business Daily, the league's 11 games on ESPN or ESPN2 in 2015 saw a 14-percent average drop in viewership from the season before. Game 5 of the WNBA Finals in October attracted 583,000 viewers, down 11 percent from 2009, the last time the league had a winner-take-all game.
A potential series between UConn and a cast of WNBA teams would likely attract more attention than an entire WNBA season — and ultimately, what's good for women's basketball is good for all parties. It wouldn't put the WNBA on on par with the NBA in terms of popularity, but if it helps fans — and particularly young girls — gain interest and get involved, it might even be worth a potential loss. If UConn could even hang, that is.
"I think someone should give them the opportunity," said Sales, a community liaison for the WNBA's Connecticut Sun. "There's so much talk about it, and it would be a great game, especially, maybe, in Connecticut. Just have a game where the players come together and play against each other. People would love to see that, just to figure out if it's the same level of competition.
"Right now, it's only a question," Sales added, "and you'll never know until you actually let it happen."
Though it probably won't happen anytime soon. So the best bet at the moment is to enjoy what UConn is accomplishing — and will presumably continue to accomplish — at its own level. Because while some may take issue with the Huskies' preeminence, Connecticut's prolonged excellence is a good thing, and it's up to the rest of the country to catch up.
"It is what it is," Sales said of Auriemma's response to the current controversy. "When you get a program and you start to develop players that respect you and play well, it's just setting the bar, and if other teams can't even get close to that bar, there's nothing that we have to apologize for.
"Back in the day, when we used to play, there used to be teams that really competed with us, and now it's a lot harder for them," she continued. "Of course you have to make up some type of reason why it's not fair, but when it comes to sports, 'not fair' doesn't mean anything. If you win, you win, and if you lose, you lose."
You can follow Sam Gardner on Twitter or email him at samgardnerfox@gmail.com.