College Basketball Road Trip: Best and worst of 12 days on the road
After 15 games in 12 days in 12 cities, the FOX Sports College Basketball Road Trip finally has come to an end. We finished our travels with the glory of a small conference tournament championship — Wofford's 56-53 win over Western Carolina in the Southern final — and are ready to head back and begin preparation for the best four weeks of the year. But before we wrap this thing up, it is time for a few awards from our journey:
BEST GAME: Iona at Manhattan
When we made our itinerary, a number of people looked at our second stop and asked, "Why in the world would you drive all the way up to New York City to watch THAT game?" Well, the reason was showcased on day two when Manhattan won a thrilling 80-77 overtime battle over the Gaels in front of a packed house in the Bronx. The game was as well-played as any on the trip, featuring some of the best passing I have seen all year, along with talented kids making big shots down the stretch. Throw in the ambiance of an electric crowd celebrating one of the closest rivalries in all of Division I (the two schools are just 9 miles from each other), and the frigid Friday night in the MAAC goes down as my favorite basketball experience of the trip.
BEST MOMENT: Iowa State Buzzer-Beating Three
College basketball is the best sport in the land for last-minute heroics and Naz Long's game-tying three in Ames against Oklahoma State was one for the ages. After OSU coach Travis Ford went against the math and decided not to foul, Long drove the length of the court and threw up a prayer that sent the game to overtime. The explosion in Ames was one of the loudest I have heard in a building and I found myself spontaneously jumping out of my seat on press row with excitement. There is nothing like a college basketball arena at a moment of pure elation, and the Cyclones had one for their history books on stop 10 of the tour.
BEST TEAM: Wichita State
I came into the game a skeptic but I left a believer. Wichita State is the second-best team in the country behind Florida. After watching the Shockers up close, I see a group with no weaknesses. They pass well, defend with tenacity and have a variety of shooters/scorers who can get the ball in the basket. I do wonder if they have that dominant playmaker who will be necessary when games get bogged down and go to the last few minutes in the Tournament. But I have no doubt that the Shockers can beat anyone in the field and are a good bet to get to the Final Four for a second straight year.
BEST PLAYER: T.J. Warren, NC State
I knew of Warren's game and had seen his impressive statistics this season. But you don't really appreciate a player's game until you see it in person and at its highest level. At the end of the season, no one in America has been playing better than Warren, whom we saw drop 41 on Pittsburgh on the road. Warren can score from every part of the floor and he completely dominated a Panthers team that desperately needed the win. His exploits are going unnoticed nationally because the Wolfpack are not headed to the NCAA Tournament, but Warren is playing as well as anyone since February. Completing the season with back-to-back 40-point games is astounding and if he returns, the 6-foot-8 sophomore should be a Preseason First Team All-American next season.
BEST COACH: John Beilein, Michigan
We were fortunate enough to sit directly behind the Michigan bench for its game in Champaign against Illinois, and I came away even more impressed with Beilein than I was before. He is able to communicate to his players without screaming, commands their attention and respect while putting a well-oiled machine on the floor. When Michigan is at its best, as it was against the Illini, the Wolverines play with such efficiency on the offensive end that they seem to be perfectly in synch. I am not sure if the Wolverines have enough defensively to win it all — they are 93rd in Kenpom.com defensive efficiency, the worst among the real contenders — but from an offensive standpoint, no one is playing better.
BEST ARENA: John Paul Jones Arena, Virginia
One of the best parts about doing tours like this is getting a chance to see new venues that are often overlooked by the national media. The John Paul Jones Arena is never mentioned as one of the best in college basketball, but now that Tony Bennett has the Cavs playing great basketball, it is as exciting as almost any in America. It is perfectly designed, modern but still with a college feel, and the placement of students ensures a loud, raucous atmosphere. When UVA took down Syracuse on our third stop of the tour, I walked out of the arena with my ears slightly ringing … a perfect indication that a college basketball environment has done its job.
BEST STUDENT SECTION: Illinois "Orange Crush"
This one goes a little bit off the norm, but looking back I can't find a group that impressed me more than the Illini students. Even though their team was getting taken to the woodshed, losing by more than 30 to Michigan, they cheered loudly until the very end, taunted the Wolverines and kept the arena energetic. There were more impressive moments at other schools — the Iowa State "flop" cheer for Marcus Smart was epic — but for sustained excellence, Illinois took the cake even in an embarrassing loss.
BEST CITY: Charlottesville, Va.
There isn't a college town better than Charlottesville. It has the perfect mix of a beautiful campus, cultural events and a lively nightlife. I can't imagine a better place to go to college and as one of the few spots on the tour where we actually had a little time to explore, Charlottesville was the perfect location. If I could go to college again, and I often wish I could, Charlottesville would be my chosen spot.
BEST FOOD: 'Walking Taco' at Iowa State
It sounds so simple. Open a bag of Doritos on its side, put in taco meat, salsa, cheese, lettuce, jalapenos, etc., then mash it all up and use a fork to eat it. But oh my, is this creation, which often is found at county fairs with Fritos, the perfect game snack. On a trip where too often our drives forced us to eat quickly and bolt, the Walking Taco was the perfect game food. If anyone out there wants a can't-miss business plan, put a Walking Taco stand on a street corner on any campus in America for after-hours food. Thank me later.
BEST HALFTIME SHOW: Wofford-Western Carolina
If you aren't familiar with Asheville, N.C., then you need to know this. It probably has the largest segment of hippies per capita in America. Nothing is completely normal here and its location in the mountains of North Carolina allows the city to have its own unique culture found nowhere else in the South. And when we came to Asheville for the Southern Conference Championship between Wofford and Western Carolina to conclude our tour, we expected odd moments. But the halftime show we witnessed was one for the books. Six individuals balanced themselves above the crowd in various states of undress and put on an artistic show that almost anywhere else would have been lampooned in a college environment. But in Asheville, the perfect audience was found and after an admittedly impressive show, the crowd burst into applause. There is no place like Asheville.
BEST FAN: Ronnie Weintraub, Manhattan
I am told that if you have been to a college basketball game in New York, you have seen Ronnie Weintraub. Well I hadn't, so my introduction to Ronnie at the Iona/Manhattan game was a special occasion. Weintraub is a New York City legend, a Jaspers fan who happened to meet a school official while in the Special Olympics and turned that meeting into a lifelong Manhattan basketball obsession. He attends every home game, gives a running commentary to whoever listens (and I was), and occasionally even travels with the team. His passion is unbelievable and for those in New York, he is an ingrained part of what makes college basketball special in the area.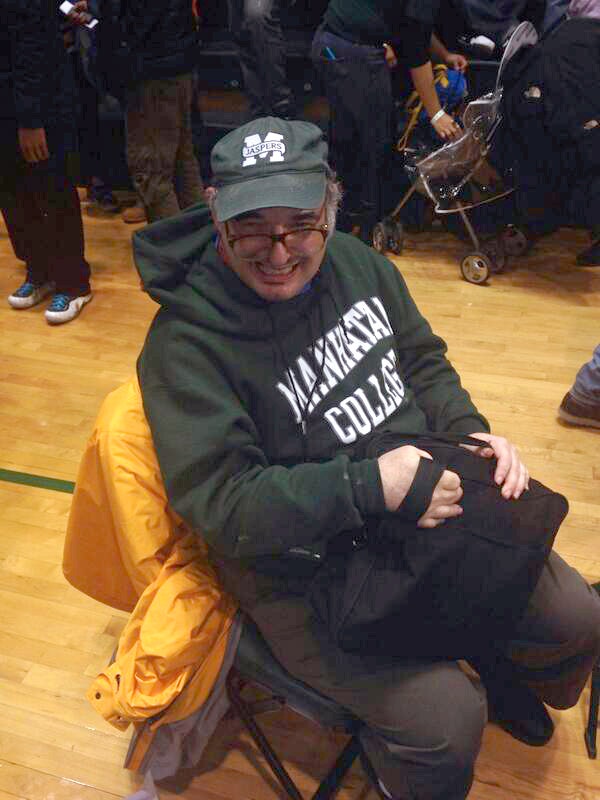 And with that, the College Basketball Road Trip is over. It has been a great ride and we appreciate all of you who have been on the journey with us. The next month is the best time of year in all of sports and after a few days to refresh — we have driven a bit more than 5,000 miles — I will be ready to experience it once again.