Clemson Basketball: Is Jaron Blossomgame headed for stardom?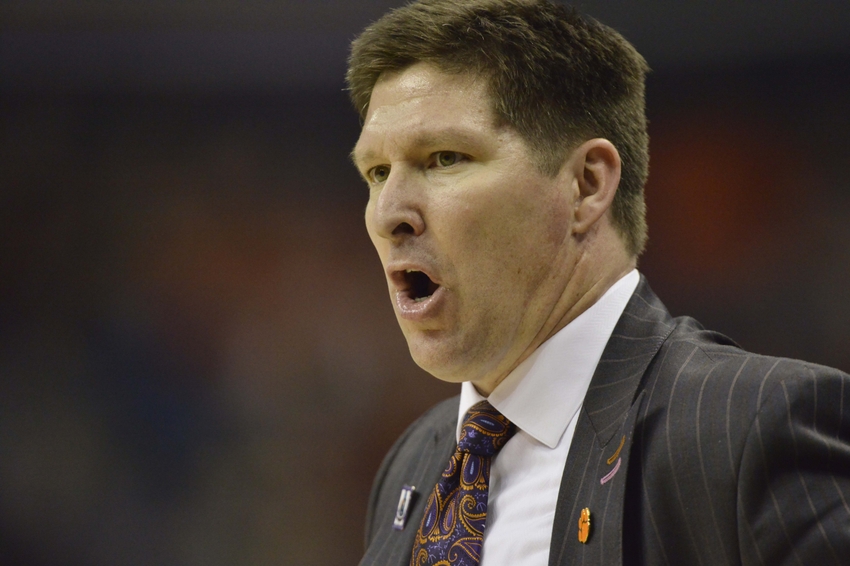 What are three questions at Clemson basketball needs answered in order to reach the Big Dance?
Without a true home court advantage (Littlejohn Coliseum was undergoing renovations), the 2015-16 Clemson Tigers finished with a surprising 17-14 overall record and a 10-8 record in conference play.
They failed to qualify for the NCAA Tournament, but had a stretch of five games in early January where they defeated Florida State, Syracuse (on the road), Louisville, Duke and Miami. They were on the bubble for the majority of the conference slate until they collapsed down the stretch, losing four of their final five.
Even though the Tigers lost forward Landry Nnoko and guard Jordan Roper, they return their three leading scorers, Jaron Blossomgame, Donte Grantham and Avry Holmes.
Blossomgame tested the NBA Draft pool during the spring and had a solid performance at the NBA Combine. However, the now-senior forward opted to return to school for one more shot at reaching the coveted NCAA Tournament.
Grantham will help anchor the front court, while Holmes will take over some ball handling responsibilities with Roper moving onto greener pastures.
Besides the fact that Clemson doesn't have to travel 30-to-40 minutes to every home game, the Tigers also add three transfers who will all be immensely important. Robert Morris point guard Marcquise Reed, Vanderbilt guard Shelton Mitchell and Texas A&M big Eljiah Thomas (who will be eligible in December) each provide their own skill set.
Beyond the three leading scorers and the transfers, Clemson returns their third leading rebounder, Sidy Djitte, junior guard Gabe DeVoe and sophomore guard Ty Hudson.
The Tigers are a veteran group (they add just one freshman – three-star recruit Scott Spencer), so if they are going to make their first NCAA Tournament since 2011, the time is now.
3. Will the Tigers have better ball movement?
One of the main issues for Clemson last season was their lack of ball movement. They didn't have a single player average over four assists per game and their top passer, Jordan Roper, has graduated and won't be returning to the team in 2016-17.
Overall, the Tigers averaged 13.3 assists per game as a team, which was good for just 166th in the country.
So what does that mean for Brad Brownell's club?
It's time for Avry Holmes, Marcquise Reed, Shelton Mitchell and even Jaron Blossomgame to improve as playmakers.
Holmes averaged just 2.6 assists in 30.9 minutes per game last year. He is likely going to start in the backcourt for the Tigers, so it's his job to find a better balance between scoring and distributing.
Reed is a "bucket getter" first, but it will be unacceptable for him to have more total turnovers than assists in the ACC.
Mitchell may be the best passer of the bunch, as he averaged 3.3 assists in 20 minutes per game in his lone season with Vanderbilt. He's only a sophomore, but he has the size (6'3″) to see over the defense and the instincts to make the right play when he gets into the lane.
Then there's Blossomgame. Because the senior forward is the best player on the team and one of the top players in the entire ACC, he will be initiating offense from the wing and will have a high usage rate in 2016-17.
One of the reasons Blossomgame opted not to keep his name in the NBA Draft is because of his lack of passing skills. He only dished out 1.5 assists in 34.2 minutes per game in 2015-16. Those are disappointing numbers and if Clemson is going to upset some of the top teams in the ACC again this season, there must be better ball distribution from their star player.
2. What do the transfers bring to the table?
As mentioned on the first slide, the Clemson Tigers are adding three transfers, Robert Morris' Marcquise Reed, Vanderbilt's Shelton Mitchell and Texas A&M's Elijah Thomas.
The players have a combined two years (and change) of college basketball experience, but they all will truly help Clemson take the next step as a team.
Reed played at the lowest level of the group, however, he had the biggest impact. The 6'4″, 180 pound sophomore guard averaged 15.1 points, shot 49 percent from the field and drilled 41 percent of his threes in 2014-15.
And it wasn't just against sub-par competition that Reed was lighting it up offensively. He scored 24 points on 10-of-15 shooting in a non-conference game against North Carolina, 19 points in his first NCAA Tournament game against North Florida and dropped 22 in a loss to Duke in the first round of the Big Dance.
While he'll have to improve as a passer and defender, there's no question that Reed can handle the ball, make plays in transition and most importantly, give the Tigers a scoring punch.
Mitchell, a 6'2″ guard from North Carolina, played just 20 minutes per night and averaged 4.3 points, 3.3 assists and shot 37 percent from the field in his lone college season at Vanderbilt. He struggled mightily when shooting from the perimeter (23 percent from three) and will likely need to improve that percentage if he wants fellow ACC competitors to respect him on the perimeter.
Mitchell is reliable with the ball in his hands though and can pass the rock effectively.
The final transfer moving to Clemson is Thomas. The 6'9″, 251 pound forward played eight games with the Aggies, averaging just 3.8 points, 2.5 rebounds and 0.8 assists in 9.9 minutes a night. He shot an efficient 63 percent from the field, but was only 33 percent from the free throw line.
Thomas didn't do much in his short stint at Texas A&M, which is why we will relate his potential to his high recruitment. The big man was a four-star prospect out of Lancaster High School in 2015 and was ranked as the 31st best prospect in ESPN's top 100.
His range is basically non-existent, though he uses his strength and touch to be a force on the low block. He finishes using either hand and is a powerful rebounder on both the offensive and defensive glass.
Clemson has some veteran players returning to the team, but these transfers may be just as important as anyone other than Jaron Blossomgame.
1. Is Jaron Blossomgame ready to be a star?
Senior 6'7″ forward Jaron Blossomgame was Clemson's top scorer and best player last season. But now the Tigers are expecting Blossomgame to not only be one of the best players in the ACC, but one of the best players in the country.
The senior bursted onto the scene last season, as he averaged 18.7 points, 6.7 rebounds, shot 51 percent from the field and 45 percent from beyond the arc.
He has a versatile offensive game. Blossomgame can attack the rim from the wing position, pull up and hit from mid-range and has improved drastically as a three-point shooter. He's not a great passer, but he is terrific in transition and has the athleticism to finish over/through contact.
Blossomgame is also capable of guarding numerous positions on defense. His combination of length, strength, athleticism, lateral quickness and size helps him gain leverage over four different positional players. He blocks a surprising amount of shots (1.3 blocks per game) and can switch pick-and-roll situations.
Clemson will be looking at Blossomgame for leadership. He's been on the team for the last three seasons and has battled through ups-and-downs throughout his college career.
I wouldn't be surprised if Blossomgame ups his scoring totals, but how he'll become an even better player in 2016-17 is by improving his ball handling and passing ability, and of course, by helping Clemson win more games.
This article originally appeared on