Clemson Basketball: 3 keys for Brad Brownell and the Tigers in the ACC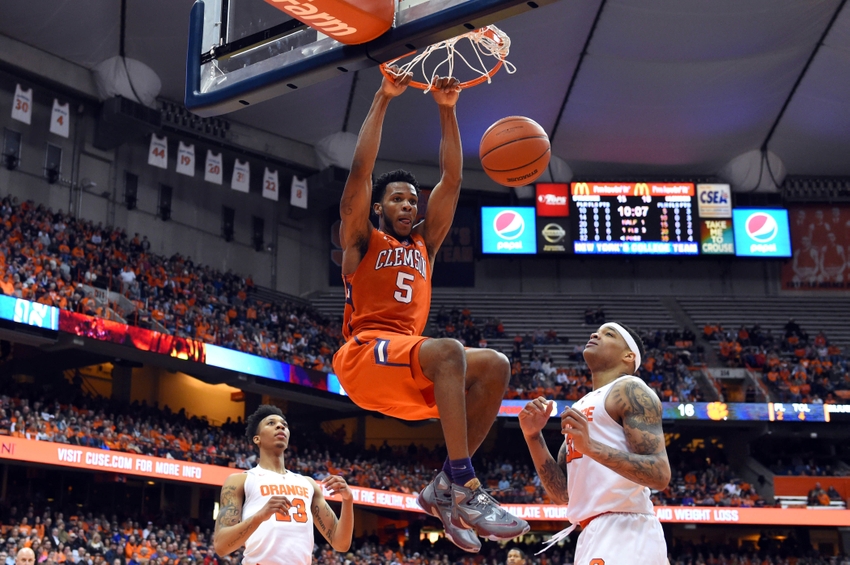 The Clemson Tigers men's basketball team has been impressive thus far currently sitting at 5-2. The Tigers have a little over three weeks left until ACC conference play begins. The ACC is arguably the toughest conference in the country for basketball featuring talented teams like Duke, North Carolina, and Virginia to name a few. Clemson will certainly have their work cut out for them, here's the Tigers three keys to ACC play.
1. Jaron Blossomgame.
Blossomgame is undoubtedly the most talented player on this Clemson team. The redshirt senior forward was named first team All-ACC last season and is currently leading Clemson in scoring with 17.4 points per game.
Blossomgame is crucial to the Tigers success in the ACC because of the talent throughout the conference. There are multiple future NBA players on majority of the teams in the ACC, however, Clemson's only NBA caliber player is Blossomgame as of right now. Without Blossomgame, Clemson will have trouble scoring with teams like North Carolina or Duke.
It is vital that Blossomgame remain healthy throughout the duration of the season. The best ability is availability. Head Coach Brad Brownell must rest Blossomgame wisely in order to keep him fresh in games and between games.
2. Foul trouble
Fouls spell trouble for any basketball team, but, Clemson in particular cannot afford to get into foul trouble. Brad Brownell's team is talented, however, they lack size. The Tigers only have one player over 6'8 that is currently playing at least 20 minutes per game in Sidy Djitte.
Other than Djitte, Clemson's tallest players are Jaron Blossomgame (6'7) and Donte Grantham (6'8). Should any of the three get into foul trouble, the Tigers will be severely undermanned on the court. Clemson's depth at either of the guard positions is sound, but, as we all know, basketball is a big man's game and you need some sort of size to compete.
If you don't have size, you have to be able to shoot the ball at a high clip. Unfortunately for Clemson, they don't shoot the ball well enough to compensate for their lack of size. The Tigers are shooting 34 percent from the field as a team, which isn't horrible, however, it's not necessarily impressive either.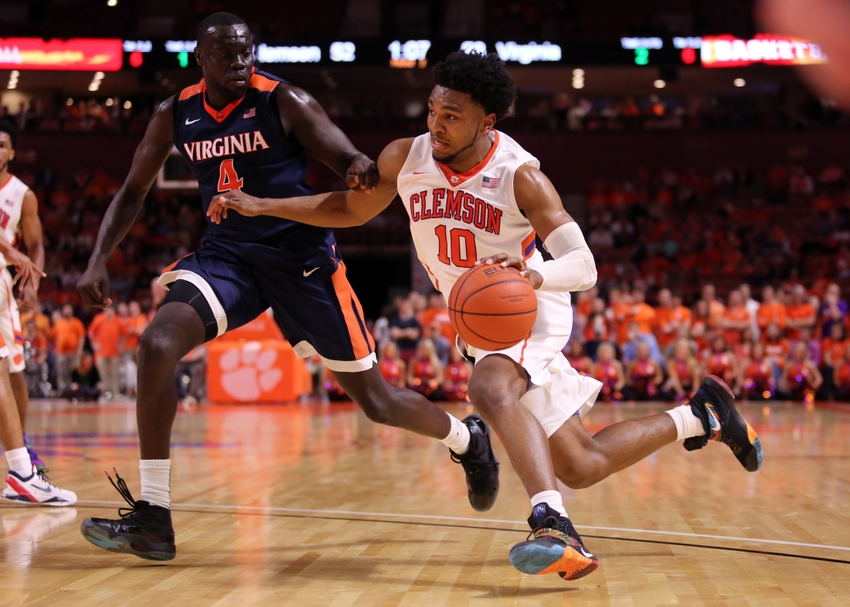 Guard play
Clemson's guards have been good thus far, Avery Holmes and Gabe DeVoe are both averaging nearly 12 points per game, while shooting about 40 percent from beyond the arch.
Guard play will be essential for Clemson due to the litany of talented guards the ACC features, such as Duke's Grayson Allen and Frank Jackson, NC State's Dennis Smith, Virginia's London Perrantes, and Florida State's Dwayne Bacon. Guys like Holmes and DeVoe are going to have to bring it on a nightly basis to compete with the upper echelon teams in the conference.
All-in-all I think Clemson basketball is a middle of the pack ACC team, which is not something to be ashamed of considering how deep the league is. Head coach Brad Brownell has this Clemson basketball program heading in the right direction, the Tigers 2017 recruiting class currently features four commitments, all of which are ranked as 3-star players or better.
More from Rubbing the Rock
This article originally appeared on