Can Washington Huskies Women's Basketball Dethrone Connecticut?
Bret Stuter/FanSided via The Husky Haul

Fansided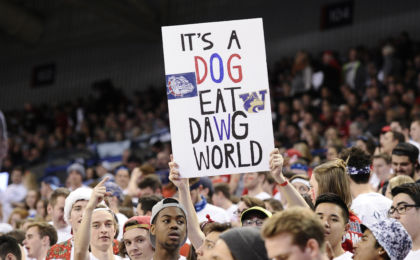 The Washington Huskies Women's Basketball Team is playing some of the best basketball in the nation right now. But they have a long way to go if they hope to beat the University of Connecticut
The eighth-ranked 15-2 University of Washington Women's Basketball team is about to be tested one more time today, as they go on the road to face the 19th ranked Arizona State team that has won it's past four games. UW is undefeated at home this season, but has gone 6-2 on the road, losing to then top ranked Notre Dame and more recently in a mild upset to then 22nd ranked Oregon State.
But the Huskies themselves are in a bit of a win streak, three games to be exact, including a victory over the ninth ranked UCLA Bruins. In fact, the streak earned UW's Kelsey Plum espnW's player of the week award. Plum is the nation's leading scorer right now, averaging an astronomical 30.7 points per game. In fact, Plum recently made national headlines as she scored her 3000th point to seal the victory against the Arizona Wildats.
UW is also led by Chantel Osahor's phenomenal rebounding, who is leading the nation with 13.7 rebounds per game.
Sun Devils Have UW's Number
And so, Plum and Osahor must somehow find a way to defeat the Sun Devils, a team which has had their number since a January 4, 2013 victory by UW in Seattle, 77-74. Plum, a senior this season, has never defeated the Sun Devil's in her career.
But the Washington Huskies are a much improved team this season. Behind the scoring of Plum, and the boards by Osahor, this team has been climbing steadily in the national rankings. A road victory against the Sun Devils would be an exclamation point to the team's worthiness of a top five national ranking. It's not an easy task, as the Sun Devil's women are stingy on defense, giving up an average of just 53.8 points per game, good for 12th in the nation.
UW is no slouch in defense either, surrendering 61.8 points per contest. In fact, when lined up against their offensive output of 88.4 points per game, the team boasts the fourth best scoring margin of victory per game. The game today will be an incredible matchup of irresistible force (UW) versus immovable object (ASU).
The game today will be played at 5:00 PM PST. It will be broadcast on PAC-12 television networks
Upwards and Onwards
While today's contest is a huge hurdle for the UW women's team, it will not be the last. UW will face 24th ranked California on Jan. 27th, 13th ranked Standford Jan. 29th, face a rematch with 19th ranked Arizona State on Feb. 12, 17th ranked UCLA on Feb. 17th.
The UW women have faced such a gauntlet and persevered. In fact, this team made it to the NCAA women's basketball final four before being denied by the University of Syracuse. Ultimately, the UW women want to win the National Championship. But to do that, they would likely face the UConn women's basketball team, currently boasting a 91 game winning streak.
But they can be beaten. UConn survived a season opener scare to Florida State 78-76, and again a close game versus Maryland. In both contests, the UConn Huskies were challenged with aggressive defense, solid back court play, and a good rebounder. That perfectly describes UW's play right now.
But to win, the Washington Huskies women must get there. To get there, they must win. And they have a tall order as they face the Arizona State Sun Devils today.
This article originally appeared on