Cal's Cats Cruise in Opener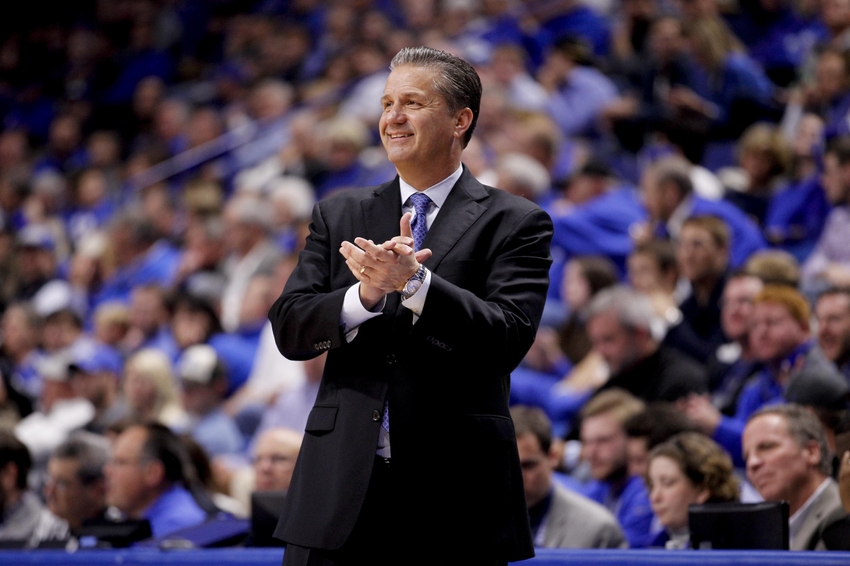 Senior Willis Sparks Cats Early, Humphries Adds Valuable Minutes

87
Stephen F. Austin
Lumberjacks
64
Coach John Calipari's second-ranked Wildcats opened their season with a resounding 87-64 win in Rupp Arena Friday. While much of the basketball world anticipated the debuts of the Cats' top-rated recruiting class, it was Kentucky's veterans that made the difference early and enabled the Cats to cruise to the win.
Sophomore Isaiah Briscoe led the way with 17 points, while senior Derek Willis added 15. Sophomore Isaac Humphries added nine points and eight rebounds off the bench, adding to the lift provided by Kentucky's "veterans."
While this freshman class is talented beyond measure, they collectively showed the nerves of 17- and 18-year-old kids walking before a Rupp Arena crowd for their first real college game. Bam Adebayo picked up two early fouls, sending him to the bench early in the half. Meanwhile, Malik Monk struggled from the field, while even De'Aaron Fox committed three turnovers.
As such, the returning Wildcats delivered the steady hand needed to weather Stephen F. Austin' early energy, as well as the spark necessary to defend and score and transition to separate by the half. But no one was as important early as Willis.
"They just make sure we don't get rattled," Fox said of his veteran teammates. "As a point guard I'm just trying to develop that trait where I won't let my team get rattled. Derek came out, showed what a senior is supposed to do. He put up points and got comfortable, which helped us get comfortable."
The senior forward, who looked incredible running the floor in exhibition games, was able to transfer that aggressiveness into the opener, scoring Kentucky's first seven points and 10 of team's 14 after 4:18 of play. The final stats: 15 points on 5 of 7 shooting from the field, 4-4 from the line, five rebounds and three blocks in 31 minutes of play
"I want to try to set the tone," Willis said. "I felt like we just needed to have that energy brought. I felt like that's kind of what I started doing once I started playing last year. Just wanted to bring that."
Once Willis steadied the ship early, and Humphries provided a presence in the paint, the freshmen eventually found their rhythm. Monk finished with 10 points in the second half, Wenyen Gabriel was instant offense off the bench with 10 first half points, and Fox delivered with a double-double—12 points and 12 assists.
Ultimately, Kentucky looked solid in its opening test of the season, showing considerable size, length and athleticism at nearly every position and eventually pulling away from a good basketball team, one potentially headed back to the NCAA Tournament. For Calipari, it was a good starting place from which these Cats can build upon.
"… They has 21 assists, so their instincts are good," Calipari said. "We have enough in, I don't want to put any more in right now, let's just get good at what we are. We only have a few things, you saw us, I'm not out there running 17 different offenses; we're not ready for that. I'm more concerned about defense and rebounding and blocking shots. … This was a good game to wake everybody up to understand, okay, this is college basketball. You're not just walking, you're not beating people by 80, you're not just trying to dunk balls. You got to play basketball, you got to be disciplined, you got to create good shots for each other, you got to rebound, you got to be tough. … It's just going to be a process for us."
More from Wildcat Blue Nation
This article originally appeared on