BYU basketball: Should Dave Rose be on the hot seat?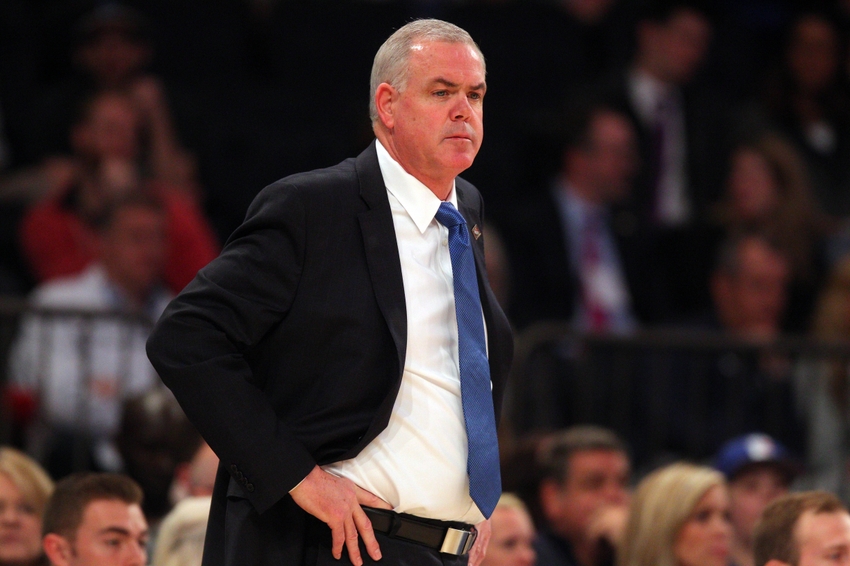 The BYU basketball team fell to Utah Valley University at the Marriott Center last week. Does that mean anything for Dave Rose's future in Provo?
The BYU basketball team is usually good for a disappointment or two every season. Unfortunately, usually one or two of them end up coming in the Marriott Center.
But a shellacking at the hands of Utah Valley? Really?
Really.
The Cougars fell to the Wolverines 114-101 on Nov. 26, but it wasn't just the loss that got social media and Cougar Nation buzzing. It was the way BYU basketball lost.
UVU hit 18 3-pointers (a Marriott Center record) on a 49 percent clip and shot 53 percent from the field. The Wolverines got whatever they wanted whenever they wanted it. Their 114 points are the most ever by a BYU opponent in the Marriott Center.
For those keeping score, Gonzaga defeated UVU 92-69. Entering the game, UVU was averaging 87 points per game. Then the Cougars allowed 114.
Ouch.
Social media was buzzing after the loss – and rightfully so. After all, the loss to UVU is probably the worst loss in BYU basketball history.
But does the loss put head coach Dave Rose on the hot seat?
Ultimately, no.
As far as BYU is concerned, this is likely just a minor annoyance. Rose is 287-101 in his career and has made the NCAA tournament eight times since he was named head coach in 2005. He's never lost more than 12 games in a season and currently owns a .740 winning percentage.
Plus, the BYU basketball team is incredibly young, and we all knew that they would eventually play like freshmen. It just happened to come against the Wolverines.
So a bad loss to UVU doesn't really mean much. Especially in the grand scheme of things.
But at the same time, I do think it should put Rose on a quasi-hot seat.
Rose deserves a complete pass for this season. The Cougars are young and don't have much experience, so it's unrealistic to demand a huge season out of them. However, the next three years will be extremely telling. Rose will have talented recruits, and if he can't get top-notch athletes to play defense, BYU basketball will have a real problem.
Often, Rose has gotten a pass because there hasn't been top-end talent in Provo. Plus, with the Cougars wanting to run the floor, there are plenty of opportunities for opponents to score. In the 2013-14 season, BYU basketball was 326th in the nation in opponent points per game (77.8). The Cougars were 318th in the country during the 2014-15 season (73.6). Last season, they were 199th, but didn't really improve (73.2).
This season the Cougars rank 254th, allowing 77.5 points per game.
I'm not saying Rose is the problem and needs to be let go, but I do think that if things don't improve, his feet should on the fire. If he can't teach his players how to play defense, then he needs to find a coach that will.
Of course, all of this talk is a moot point if the BYU basketball team can take care of business in Los Angeles this weekend against the USC Trojans.
Want your voice heard? Join the Lawless Republic team!
USC is currently 6-0 on the season and will visit San Diego before clashing with the Cougars in the Staples Center in the Hoophall Classic.
BYU will take on Utah State on Wednesday at Vivint Smarthome Arena before heading to LA.
More from Lawless Republic
This article originally appeared on